If you aren't already a rock star, you might be wondering how you too could be rich and famous. Well, you could always do it the old fashioned way by practicing for years and writing a few hit songs, but who has the time for that? The easiest way is to just head down to Mississippi and make a deal with the devil.
Today, the infamous Devil's Crossroads where Johnson made his pact is a busy intersection at the corner of Highway 81 in Mississippi, one that's hard to miss thanks to the giant guitars that mark Satan's preferred meeting spot. Of course, some purists maintain that the true crossroads are located a bit further away in Rosedale, so hey, if it doesn't work at one, there's nothing stopping you from trying at another.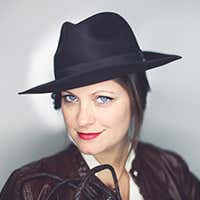 Roadtrippers co-founder. When I grow up I'm going to be Indiana Jones. Current Status: Mom to Bruce. Hit me up on Facebook & Twitters for crazy, awesome, weird stuff.