Plan better road trips
Don't plan a fast trip. Plan a memorable trip.
Tell us where you want to go and what you're into. Roadtrippers will help you find all the best stops along the way.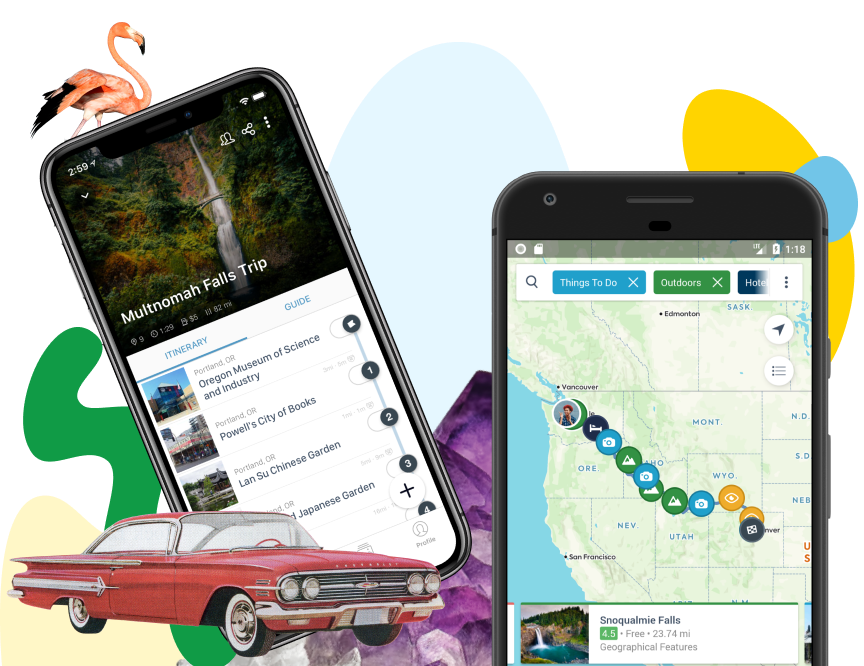 Download the mobile app to plan on the go.
Share and plan trips with friends while discovering millions of places along your route.
Get the App
Roadtrippers has helped our users plan more than 25 million trips covering more than 7.8 billion miles.
Find the coolest stops along your route.
Pick your start and end point, and then tell Roadtrippers how far off your route you're willing to go. We'll suggest the coolest "off the beaten path" stops to help turn your road trip into an adventure.
Build your road trip itinerary.
Plan our your road trip stops day by day.
Keep track of all your stops without needing a separate document or calendar.
Estimate your gas costs.
Budgeting is tough. Roadtrippers makes it easier. Tell us about your ride, and we'll help you estimate how much gas money you'll need for your trip.
Book hotels and tours.
Find cool hotels and tours for your trip? Book them without needing to leave Roadtrippers with FastBook.
Read reviews from fellow roadtrippers.
Join our community of roadtrippers and get recommendations from other travelers.
Save your favorite places.
Learn about somewhere cool you want to visit? Save it as one of your favorite places. You'll be able to easily come back to it later and add it to a trip.
Use turn-by-turn navigation.
Plan your trip, and then bring your phone on the road to let Roadtrippers lead the way.