I find the first one by the ticket booth at Fox Theatre, an iconic venue for concerts and other performing arts in Atlanta, Georgia. It takes me a while to scope out the next one, which is nestled between the letters on a sign at the State Farm Arena, home of the NBA's Atlanta Hawks. When I bike along the Beltline, a multi-use urban trail, I see them at the Krog Street Tunnel, where the walls practically glow with lime green, pink, purple, and blue graffiti.
You have to look high and low—as in street level—for Atlanta's tiny doors, a public art project by artist Karen Anderson Singer. Fueled by her big love of little things, Singer makes each door different to reflect its location, whether it's in the Cabbagetown neighborhood near the zoo, or the Swan House at the Atlanta History Center (the Swan stood in for President Snow's mansion in the 2013 film The Hunger Games: Catching Fire).
A rainbow painted on a wall arches over a tiny door near the Old Fourth Ward Skatepark. Another door, inspired by someone's hot air balloon art, rises two feet above the ground, complete with its own tiny ladder.
Singer has installed about 20 miniature portals so far, branded as Tiny Doors ATL, with more to come. They're on tree trunks, walls, and all sorts of other places where passers-by can see and enjoy them. Only one is inside a building; it was commissioned by the Georgia Aquarium, and you need an aquarium ticket to see it.
While I'd heard that Singer's tiny doors are hidden all around Atlanta, she tells me that isn't exactly true. "They're not hidden, and they're not all over Atlanta," Singer says. Some are off the beaten path, and in nearby cities like Decatur, but they're not actually that hard to find. If you need help, she's created a map to help guide you. Most of the tiny doors are just seven inches tall, but one is significantly larger: Singer partnered with IHG Hotels and Resorts to install a giant door at Midtown's Hotel Indigo, in honor of the Super Bowl which was hosted by Atlanta in 2019.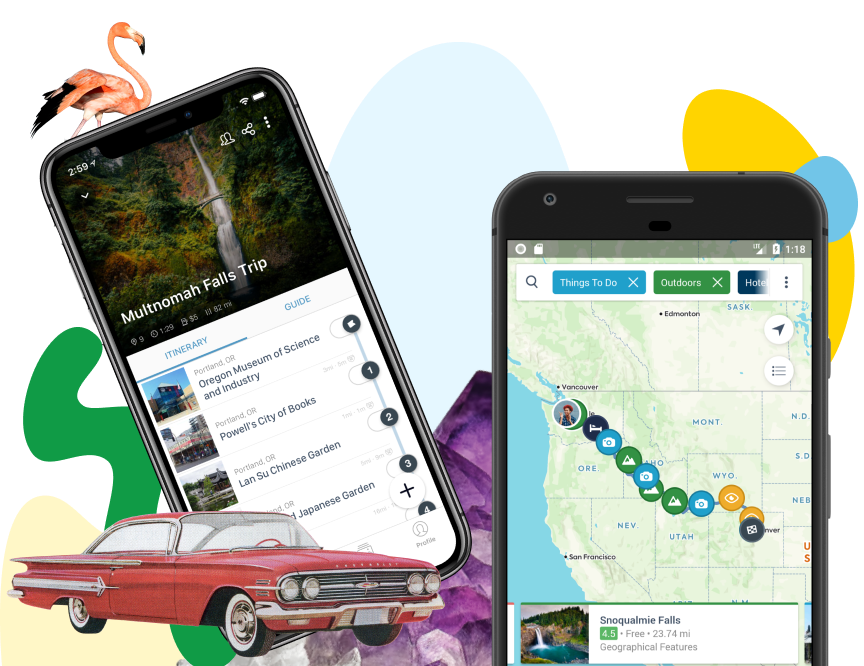 Download the mobile app to plan on the go.
Share and plan trips with friends while discovering millions of places along your route.
Get the App
Tiny porches and toothbrush touch-ups
Singer has been crafting miniatures since she was a child, when she threw away her dollhouse furniture and made her own. Later in life, she joined a punk band, earned a degree in visual arts from Rutgers University, and came to Atlanta to teach bass at a rock camp.
"Atlanta's a surprising city with a rich history and an open mind," Singer says. "The community values art, and that means a lot to me." She says the little doors are a gift to her adopted town. "While most of the new doors are requested and commissioned by neighborhoods, people call me for corporate installations all the time now," Singer says. "That allows me to take care of the public tiny doors." But tiny doors never go to the highest bidder, she's quick to add. "They go to places I am personally recommending, to institutions or neighborhoods you might not otherwise visit. There's a reason for the door at every location."
Since each door is custom-made, the time she spends depends on how well Singer already knows the neighborhood. She estimates that some of the doors have taken her 100 hours to make. "The doors are all individual sculptures," Singer says. "I make the originals out of wood, clay or whatever I have on hand to get the look I want. Then I have them molded and cast, so they're resin replicas."
The weather takes a toll on her creations, most of which are numbered. She spends five to 10 hours a week maintaining the existing doors, using small paint brushes to touch up her custom-blended paints and old toothbrushes to clean them. People who've seen her at work have sometimes tried to shoo her away, thinking she was tampering with the little entrances. Now she carries her tools in a pink train case that matches the pink in her hair, so people recognize her.
Some doors attract tiny offerings. Singer has found miniature plants and paths outside her doors. Once, eight tiny, plastic cats appeared, lined up outside a door, as if they were waiting to be let in. Minuscule letters often show up at a door with a tiny mailbox. A tiny newspaper turned up at another location, and on Halloween, mini pumpkins materialized. Some visitors have left tiny, pink flamingos or tiny bicycles on tiny stoops. At a door near a walk-up window for a popsicle shop, a tiny sandwich board advertises the flavor of the day: tiny Thai iced tea.
Singer's most popular door, she says, is number 6, the red "Paris on Ponce" door that she estimates she's repainted at least a hundred times. Some of her followers have proposed and had their weddings at the door. Her work is so popular, Singer was even given her own tiny key to the city by an Atlanta representative.
Behind the doors
Although she's often asked, Singer won't reveal what's behind her doors. She'll only say it's "a ton of love, imagination, experience and a little bit of tears." Only one of Singer's doors actually opens, and you can't go through any of them. But in a sense, you can discover what's behind each one of them—you just have to use your imagination.
One of her favorites is Door 10E. "It's about a fourth of a mile from the road," Singer says. "When people find it, they look at the door, and then they see the skyline of Atlanta and realize they're at the highest natural point in the city. It's a beautiful place, and that's why the door is there. The city even put in a bench so people can hang out and enjoy it."
Singer's art may be small, but her impact has been big. She says she didn't start making the tiny doors to further her "brand" or social media following. Nevertheless, she has more than 126,000 followers on social media and visitors from all over the world come to see her doors.
"The project is really about connecting people and meeting neighbors and getting out there and enjoying art," Singer says.
If you go
The numbered doors around Atlanta are free to visit and accessible to people of all ages. Use the map below to find them. For more info, visit the Tiny Doors ATL website.