Since its inception, the U.S. has usually placed men at the top—of governments, letterheads, and anywhere else that mattered. But whether it's been as the President's wife, a cabinet appointee, UN delegate, spirit guide, field nurse, or topping one of the most recognizable legislative buildings in the world, it's clear that a woman's place has always been everywhere—even if public statues and government institutions might be slow to catch up. 
Years after She Built NYC was founded, New York City still only has five statues depicting real women (apparently the pandemic delayed efforts to build the first new one, of Black Brooklyn native—and first woman to run for president—Shirley Chisholm). Washington, D.C., is doing a bit better: In late 2020, Congress passed legislation to create the Smithsonian American Women's History Museum, which will one day have a physical home on or near the National Mall. 
Related New York City will double its statues honoring real women
In the meantime, several monuments honoring the achievements of women exist around the District, including the actual White House, currently home to the office of the first-ever woman Vice President, a female rescue feline named Willow, and Dr. Jill Biden, who is an educator in addition to being First Lady.
In honor of Women's History Month, here are 10 of the best monuments or memorials depicting women in Washington, D.C.
---
---
1. Mary McLeod Bethune Memorial, Lincoln Park
Mary McLeod Bethune was born to formerly enslaved parents in South Carolina in 1875. Bethune was a mother, educator, and founding president of civil rights organization the National Council of Negro Women (NCNW). Also a friend of Eleanor Roosevelt's, Bethune was the highest-ranking African American woman in FDR's administration, where she served as the director of Negro Affairs of the National Youth Administration until 1944.
Washington, D.C.'s first monument to honor a Black woman on public land features Bethune and two children as its subjects. Located at the east end of Capitol Hill's Lincoln Park, the bronze and stone monument was paid for by funds raised by the NCNW. Erected in 1974 (19 years after her death), the base features a quote from Bethune that begins with "I leave you love. I leave you hope," and ends with "I leave you finally a responsibility to our young people."
---
2. Olive Risley Seward statue, Capitol Hill
Olive Risley was in her 20s when she was adopted by William Henry Seward, who had served as U.S. Secretary of State under presidents Abraham Lincoln and Andrew Johnson. Seward was in his 60s, widowed, and had lost a daughter of his own; Risley became his companion and, to squash rumors of impropriety, Seward adopted her. We can't be sure how she felt about the odd arrangement (or what her own father, who was still alive, thought), but after Seward died, Risley's book about their travels, William H. Seward's Travels Around the World, became a bestseller.
Today, a lead sculpture of Risley (missing a hand and seasonally sporting a witch hat) stands in the yard of a private home at the corner of North Carolina Avenue and 6th Street SE. Sculpted in 1971 by John Cavanaugh, the statue was made to resemble an idealized Victorian lady because Cavanaugh couldn't locate a photo of Risley. He did, however, make sure she was facing nearby Seward Square. Her adoptive father is buried with his wife and biological daughter in Fort Hill Cemetery in Auburn, New York.
---
3. Peace Monument, U.S. Capitol
Erected in 1878 at the bottom of Capitol Hill, the 44-foot-high Peace Monument is sculpted from white Carrara marble with a blue granite base. At the top, two robed female figures lean against each other: Grief and History. According to the Architect of the Capitol, "Grief holds her covered face against the shoulder of History and weeps in mourning. History holds a stylus and a tablet that was inscribed 'They died that their country might live.'" The monument features natural symbols such as a laurel wreath, oak branch, dove, and scallop shells, and a fountain at its base to commemorate Civil War naval deaths at sea.
Look behind the Peace Monument to the top of the Capitol dome for perhaps the most-photographed woman in Washington, D.C. The bronze Statue of Freedom stands 19 feet, 6 inches tall, but perched nearly 300 feet high above the Capitol's east plaza, she has one of the best views in the city. 
---
4. Contemplation of Justice, U.S. Supreme Court
Statue of Freedom looks east, forever in a staring contest with another of D.C.'s famous women in stone: Contemplation of Justice, installed in 1935 on the left side of the U.S. Supreme Court. A matching male statue, a guardian of law, is to the right of the stairs; both preside over a gleaming white plaza underneath the court's entrance inscription, "Equal Justice Under Law."
According to SCOTUS, artist James Earle Fraser described his figure as "a realistic conception of what I consider a heroic type of person with a head and body expressive of the beauty and intelligence of justice." Her left arm rests on a book and in her right hand she holds a miniature blindfolded figure of Justice.
---
5. Frances Perkins Building
You won't find a woman's name at the end of the Constitution, but on April 10, 1980, the New Labor Building at 200 Constitution Avenue NW was named after one: Frances Perkins. The naming ceremony took place on the 100th anniversary of Perkins' birth. She had died in 1965, but led a ground-breaking life as an educator, workers-rights advocate, the fourth-ever U.S. Secretary of Labor, and the first woman to serve in a presidential cabinet (in the FDR administration).
Built in the mid-1970s, the six-story steel and limestone Department of Labor building isn't as remarkable as its namesake, but it is sprawling (and the retro lamp posts are noteworthy). With more than 1 million square feet of space, the Frances Perkins Building also includes an auditorium named for fellow workers-rights-activist Cesar Chavez and a Labor Hall of Honor; inductees include Chavez, Perkins, Dolors Huerta, Helen Keller, and Mother Jones.
---
6. Spirit of Haida Gwaii, The Black Canoe, Canadian Embassy
The Spirit of Haida Gwaii, the Black Canoe sits in a large open courtyard of the Canadian Embassy on Pennsylvania Avenue NW, the only embassy to be located on the presidential inaugural route. The large bronze dugout canoe is packed full of mythological figures from the Aboriginal heritage of Haida Gwaii, an archipelago off the Canadian Pacific Coast, including a trickster raven, Bear Mother, and Dogfish Woman.
Two versions of the sculpture were made by artist Bill Reid: Black Canoe was featured on the Canadian $20 bill from 2004 to 2012; The Spirit of Haida Gwaii, the Jade Canoe is on display at the Vancouver International Airport.
---
7. National Museum of Women in the Arts
National Museum of Women in the Arts (NMWA), the first museum in the world of its kind, was founded in D.C. in the 1980s. In its current location on New York Avenue NW since 1987, the museum is currently closed for renovations until fall of 2023. But visitors wishing to support and celebrate women in the arts can view NMWA's current exhibition from the street.
Katharina Cibulka's SOLANGE plays with the scale of a traditionally small women's craft to broadcast a big message. A white net is draped over scaffolding surrounding NMWA's flagship building, and in it Ciibulka's team cross-stitched in pink neon netting: "As long as generations change but our struggles stay the same, I will be a feminist."
---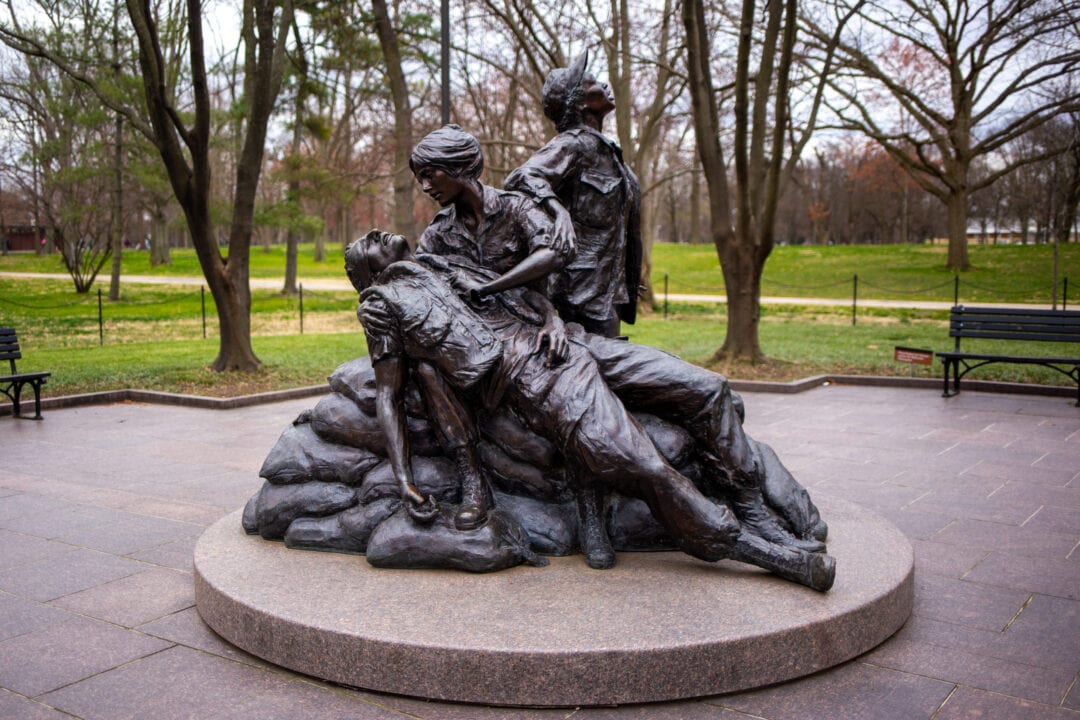 8. Vietnam Women's Memorial
Just eight of the more than 50,000 names inscribed on the black granite Vietnam Veterans Memorial belong to women (the National Park Service suggests you ask a park ranger to point them out); after you pay your respects, look in between the memorial and the reflecting pool for the Vietnam Women's Memorial.
Related Honor veterans year-round at these D.C. memorials
Dedicated in 1993, the statue depicts two women helping a fallen soldier. Funds for the memorial were raised by the founder of the Vietnam Women's Memorial Foundation, Diane Carlson Evans. According to the foundation, former Army nurse Evans "became the first woman in American history to spearhead a campaign to place a national monument in Washington, D.C. which recognizes the contributions of military women to their country, as well as civilian women's patriotic service."
---
9. Eleanor Roosevelt, The Franklin Delano Roosevelt Memorial
The FDR Memorial is designed as open rooms, each representing one of Franklin D. Roosevelt's four terms as president. Room Four highlights FDR's death in 1945, and also features a statue of Eleanor Roosevelt, the only First Lady to be depicted in a presidential memorial. She deserves her own recognition apart from the accomplishments she shared with her husband: Eleanor, an activist and mother of six, was the first U.S. delegate to the United Nations and helped craft the UN's Declaration of Human Rights.
For more about First Ladies throughout history, visit the National Museum of American History's permanent collection of inaugural dresses (and in Biden's case, a matching face mask), White House china, and other memorabilia. 
---
10. Jane Delano, American Red Cross headquarters
Jane Delano is regarded as the founder of the American Red Cross during World War I. She served as superintendent of the Army Nurse Corps from 1909 to 1912, and was the chairman of the new National Committee on Red Cross Nursing Service. Delano, who is also credited with creating the first volunteer nursing unit, is memorialized with a bronze statue standing in the courtyard of the Red Cross' national headquarters. The plaza, located between 17th and 18th Streets and D and E Streets NW, also features a statue of a woman nurse helping three wounded men.
In her sculpture, Delano appears as a hooded, Mary-like figure, with hands outstretched; the stone base dedicates the piece to 296 nurses who died in the war. A long white stone bench unfurls to Delano's sides, carved with the words: "Thou shalt not be afraid for the terror by night, nor for the arrow that flieth by day, nor for the pestilence that walketh in darkness, nor for the destruction that wasteth at noonday."
---
Take this trip