When we think of the battlefields in America's long fight for civil rights, we tend to think of a few specific places: the Edmund Pettus Bridge in Selma, the front seats of city buses, the Lorraine Motel, for instance. But segregation was rampant in almost every type of public space, from hotels, schools, department stores and churches, to even the most casual of restaurants.
The lunch counters at Woolworth's department stores were once such places: They were fixtures in almost every American city, yet many remained staunchly segregated well into the postwar years.
It wasn't until February of 1960, when four black college students resolutely sat at a segregated counter in Greensboro, North Carolina, that the tide began to turn. Their defiance led to a series of protests that became known as the Greensboro sit-ins. The protest ultimately resulted in the desegregation of all Woolworth's lunch counters, thus transforming this quintessential slice of Americana into an enduring civil rights icon.
Woolworth's, along with its lunch counters, gradually disappeared over the years before closing for good in 1997. But against all odds, one last well-preserved counter still hums away in 2019, slinging good burgers and milkshakes seven days a week.
The Woolworth legacy
Five summers ago, I accidentally won a canary yellow '73 Pontiac Grand Prix in an eBay auction. The bid I had placed on a lark was so lowball that I hadn't considered for a second that it might be a winner—but there I was, the official owner of a precarious old barge that had to be picked up in person, stat. So, I enlisted my very obliging grandad for an impromptu road trip—half because he's good conversation and half because he's much handier than I am with a wrench.
We flew to San Francisco, picked up the glorious old boat in the Presidio and started our 10 miles-per-gallon slow roll over the Golden Gate Bridge, headed for California's Central Valley and then out east along Route 66.
The trip was a glorious 1,200 miles of time travel. We listened to public radio on the car's AM tuner and stopped often to fuss with the carburetor, add water to the radiator, and kick the old tires for good measure. We stopped at every time warp we came across, from the perfectly preserved '70s-era brown and orange A&W drive-in in Modesto to the glorious old Silver Dollar Hofbrau in Fresno, plus seemingly every motel of last resort with a good neon sign.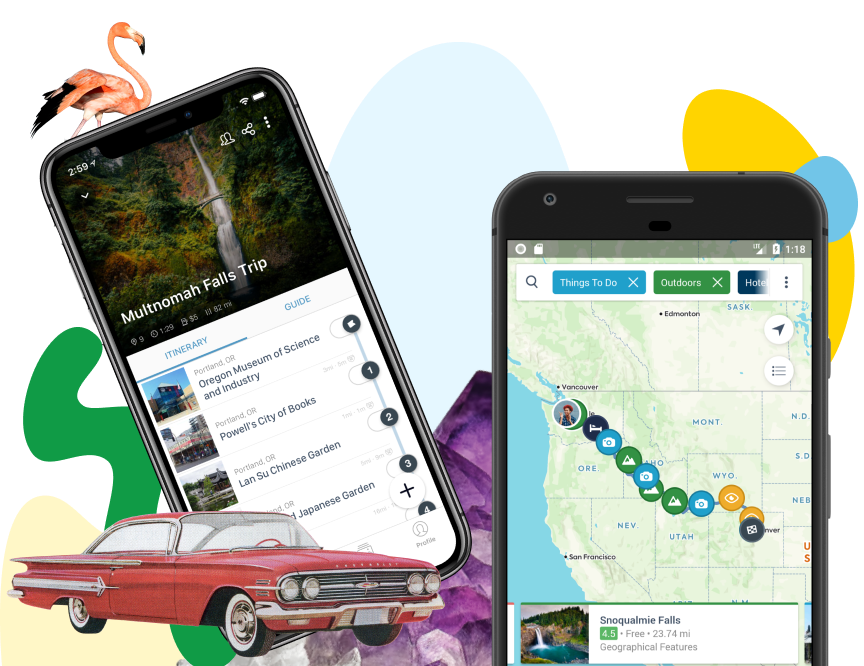 Download the mobile app to plan on the go.
Share and plan trips with friends while discovering millions of places along your route.
Get the App
We found the one true treasure of the trip in Bakersfield. Inside an antique mall in an old Woolworth's building that still bore its gilded signage, there it was: deep into the 21st century, a real Woolworth luncheonette alive and hopping, as if history had entirely passed it by. We basked in the chrome, wondered aloud about how the place was still open, had a (very good) burger, and hit the road again.
I can still remember the candy apple red, backlit Woolworth's sign that flickered on at dusk in my hometown, even when I was a kid in the '90s. The lunch counter had long been removed by then, but until the store closed it was the best spot in town to buy candy, firecrackers, and milkshakes.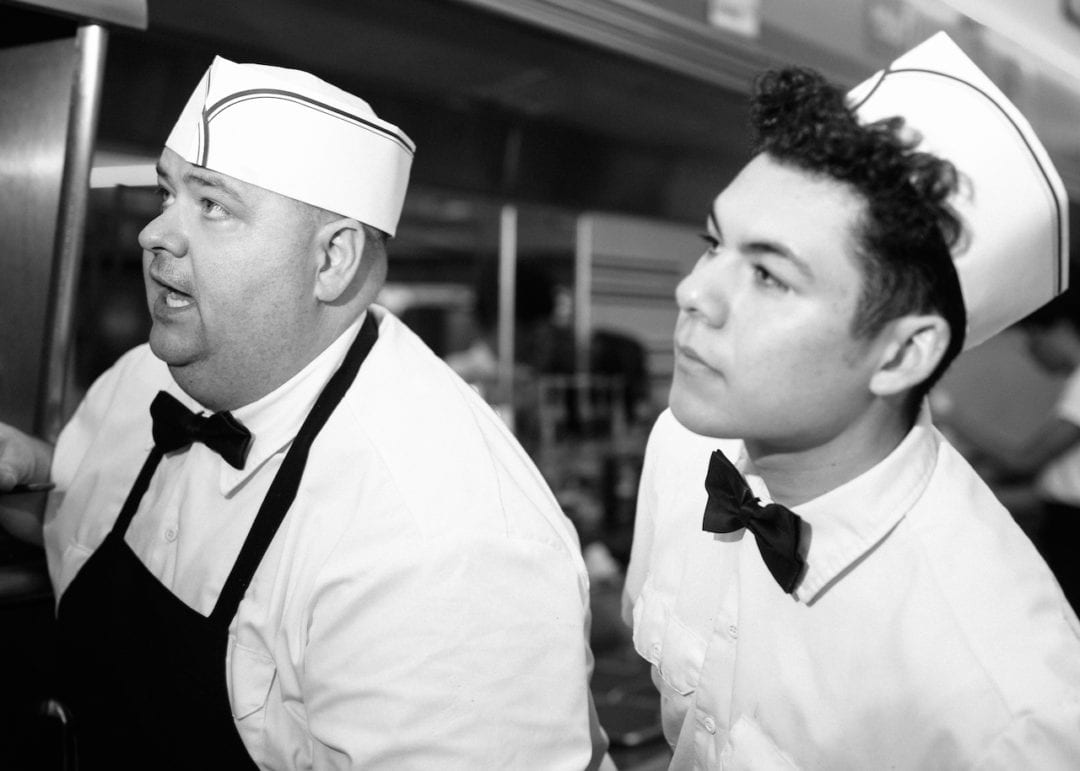 Dozens of semi-preserved former locations of the chain survive in downtown areas across the U.S., some have been designated historic landmarks. Other architectural remains of the company's long history still dot the landscape, most notably the resplendent, gilded Woolworth Building on Broadway in Manhattan. It is a masterpiece of the gothic revival style, designed by architect Cass Gilbert—critic Paul Goldberger has called it the "Mozart of skyscrapers." The world's tallest building from its opening in 1913 until 1930, it served as the company's headquarters until its closure. Since then, it's been converted partially into luxury apartments that sell for upwards of $30 million.
The Woolworth's brand has had a rather interesting afterlife, too. Variety stories using the Woolworth's name were founded in several countries with varying degrees of success, with many outliving the original chain by decades. In Australia, for instance, Woolworth's is still one of the most popular supermarket chains in the country. And what about the influential American giant that started it all? Though the original name is long gone, the company never technically died—rather, it rebranded, refocused, and today lives on as every shopping mall's favorite sneaker spot, Foot Locker.
Last lunch counter standing
Fast forward to the summer of 2019. July 25 marks 59 years since Woolworth's officially started desegregating their lunch counters, following six months of protests spearheaded by civil rights organizations, churches, community members, and hundreds of college students.
I returned to the Bakersfield luncheonette this month for the first time since stumbling upon it all those years ago, in search of a little perspective.
The place has officially been called "Woolworth's Diner" since local brothers Jeremy and Joseph Trammel took it over in 2010. I walked in at opening time sharp on a Saturday morning and found Jeremy pressing hamburger patties by hand out of fresh beef. They press around 200 every day, a real rarity among inexpensive restaurants these days.
When the Trammels first took over, they had to search as far away as Texas to find a supplier that could provide hamburger meat that wasn't pre-formed and frozen. Their insistence on fresh everything is an homage of sorts to the place's old-fashioned ethos.
"We're among so much history in this place, but we knew we needed to stand out in some other way," Jeremy says. "We're one of the only places around that makes almost everything from scratch. It's our thing."
The space is still intact to a remarkable degree, looking much as it did when this Woolworth's location opened in 1949. Its 22 distinctive metal and vinyl stools are exactly like the ones in all the famous press photos of the Greensboro protest, the wood veneer on the countertop is original, and nearly everything behind the counter—save for modern milkshake machines, a soda fountain, and a flat top grill added in the 1980s—is just as it would've been in Atlanta or Chicago or Bakersfield in Woolworth's heyday.
Local artist Charlotte White, known for her paintings of local landmarks such as the nearby Fox Theater, visits the diner occasionally to soak up a bit of history. "This place is really the last of its kind. You're eating a historic hamburger," she said. "I've lived all over the country and after years of being in Bakersfield, I'm still surprised at the treasures hiding all over this county."
An informal dining space with tables beyond the counter was added at some point, and so a passageway was cut through the middle to allow servers to walk easily out from behind it. Originally, the counter had been one continuous surface with all customers in front and all servers and cooks behind. Thanks to that little modification, it's a more convivial atmosphere these days, with large groups of customers eating together at tables and mostly solo diners and couples at the counter. Server Telea Shaw, who whips up and delivers dozens of picture-perfect milkshakes over the course of my visit, says, "You really learn how to run in this small space. I never drop anything!"
Customer Marcia Gonzales, born and raised in Bakersfield, says she remembers coming to the lunch counter with her grandma as a child in the 1970s. "They used to do the best root beer floats, and sometimes the cool crowd in high school would gather here after school," she says. "But when kids were old enough to drive, they would cruise around town and we went to the drive-ins instead. I didn't really know anything about the history of the lunch counters, but it's awful to think that my mom or my grandma might not have been able to sit at one if they had grown up somewhere else because they're not white."
Woolworth's Diner isn't officially preserved as a monument to civil rights, but that doesn't make its legacy any less important. And though this location is a few thousand miles and a few layers of history removed from the exact counter that made it an icon, Woolworth's Diner remains a worthwhile site of pilgrimage and one of the most memorable places in America to enjoy a damn good burger.
If you go
Woolworth's Diner in Bakersfield is temporarily closed. Check Facebook for updates.