I was on the journey of a lifetime: riding a motorcycle around the world. The world had other plans, however. One day I was blasting off-piste across the Sahara—and the next day I was trapped in a Moroccan apartment outside of Agadir due to a strict lockdown. 
A year later, I was back at home in the United Kingdom, in a second lockdown, with itchy feet and itchy tires. I was eager to be rolling again but the world remained stubbornly closed. My first choice, driving across Africa to Cape Town, was no longer possible due to escalating regional conflicts. My second choice, across Russia to the Road of Bones in Magadan, was also off the table due to Russia's closed land borders. It seemed everywhere I looked, even as air borders were starting to open, land borders did not follow suit—and overland travel effectively remained on hold.
There was one exception: the U.S. While I'm now based in the U.K., I spent most of my life in the states. My preferred form of travel is riding remote parts of far-off lands, immersed in strange cultures, where every day offers something new and unexpected. Riding across the U.S. and returning to the land of my birth just didn't seem like it could compare in terms of adventure. So I decided that if I were to do it, I would add an extra challenge: I would be riding coast to coast, almost entirely off-road via the Trans America Trail (TAT).
The adventure begins
I picked up the bike in New York City, but I was still hundreds of miles from where the TAT starts in West Virginia. I followed the Mid-Atlantic Backcountry Discovery Route (BDR) from Pennsylvania to where it intersects with the TAT. It was slow-going at first, as I got re-accustomed to the rigors of riding all day and camping all night. I discovered my mattress had a slow leak and my tent, which had survived a tour through Scotland, was not waterproof enough to withstand East Coast summer thunderstorms. The rain came down in sheets and at times I thought my tent was about to float away. Soggy, I checked into a hostel a few days later armed with tent sealant and mattress repair patches. 
It was only after riding this section for days on end that I started to notice the subtle landscape changes, from dense forests in the northeast, to cool twisty roads in the Appalachians, and the hot and humid pine forests of Tennessee.
I became a connoisseur of gravel, because I had to: Nearly every inch of the unpaved road was covered in the stuff. I learned to recognize by size, shape, and the crunching sound underneath the wheels just how much my bike would shimmy through the road. 
I have always been a slow rider off-road, preferring cautious puttering over twisting the throttle, but here in the U.S., I found myself packing on more speed; the sheer scale of the endeavor meant that I had to pick up the pace. 
A warm and muddy welcome in Arkansas
The forests of the East transformed into farmlands surrounding the Mississippi river. This part of the U.S. isn't known for adventure riding, so when locals see a heavily loaded dual sport bike riding down remote farm roads, it means only one thing—it's someone on "the trail." 
Along the trail, people put up the TAT sign to welcome weary travelers sweltering through the Arkansas summer. At Kale & Kale, retiree Percy Kale sat me down in his general store-turned-museum and gave me a can of cold Pepsi. "It took you long enough to get here," he said with a twinkle in his eye. I flipped through his logbook and saw the names of people I had met along the way. They had all been on a much shorter timeframe than my open-ended journey, so they had rushed ahead of me. I dutifully entered my name, and flipped through the photos of people who had done the same journey; most of them were on motorcycles, some on 4x4s, and even a few on bicycles.
Percy's son Glenn arrived and warned me: "The road ahead is pretty muddy right now because of the rains. I'd definitely skip the next section."
I decided to take a look at the infamous mud. I'd heard stories from travelers about how when the rains set in, on the whole stretch between Mississippi and Oklahoma, soaking the farmlands, it creates an unrideable slurry that burns clutches, gums up tires, and strands riders. 
I turned off the tarmac onto a gravel road that was thick and rutted with mud. I paddled a short distance up to where two farmers leaned against their pickup trucks, chatting. "It's gravel up ahead and this is the worst bit, you'll be fine," they assured me. I continued, but this was unlike any road I'd ridden before. Somehow it was soft and slippery and sticky all at once—and progressively got worse. Every time I tried to lift up my feet, the bike threatened to slide out from under me.
Eventually, one of the farmers drove over to check on me. Halfway up the road, his truck started slipping and he slid right by where I was stopped at a 45-degree angle. When his truck finally came to a halt he leaned out his window. "We were watching you," he said. "Don't worry, that's gravel right ahead." The total length had been less than a mile, but it had been a struggle. When the gravel once again ended, I followed Glenn's advice, backtracked to the tarmac, and skipped the next section.
Desert solitude in Western Utah
The highlight of the TAT comes more than 3,000 miles in, when the prairie collides with the Rocky Mountains. I rode over dizzying passes where the air is thin and the riding becomes technical. I then descended into Moab, where wind and water form the red rock into fanciful shapes and where one could easily spend a whole year and not exhaust the riding opportunities. Suddenly I went from seeing only the occasional TAT rider to being one of an endless stream of motorcycles, side-by-sides, quads, and Jeeps. The crowds of weekend warriors and part-time adventurers vanished as quickly as they came, as I exited the Canyonlands and continued west through a remote and rarely-visited part of Utah. 
The solitude was immense. I stopped at a spigot in a field where wild horses drank. They stamped and shook their heads at me as I filled up my water bottles, angry that they had been interrupted. Gravel crunched under my tires as I continued down through Death Canyon before it opened up into a wide flat salt plain. The sun was low in the sky as I set up camp on this seldom-traveled road next to sand dunes. It had been hours since I had seen another person, and there was no sign of any human life as far as I could see.
The silence of the desert that night lay thick as a blanket over my tent, under a sky studded with stars. I awoke early to a perfect pink sky at dawn and hunched over my little stove to cook breakfast. My morning bath was in a nearby warm spring, the water gushing over a small waterfall into a crystal clear pool.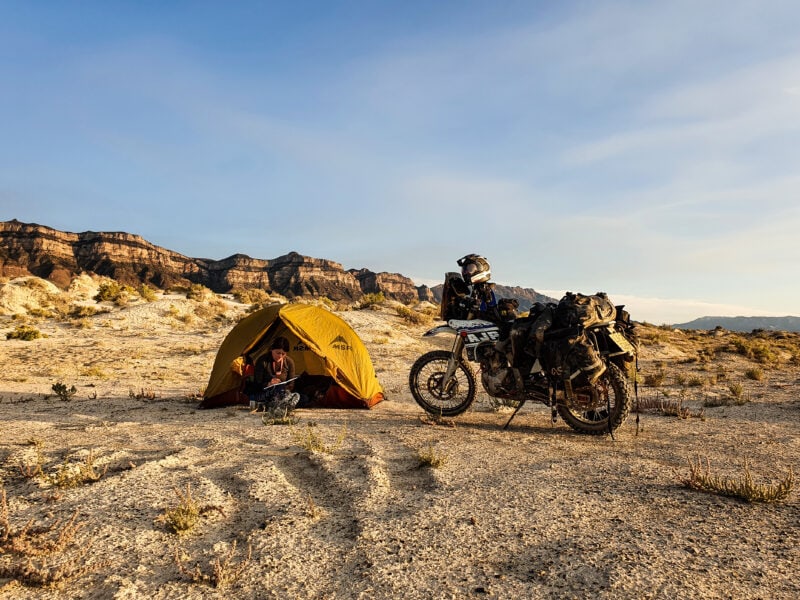 The roads were straight, wide, and empty. I twisted my throttle and blasted across the desert, my speedometer reading 50, 55, 60, and higher as I left a plume of dust in my wake. I still had thousands of miles left to go.
Winter approaches
I had started this journey later in the year than I should have, given my pace. It was already late September by the time I made it to Oregon, the last state on my journey. The peaks of the Cascades were already dusted with snow, and on a particularly cold day, I piled on the layers and discovered that my heated grips had broken somewhere along the way. By the time I got to the next town, I stopped at a local campground even though it was only 1 p.m. and crawled into my tent in an attempt to warm up. 
A few days more and the end came in a rush. A small sign with an arrow said "coast." Someone had stuck a TAT sticker on it. After one final "pavement ends" sign, the smell of the Pacific Ocean arrived before the sight of it. I turned onto the 101, the long coast highway that eventually leads to my California hometown, and rode a short distance to Port Orford. I turned at one of the fish restaurants and went down the small path to Battle Beach. The bike squirmed onto the soft dry sand before making it to the firmer dark wet sand; waves lapped over my tires, and with a baptism in saltwater, my journey had come to an end. 
What had been an entirely solo journey would soon become a group celebration. Kevin, who I had met earlier in Bend, Oregon, pulled onto the beach only a few hours after I did. Then a couple, Amy and another Kevin, rode up on a Zero electric motorcycle. "I can't go that far onto the sand," he said, laughing. "This bike is too heavy!"
While we had never ridden together, we had shared the joy and hardship of the route. That night at the campsite, we shared stories over a bottle of wine I had bought to celebrate. Amy said, "It sounds kind of strange, but I think of the TAT like a pilgrimage."
In the subsequent days I reflected upon that thought. Yes, the TAT is not the best or the most stunning ride across the U.S. It's days of boring and lonely gravel roads, with little more to see than small-town dollar stores and endless forests. But the TAT is special in a different way, in the uniqueness of being able to ride across a continent almost entirely off-road, on a route that's remained almost totally unchanged for decades. This shared experience bonded me with everyone that had done the TAT before and all who would do it after I had left.
While riding across the U.S. had not been my first choice for adventure, it left me with an experience that I couldn't have had anywhere else.