Between gas, food, and admission to attractions along the way, travel isn't cheap. Finding ways to make your money go further means your trip can go a little further, too. Camping for free might not be the most glamorous option, but it's got a certain romantic appeal to it. Free camping can mean anything from boondocking on public lands to catching up on sleep in a rest stop parking lot.  Here's what you need to know to get started.
How to find free campsites on public lands
Knowing which public lands allow free camping makes finding the perfect campsite a lot easier. 
Many of the areas managed by the Bureau of Land Management (BLM) and U.S. Forest Service allow dispersed camping for up to 14 days. Wildlife Management Areas also often allow it, but check to make sure that you don't need a permit and there aren't restrictions. National parks are generally too crowded to allow free camping—or even camping with no reservations—but some allow backcountry or dispersed camping (but you may need to obtain a free permit).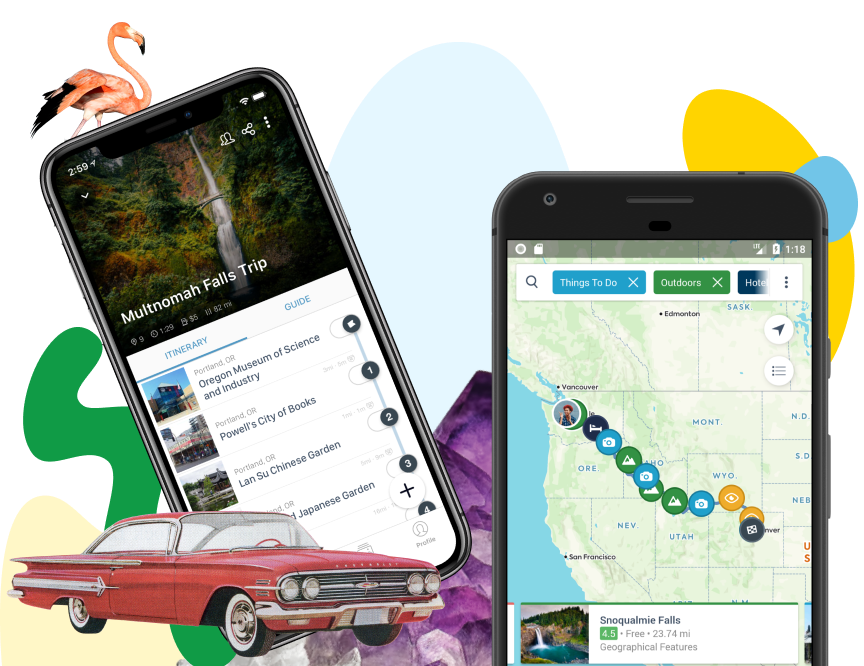 Download the mobile app to plan on the go.
Share and plan trips with friends while discovering millions of places along your route.
Get the App
Wherever you plan to stay, do as much research in advance as you can. You can get tips on what amenities a site may or may not have, how crowded it might be, etc. And if you're planning on tent camping, double and triple check that you have everything you need. Free campsites are often located off the grid, so you want to arrive prepared.
How to camp for free in a parking lot
You've probably heard that you can camp overnight in the parking lots of Walmart, Cracker Barrel, and other businesses. While it's true that many of these locations allow free overnight stays, some states have laws and restrictions around this. Use a resource like Overnight RV Parking to find out if an establishment allows for you to park overnight in your vehicle. And double check with management before you arrive for the night.
Apps for finding free camping
There are many apps and websites for finding places to camp for free on your road trip. Here are a few of our favorites:
Other free camping considerations
Some free campsites might not come with bathrooms (or bathrooms that you want to use). It's not hard to find a McDonald's or gas station bathroom to use, but showering is a different issue. Truck stops are one option, or if you're planning on traveling this way for an extended period, purchase a gym membership to a nationwide chain and use its showers to freshen up while on the road.
Many free camping locations, and this certainly includes parking lots, have limited amenities. Plan to bring your own water, supplies, and creature comforts, and always pack out what you bring in. Don't plan on being able to have a campfire; research restrictions, permits, and advanced fire safety skills. You might not have cell phone service when camping on public lands, so don't expect to rely on your phone's GPS. Paper maps are good to have, just in case.