Every year, the northern U.S. and Canada transform into a winter wonderland—whether we like it or not. As tempting as it is to cozy up at home until spring, there's plenty of winter magic to be uncovered. Bundle up and head out into the crisp air to experience the places that really know how to make the most of wintry weather.
Visit all-out, winter-inspired festivals and epic snow-sculpting competitions. Say sayonara to cabin fever and saddle up to an ice bar, tour an ice museum, or marvel at a castle constructed from more than 12,000 icicles. Dive into quirky traditions at long-running winter carnivals and allow yourself to be captivated by the beauty of the season—you might even forget that your toes are cold for a minute or two.
Here are some of the top places to celebrate the winter season in North America.
---
1. Ice Magic Festival, Banff, Alberta
Banff has long been a destination for outdoor enthusiasts, no matter the season. When Canadian winter sets in, the only thing to do is embrace it wholeheartedly. Alberta's annual Ice Magic Festival has been delighting visitors and locals alike for 28 years. Set amid the idyllic Lake Louise at the Fairmont Chateau, enchantment is easy to come by during this 12-day event, which features an ice castle on the frozen lake, horse-drawn carriage rides, and an impressive bar crafted from ice. Teams of skilled carvers create themed ice sculptures in less than 30 hours.
Related Frosty masterpieces during Banff's Ice Magic festival
Previous years' themes include "25 Years of Magic" and "All in the Wild." The competition is part of the larger SnowDays Festival, which takes place in downtown Banff and features activities such as fat-tire bike riding and ice skating, as well as snow sculpting and the world-famous "skijoring" event, during which a person on skis is pulled by a horse, dog, or vehicle.
---
2, Ice Castles, Lake George, New York
The newest addition to the well-loved Ice Castles line-up is located in Lake George, New York. For the last decade, Ice Castles has been building massive frozen fairytale structures in a handful of locations around the U.S., including New Hampshire, Utah, Minnesota, and Wisconsin. What started in the yard of founder Brent Christensen as an icy wonder for his own kids, has since grown into a joyful winter treat for the masses.
Created by hand, the giant acre-sized castle is constructed by a talented team using more than 20 million pounds of ice and thousands of icicles. Channel your inner Disney princess at this Upstate New York ice castle that looks straight out of Frozen's fictional land of Arendelle. But this isn't your run-of-the-mill walk-through experience: Visitors can crawl through tunnels and a maze, sit on frozen thrones, and experience slippery slides at this interactive winter playground. Vibrant LED-lit sculptures add to the allure at night when the ice castle becomes even more photogenic.
Open to the public through February 21, tickets are required; dates and hours are subject to change depending on the weather, so check the website before you go.
---
3. Freezefest, Bloomington, Indiana
For the second January in a row, Bloomington, Indiana, pays homage to the winter season with Freezefest, a free, 3-day event throughout the downtown area. Freezefest kicks off with an ice carving battle at the local Upland Brewing Company, where two skilled ice carvers create their frozen masterpieces on the patio. Grab drinks from the onsite ice bar and watch the sculptures take shape; brews and sodas are both served, making this a kid-friendly affair.
If you miss out on Friday's ice carving festivities, live demonstrations take place on Saturday afternoon in various spots throughout downtown. Part of the fun is trying to guess what the final product will be, as the sculpture designs are kept secret until the end. Work up an appetite by playing a game of frozen ping pong, and then refuel with snacks from local food trucks.
Freezefest's four giant ice sculptures will stay on display downtown until they melt, so even if you can't attend the actual festival, you may still be able to get a glimpse of the frozen magic.
---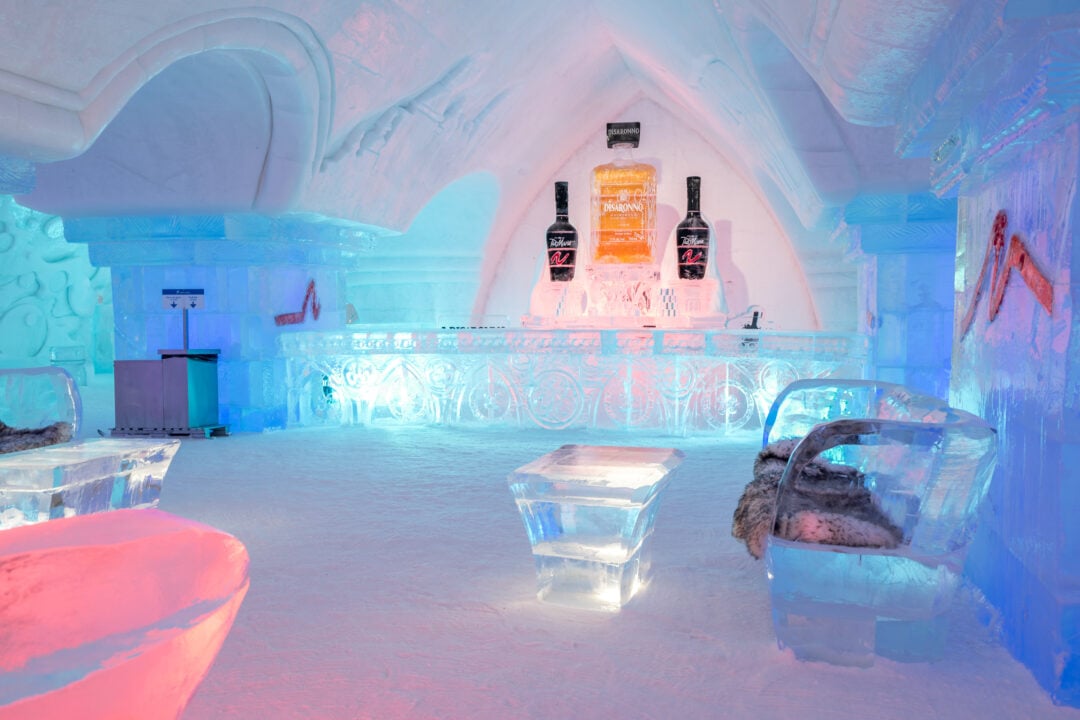 4. Hôtel de Glace, Quebec City, Quebec
Take the frozen festivities to a new level and spend a night at the only ice hotel in North America. Quebec's Hôtel de Glace pops up every winter to provide guests with a one-of-a-kind experience—should you be up for the challenge. Constructed out of only snow and ice, the hotel isn't just a fun frozen attraction, it's also an architectural marvel. More than 2,000 blocks of ice and 15,000 tons of snow are transformed into a bewitching design that changes every year.
A short 20-minute drive from the heart of Quebec City, Hôtel de Glace is set within the larger Village Vacances Valcartier, a destination resort offering winter activities such as ice-skating and extreme snow tubing. Highlights of the property include the Grand Hall, chapel, big slide, ice workshop, and an ice bar, where cocktails are slung in glasses made of ice. The 20 rooms range in size and price, and options include themed suites, fireplaces, and private spa add-ons.
So, how cold is it? The temperature fluctuates between 23 and 27 degrees Fahrenheit, and all of the rooms come equipped with thermal sleeping bags. Warm up in the outdoor hot tub and sauna and then snuggle up in your Nordic abode for some shut-eye. Not up for a frosty night's sleep? No problem. Book a warm hotel room nearby and enjoy a public tour of the ice hotel's property, including a peek into the guest rooms.
Hôtel de Glace is open from January to March, and reservations can be made here.
---
5. Aurora Ice Museum, Fairbanks, Alaska
Known for its optimal northern lights viewing, Fairbanks, Alaska, is already chock full of winter magic. To add to the allure, the Aurora Ice Museum at Chena Hot Springs keeps winter enchantment as a year-round feature in the resort's structure. Designed and sculpted by world champion ice sculpting duo Steve and Heather Brice from more than 1,000 tons of snow and ice, the museum features intricate ice sculptures, an ice bar, an igloo, an observation tower, colorful lighting, and more.
One-hour tours run five times a day and tickets include a cocktail from the ice bar, served in a martini glass made of ice. Make sure to bundle up in one of the available parkas—the inside stays at a chilly 25 degrees Fahrenheit.
After the Ice Museum, warm up with a dip in the famous Chena Hot Springs pool. If you play your cards right, you might even luck out and enjoy your soak with the northern lights dancing above.
---
6. McCall Winter Carnival, McCall, Idaho
Known for its "Seven Winter Wonders," the state of Idaho has a snow-infused outdoor activity for each day of the week. The iconic McCall Winter Carnival celebrates the small town's winter splendor with an annual 8-day festival. This year's theme is "Return To Our Roots," paying homage to the heart and soul of this well-loved event, which began in the 1960s.
McCall pulls out all the stops: Visitors can expect to be dazzled by snow sculptures, a snow bike race, snowshoe golf, a beer garden, live music, and fireworks. One of the must-see events is the Idaho Dog Sled challenge, a 300-mile Iditarod- and Yukon Quest-qualifying race that starts at Cascade Lake.
---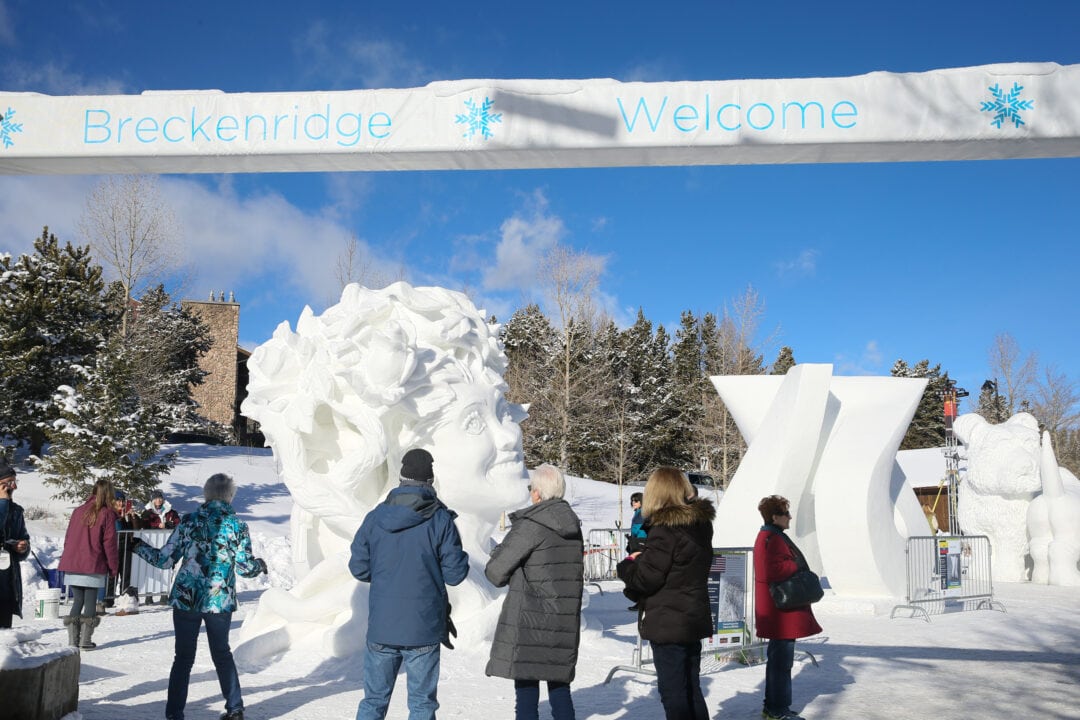 7. International Snow Sculpture Championship, Breckenridge, Colorado
Breckenridge, Colorado, is no stranger to embracing the winter weather as a world-famous ski destination. The International Snow Sculpture Championship adds to the town's winter wonderland backdrop, drawing snow artists from all over the globe. Every January for the last 30 years, teams of snow sculptors transform the quaint downtown area into an open-air art gallery in just 96 hours—using only hand tools.
After you wander through the sculptures and pick out your favorites, there are plenty of other winter-inspired activities to enjoy: Strap on some skis and glide down the resident mountains, pedal around on a fat tire bike, or embark on a guided snowmobile tour. Make sure to double back and see the sculptures sparkle at night.
---
8. Glacier Ice Bar, Rockport, Maine
Samoset Resort's Glacier Ice Bar & Lounge makes a hard case for visiting Vacationland in the winter months. Every year, more than 20,000 pounds of glacier ice are transformed into one of New England's coolest bars by the resort's executive chef, Tim Pierce, who added ice carving to his list of talents in the early '90s.
The coastal town of Rockport, Maine, is host to this annual winter event which typically spans two weekends in late January. Special craft cocktails and mocktails (try Grandma's Hot Chocolate) are served al fresco on the resort's outdoor patio—if you need to warm up, head inside to the cozy fire. If you're craving a snack, delicious eats are served up at Enoteca, the resort's onsite restaurant.
Related Top 10 things to do in Maine
The glacier bar isn't the only attraction made of ice. Ice benches adorned with cozy blankets, a variety of ice sculptures, and plenty of icy photo ops are sprinkled throughout the lounge area. Can't get up to Maine? The famous Ice Bars pop up at some other locations as well, such as the Sagamore Resort in Lake George, New York.
---