Roadtrippers who are in the market for a new car may be debating whether or not an all-electric vehicle will give them enough freedom to travel without range anxiety and meticulous planning, which can put a damper on any great adventure. Thankfully, there are in-between options for those not ready to go all-in on electric but who want to be environmentally conscious. Hybrid vehicles are an attractive and financially savvy alternative to EVs. Plus, they give buyers high fuel economy and the ability to go places where electric charging stations can't.
Related Interested in buying an EV? Here's where to start and what to look for
Types of hybrids on the market
There are three types of hybrids on the market: conventional hybrids, plug-in hybrids, and mild hybrids.
Mild hybrids
Mild hybrids are a bit of a misnomer; they're basically gasoline-powered cars equipped with a 48-volt lead acid battery instead of a standard 12-volt. This upgrade powers onboard accessories such as electronic systems, air conditioning, and start-stop systems that automatically shut off the engine at stop lights and prolonged periods when the vehicle isn't moving. The fuel-saving potential of these mild hybrid systems is gained through the automatic start-stop feature that improves fuel economy by an estimated 7 percent.
Conventional hybrids
Conventional hybrids, like the pioneering Toyota Prius, primarily use a nickel-hydride battery that is more energy dense than lead acid batteries and is paired with an internal combustion engine (ICE) powertrain system. However, a few manufacturers are now producing hybrids using lithium-ion pouches. These vehicles capture energy through regenerative braking and store it in the battery to propel the vehicle typically up to 45 miles per hour before the ICE kicks on for more propulsion.
Plug-in hybrids
Plug-in hybrids (PHEVs) are a compromise between an electric vehicle and a hybrid car because they have two powertrains: a gasoline engine and an electric motor paired with a lithium-ion battery pack. These vehicles are considered a stepping stone for drivers who want to be able to travel a limited range using only electricity and also have the ability to travel longer distances using a combination of gasoline and electricity when the vehicle operates as a hybrid. Most drivers travel on average 40 miles per day, and many PHEVs have electric driving ranges long enough for drivers to rarely use their gasoline system.
Related How to find EV charging stations on a road trip
How far a PHEV can travel using only electricity depends on its battery size. Hybrids and PHEVs often cost more than gas-powered vehicles, and how long it will take to recover the higher premium paid for the electric-propulsion system varies between manufacturers and vehicles. PHEVs can especially save drivers money in the long run because, in addition to using less gasoline, they often require less money to maintain.
When shopping, keep in mind that manufacturers often add more optional features as standard equipment to hybrids and PHEVs, which makes it difficult to compare them side-by-side to their gasoline-only counterparts.
Hybrids we love for roadtripping
What's the best hybrid vehicle for road trips? High fuel economy is just one factor to consider. Price, comfort, cargo space, off-roading and towing capabilities, advanced telematics, and driving enjoyment all play a role in choosing a vehicle that's right for you and your lifestyle.
Ranging from SUVs and minivans to crossovers and sports cars, here are a few of the top roadtripping-worthy hybrids on the market today:
2023 Subaru Crosstrek Hybrid
The 2023 Subaru Crosstrek Hybrid stands out in a sea of subcompact crossovers for its driving dynamics, unique styling, and off-road capabilities. Available only in the top-of-the-line Limited trim, this plug-in hybrid is brimming with advanced drivetrain technologies and convenience features, including a full suite of driver assistance and safety systems, like EyeSight Driver Assist Technology. It also comes standard with symmetrical all-wheel drive, heated front seats, and an impressive multimedia system.
SPECS
Passengers
5
Towing capacity
1,000 pounds
Chassis
Unibody
Fuel range
17 miles on electric/35 MPG hybrid/90 MPGe combined
MSRP
$36,845 (plus destination fee)
Features and options we love:
Active torque vectoring is a performance system typically found only on luxury vehicles but comes standard on the Crosstrek Hybrid. This technology monitors road and vehicle conditions to apply brakes and send power to individual wheels automatically for better traction.
More information on this vehicle can be found here.
---
2023 Kia Sportage Hybrid
If you're looking for a well-rounded and affordable compact SUV that is heavy on style, spacious, and gets high fuel economy, the Kia Sportage Hybrid checks all the boxes. It's available with a hybrid or plug-in hybrid powertrain for drivers who are looking to save money at the pump, which means more money left to fill the best-in-class cargo area with souvenirs.
SPECS
Passengers
5
Towing capacity
Up to 2,000 pounds (with additional equipment)
Chassis
Unibody
Fuel range
42/44/43 MPG (city/highway/combined) front-wheel drive; 38/38/38 MPG (city/highway/combined) all-wheel drive
MSRP
$27,290 (plus destination fee)
Features and options we love:
It's not common to find a driver's cockpit that seamlessly combines two 12.3-inch LCD digital displays in a mainstream crossover, but this feature comes standard on the EX and SV models. It's also available with the Remote Smart Parking Assist system so drivers can remotely move the vehicle forward or in reverse, which is helpful for entering or exiting tight parking spaces where opening the door would be difficult.
More information on this vehicle can be found here.
---
2023 Jeep Grand Cherokee 4xe
The 2023 Jeep Grand Cherokee 4xe is a plug-in hybrid midsize SUV that seats five passengers across two rows. It's available in five trim options: the base 4xe, 30th Anniversary, Trailhawk, Overland, Summit, and Summit Reserve. All models offer a 25-mile all-electric driving range and average 56 miles per gallon fuel economy. Plus, this vehicle comes standard with a robust suite of advanced driver assistance systems, making it ready for any adventure. It also has nearly 11 inches of ground clearance and 24 inches of water fording.
SPECS
Passengers
5 to 7
Towing capacity
Up to 6,000 pounds
Chassis
Unibody
Fuel range
25 miles on electric/56 MPGe combined
MSRP
$59,865 (plus destination fee)
Features and options we love:
Besides its off-road capability, one of the standout features of 2023 Jeep Grand Cherokee 4xe is its optional massaging front seats with five modes available on the Overland and higher trims. An optional touch-screen for the front passenger seat makes it easy for the co-pilot to help out with navigation, camera viewing, and even their own private entertainment system. Jeep is also the only manufacturer to offer an available 950-watt McIntosh audio system.
More information on this vehicle can be found here.

---
2023 Mitsubishi Outlander PHEV
All new for 2023, the Mitsubishi Outlander PHEV is a great daily driver for families needing a spacious midsize SUV that also holds its own as a capable weekend adventurer. With standard seating for seven across three rows, the Outlander PHEV has room for everyone and all their gear, and still manages to reduce the gas budget with its estimated 38-mile electric drive range. All-wheel drive and trailer stability assist come standard.
SPECS
Passengers
7
Towing capacity
1,500 pounds
Chassis
Unibody
Fuel range
38 miles on electric/26 MPG hybrid/64 MPGe combined
MSRP
$38,845 (plus destination fee)
Features and options we love:
The 2023 Mitsubishi Outlander PHEV is the only mainstream plug-in hybrid that has an available DC fast charging port, which means that drivers can recharge its battery from empty to 80 percent in approximately 25 minutes. Capitalizing on its reputation for outdoor adventure, the Overlander PHEV includes a 120-volt AC outlet in the rear, so you can power most appliances in the wild or on the go.
More information on this vehicle can be found here.
---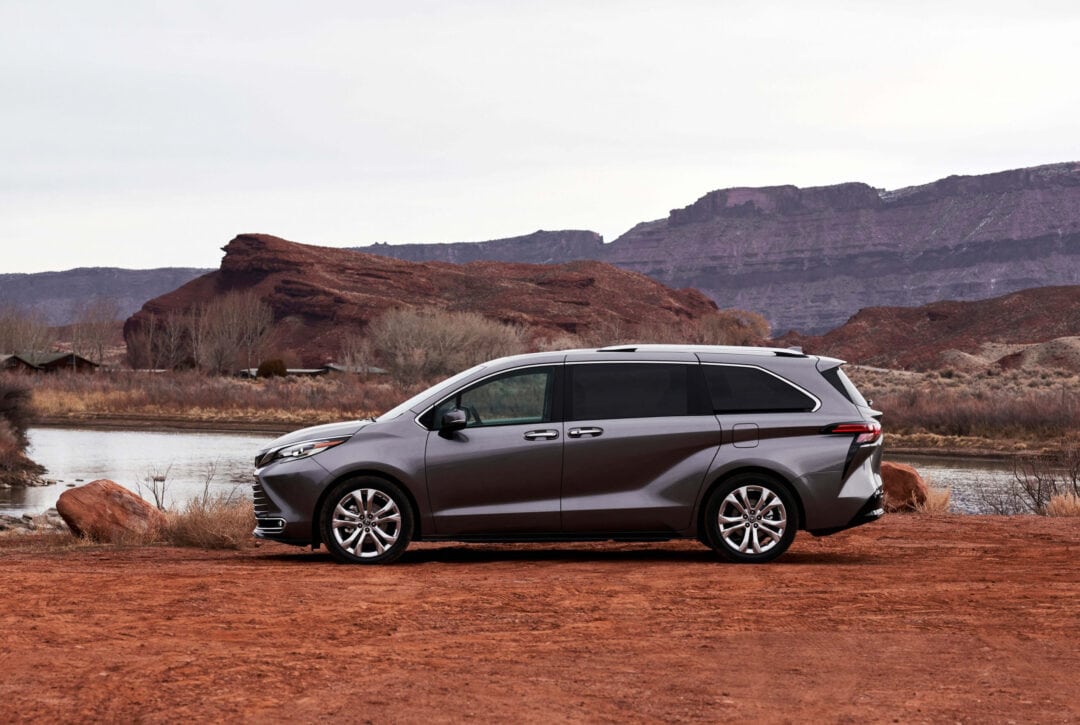 2023 Toyota Sienna Minivan
Spacious interiors, sliding doors, available all-wheel drive, and a spacious cargo area behind the third row are features that make the Toyota Sienna a roadtripping stalwart for ages. Its recent hybrid powertrain upgrade doubles the fuel economy of its previous generation, making it a budget-friendly option for long getaways while providing room for everyone and maintaining its ability to tow most outdoor adventure gear.
SPECS
Passengers
7 to 8
Towing capacity
3,500 pounds
Chassis
Unibody
Fuel range
36/36/36 MPG (city/highway/combined) four-wheel drive; 35/36/35 MPG (city/highway/combined) all-wheel drive
MSRP
$35,385 (plus destination fee)
Features and options we love:
Seating for seven is plenty of room for most families, but the 2023 Toyota Sienna Hybrid also has a stowable eighth seat to make room for one more. The second row in the upper trim models is outfitted with reclining heated and ventilated captain chairs with slide-out ottomans.
More information on this vehicle can be found here.
---
2023 Honda Accord Hybrid
This midsize sedan is a perennial favorite for its engineering, reliability, and sporty driving dynamics. Although its next-generation specifications remain unknown, we do know it will have adequate seating for five passengers, connectivity upgrades, and the sophisticated styling this vehicle is known for.
SPECS
Passengers
5
Towing capacity
TBA
Chassis
Unibody
Fuel range
TBA
MSRP
TBA
Features and options we love:
The official reveal of the 2023 Honda Accord will be held in late 2022. Buyers can expect to see a completely redesigned exterior, a 12.3-inch touchscreen, and embedded Google connectivity. Stay tuned for more details.
More information on this vehicle can be found here.
---
2022 Ferrari 296 GTS
For some roadtrippers, the top down and wind whipping through your hair is the only way to drive. The 2022 Ferrari 296 GTS is the perfect way to go if you're shopping for a convertible plug-in hybrid in the U.S. market—and you can afford the price tag. While supercars aren't known for their fuel economy, this hardtop, two-seater spider can achieve up to 8 miles of electric drive range, although your mileage will definitely vary depending on how you drive it.
Related Romance vs. reality: Things to consider before planning a road trip in a convertible
SPECS
Passengers
2
Towing capacity
N/A
Chassis
Unibody
Fuel range
8 miles on electric/18 MPG hybrid/47 MPGe combined
MSRP
$317,986
Features and options we love:
Bottom line, it's a Ferrari. This vehicle takes luxury to the next level with unparalleled design, technology, aerodynamics, speed, and power. While it's by far not the most fuel-efficient hybrid on the market, if you're looking for a high-end, sophisticated vehicle that's fun to drive, it's hard to go wrong with this class act.
More information on this vehicle can be found here.