The Hamptons—with its mega-mansions and roadside lobster roll stands—may seem an unlikely place to search for a government conspiracy involving mind control, time travel, child abduction, and hallucinogenic drug experiments. But Camp Hero, a decommissioned military base located in Montauk, is thought by many to have once been the site of graphic, government-sanctioned human experiments comparable to the atrocities committed by the Nazis in concentration camps during World War II.
Today, the 755 acres (415 acres of which were part of the military base) of heavily-wooded land operates as Camp Hero State Park. The park features forests, freshwater wetlands, and bluffs with dramatic views of the Atlantic Ocean. Visitors can drive, bike, horseback ride, or walk along the paved roads of the former military base, or set up a picnic alongside crumbling structures sealed with boards and covered with "Do Not Enter" warnings.
If you like your nature to come with a side of the strange and unusual, Camp Hero has you covered—and if you're thinking that kidnapping, telepathy experiments, and portals to other times and dimensions sound more like the plot of a movie or TV show than reality, you're not wrong: Netflix's Stranger Things is said to have been inspired by—or downright copied from—various legends swirling around the eastern tip of Long Island.
I visit Camp Hero on a hot and humid weekday in June and at times it feels as if I have the entire park to myself. The only sign of life amidst the post-apocalyptic landscape is the occasional maintenance worker, dressed in a hard hat and orange reflective vest, driving past me as I explore the park. Although my visit is completely lovely—and includes neither mind control nor time travel, at least not that I'm aware of—I'm never able to shake the feeling that I'm being watched.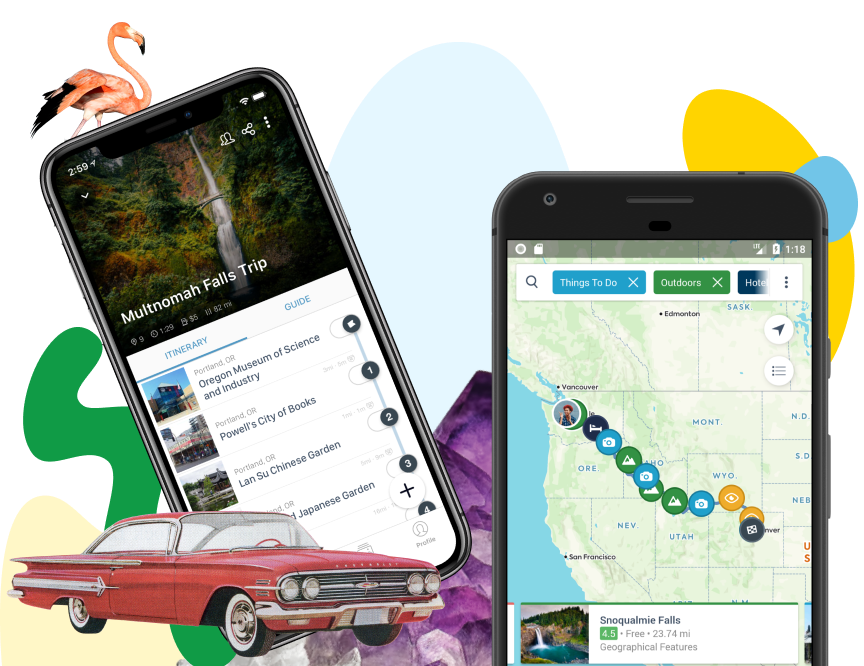 Download the mobile app to plan on the go.
Share and plan trips with friends while discovering millions of places along your route.
Get the App
Pots and tin-foil hats
There is no shortage of conspiracy theories that include clandestine government and military projects, but Camp Hero owes its notoriety almost entirely to The Montauk Project: Experiments in Time, published in 1992 by Preston B. Nichols and Peter Moon. The book confirmed what a lot of people living in or around Montauk may have already suspected: that the former military base was once ground zero for one of the most sordid and secretive research projects in U.S. history.
In the '70s and '80s, Nichols was the leader of the psychotronics movement. He claimed that government agents were using electromagnetic radiation to transmit ideas directly into people's heads. His followers—some of whom still wear solid metal pots on their heads to block microwaves—claim that Nichols was also able to control the weather (and thus proved the government's similar capabilities). Nichols himself claims to have been teleported to Montauk in 1968 and says he worked on Camp Hero's semi-automatic ground environment (SAGE) radar tower.
Nichols isn't alone in his suspicions. Christopher Garetano grew up on Long Island and has spent years convinced that the government is hiding something sinister beneath Camp Hero. He documented his search on film in 2015's Montauk Chronicles and he's featured in an episode of the History Channel's Dark Files about the Montauk Project.
"I started hearing all of these strange and bizarre stories about Montauk," Garetano says in Dark Files. "A multitude of things that were anomalous and not normal."
But before you discount Nichols and Garetano as tin-foil (or cook pot) hat-wearing conspiracy nuts, it's important to consider that there are substantial precedents validating the existence of secret military experiments: In 1932, the Public Health Service began what they called the Tuskegee Study of Untreated Syphilis in the Negro Male, in which 600 black men–399 of whom had syphilis—were observed and actively denied known treatments for the debilitating disease. In 1953, the CIA began its 20-year MK-Ultra program, testing drugs developed for interrogation and mind control purposes on prisoners, students, and hospital patients.
As part of Operation Paperclip after WWII, the U.S. actively recruited Nazi scientists for government employment, some of whom are rumored to have contributed their human experimentation experience to the Montauk Project. "The reason that Americans are so interested in conspiracy theories is that conspiracies happen," Steve Volk, an author and journalist, says in Dark Files.
In July 2008, the carcass of a beaked, hairless creature washed up on the shores of Montauk. Three friends say they found the animal at Ditch Plains Beach, which is located just four miles west of Camp Hero. Local newspapers speculated that the corpse had washed up from Plum Island, an experiment from the government's secretive Animal Disease Center gone horribly wrong—although most experts have agreed that the Montauk Monster, as it came to be known, was probably just a (badly decomposed) raccoon. I'm unsure of how animal experiments fit into the mind control narrative, but proponents of the Montauk Project have pointed to the Montauk Monster as just one more piece of their increasingly complicated puzzle.
The rotating tower
At the epicenter of the conspiracies surrounding Camp Hero is the Cold War-era SAGE radar tower. The imposing structure was once a mother station to a series of smaller, manned radar towers located in the ocean along the East Coast. This network of towers is said to have afforded the U.S. government an extra 30 minutes of warning time in the event of an incoming Soviet nuclear attack.
"Every 12 seconds the radar tower would rotate and there would be animals freaking out and people getting headaches and bad dreams," says Garetano. "And you know people's electronic equipment would go haywire."
Of the 12 such similar towers that were once scattered around the country, Camp Hero's is the only one that remains. It's a National Historic Site, and an instantly recognizable Long Island landmark. The 90-foot-tall concrete tower and its 40-foot-wide steel dish are visible for miles, and although it is no longer active, that doesn't keep the dish from mysteriously changing positions.
According to Montauk Project-believers, sadistic experiments took place beneath the radar tower in secret laboratories connected by a series of tunnels. Thousands of children were allegedly taken from the streets, kept below ground, abused, and programmed into super soldiers known as "the Montauk Boys." Using powerful frequencies, scientists supposedly tapped into the consciousness—and could control the minds—of these impressionable children.
The hugely popular Netflix show Stranger Things—its third season debuts on July 4—is set in a fictional small town similar to Montauk. Season one spoiler: Under the guise of conducting research for the United States Department of Energy, nefarious scientists at the Hawkins National Laboratory kidnap children to use in a variety of supernatural and psychic experiments. One of these subjects—known by the number tattooed on her arm, Eleven—escapes, and uses her telekinetic powers to help find Will, a local boy who is lost in an alternate dimension called the Upside Down.
While I highly doubt that Camp Hero is hiding a portal to another dimension—or its inhabitants, the slimy Demogorgons—this seemingly fantastical plot description may not actually seem that strange to anyone familiar with the basics of the Montauk Project.
Strange things
I'm not afraid of a little light trespassing, but whether the "Danger!" signs and video surveillance are intended to cover up a covert government operation or simply keep visitors safe from falling objects, I heed their warnings. All of the military buildings scattered around Camp Hero are in pretty bad shape and I suspect they are empty—but the presence of manhole covers and grates suggest that the buildings might just be the tip of the proverbial iceberg.
Although the official government-issued blueprints say otherwise, Garetano and others are obsessed with discovering what they believe is still hiding underground in Camp Hero. Garetano has explored the park hundreds of times, but he's never been granted permission to go beyond the surface. "The official word is that there is nothing underground," he says in Dark Files. "But I really think there's something to hide there."
Before Camp Hero became an official park, Brian Minnick and his friends were able to explore inside of the radar tower. While they never found any definitive evidence of a government cover-up, he did discover documents and sealed entrances, suggesting that the infrastructure of Camp Hero is far more complex—and the base operated for much longer—than officials will admit.
Minnick found records of mass quantities of food ordered to the base in the late '80s, long after the military had left Montauk. Believers point to Minnick's photos of rooms with brightly painted walls and psychedelic patterned wallpaper as evidence that the (again, allegedly) captive children were also subjected to acid tests.
"There were a lot of strange things," says Minnick in Dark Files. "And the sum total of all those strange things is compelling."
Guns and grenades
There are some aspects of Camp Hero's past that are verifiable. The base was first commissioned by the U.S. Army in 1942 as a coastal defense station. Three gun batteries—two with two 16-inch guns and one with two 6-inch guns—were installed at Camp Hero to defend New York against a possible attack by German ships and submarines. The enormous, concrete batteries are closed to visitors and tightly sealed. They seem to recede into their respective hillsides, vines creeping up their facades, nature slowly reclaiming what was built here without its permission. Someone—or something—has scratched the words "Stranger Help Me" into the concrete.
In a move that perhaps planted the seed for future cover-up theories to flourish, the government attempted to disguise the base as a coastal fishing village. Official military structures were designed to look like cottages with fake wood siding and painted-on windows. The gymnasium was disguised as a church; it can be seen today in Camp Hero's decaying "downtown" alongside the commissary, bowling alley, dining hall, barracks, and exchange store.
The Army deactivated the base in 1947, and removed its coastal artillery. In 1951, Camp Hero was transferred to the Air Force, radar was installed, and anti-aircraft artillery training began. The Air Force remained active at Camp Hero until 1982, and in 1984, the land—deemed environmentally important due to its ecosystems and animal life—was donated to the National Park Service. The NPS transferred ownership to the New York State Parks Department, and Camp Hero State Park officially opened to the public in 2002.
Possible mind control experiments are scary enough, but there are real risks when the public is invited into spaces once occupied by the military. Over the years, the U.S. Army Corp of Engineers has been working to help ensure that the park is safe for visitors, but as I pay my $8 entrance fee, I'm given a brochure explaining what to do if I happen to come across an unexploded ordnance (bomb, land mine, bullet, grenade, etc.).
The protocol is what I would expect—do not attempt to touch, move, or disturb (or Instagram) the object, note the location, and report it immediately to a park official—but it's not the most enthusiastic welcome I've received to a park. According to the brochure, however, "The public is NOT in any danger. The work [by the U.S. Army Corps of Engineers] will help assure that Camp Hero is free from any hazards that may remain as a result of the Camp's military past."
Perhaps the greatest danger to visitors of Montauk is the least mysterious of all—ticks. Signs warning hikers to beware of the tiny, blood-sucking arachnids are as common as "No Trespassing" signs at Camp Hero. Tick bites and the resulting diseases are far scarier to me than mind control or time travel—in fact, maybe one day someone can go back in time and prevent the government from creating Lyme disease in the Plum Island research laboratories (located suspiciously close to Old Lyme, Connecticut, where the disease first appeared)—but that's another Long Island conspiracy for another time.
If you go
Camp Hero State Park is open for annual sport fishing April 1 through December 31 (permit required). The park is open for picnicking, hiking, surfing, and bird watching year-round, sunrise to sunset.