U.S. Route 395 is one of California's most beautiful drives, stretching 1,305 miles from east of the Sierra Nevada mountain range in Southern California all the way north to the Oregon border. Compared to the Golden State's other big draws, like the Pacific Coast Highway or the Redwood Highway, Route 395 is less traveled but certainly doesn't lack in scenery and things to do: Ghost towns, filming locations, ski resorts, tufa formations, and more await along this scenic stretch.
Related 5 one-tank road trips from Los Angeles, California
The best time to roadtrip along Highway 395 is in the summer for hiking and swimming in many alpine lakes, and fall for great scenery with the changing colors of the forests. Here are 10 stops you shouldn't miss when traveling California's Route 395.
---
1. Alabama Hills
Located in Lone Pine, right at the foothills of the Sierra Nevada range, Alabama Hills is a formation of rocks and eroded hills. Known as one of Hollywood's favorite filming locations, movies such as Gladiator, Iron Man, and Tremors were filmed there. The area is also a popular spot for photographers, rock climbers, and mountain bikers.
Related What to Know About the New Camping Rules at Alabama Hills
---
2. Mount Whitney Portal
Even if you're not planning on reaching the tallest peak in the contiguous U.S., you should still take a drive up to Mount Whitney Portal. Located just 13 miles west of Lone Pine, this scenic drive will reward you with a view of towering granite peaks on both sides of the canyon. Mount Whitney is the centerpiece of this area, and with many viewpoints, you're guaranteed the best view.
---
3. Ancient Bristlecone Pine Forest
It's definitely worth a short detour off Highway 395 to see some of the oldest living trees in the world. Located near the small town of Big Pine, Ancient Bristlecone Pine Forest is home to trees that are more than 4,000 years old. The world's largest bristlecone pine, dubbed the Patriarch Tree, can be found in the forest's Patriarch Grove, accessible only by dirt road.
---
4. Hot Creek Geologic Site
Located near the town of Mammoth Lakes, Hot Creek Geologic Site is a breathtaking place with boiling, bubbling water in turquoise pools. Heated and pressurized before it emerges to the earth's surface—a process believed to take approximately 1,000 years—the temperature of the spring water at Hot Creek is about 199 degrees Fahrenheit. You'll find this natural attraction in the Inyo National Forest; swimming is not allowed.
Related Now a skier's paradise, Mammoth Lakes was once the site of a booming gold rush
---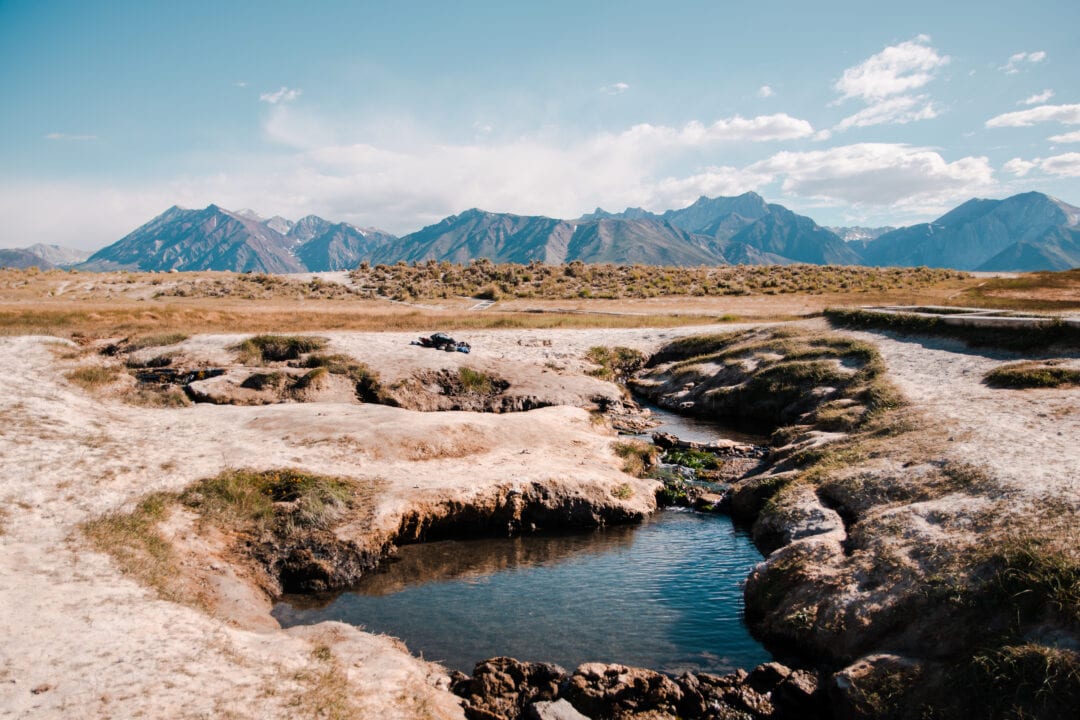 5. Wild Willy's Hot Springs
There are at least five different hot spring sites to check out off Benton Crossing Road. Wild Willy's Hot Spring is the most popular one, and also the nicest, with many pools to enjoy. The road to the hot springs is a bit rough, but it's definitely worth the drive. Others include the Rock Tub Springs, Shepherd Hot Springs, Hilltop Hot Springs, and Crab Cooker Hot Springs. Remember to leave no trace and pack out what you pack in.
---
6. Convict Lake
Located in Mono County, Convict Lake is known for its turquoise water and the dramatic mountains that surround it. With such easy access—just a short drive off Highway 395—it's hard to find a prettier lake where you can go hiking, fishing, or spend some time at the beach.
---
7. June Lake Loop
California's Highway 395 offers some jaw-dropping scenery: Just a short detour takes you down a scenic loop road that offers views of four alpine lakes. If you have time to spare, go swimming or paddle boarding at June Lake Beach, grab a cup of coffee at The Lift, dine in at Eagle's Landing restaurant, or try your hand at fishing on Silver Lake.
---
8. Bodie State Historic Park
Located south of Bridgeport, 13 miles east of Highway 395, Bodie State Historic Park is an old Wild West ghost town and a former gold mining hub that once had a population of 10,000 people. Visitors can walk down deserted streets and explore nearly 200 abandoned buildings left in a state of arrested decay.
---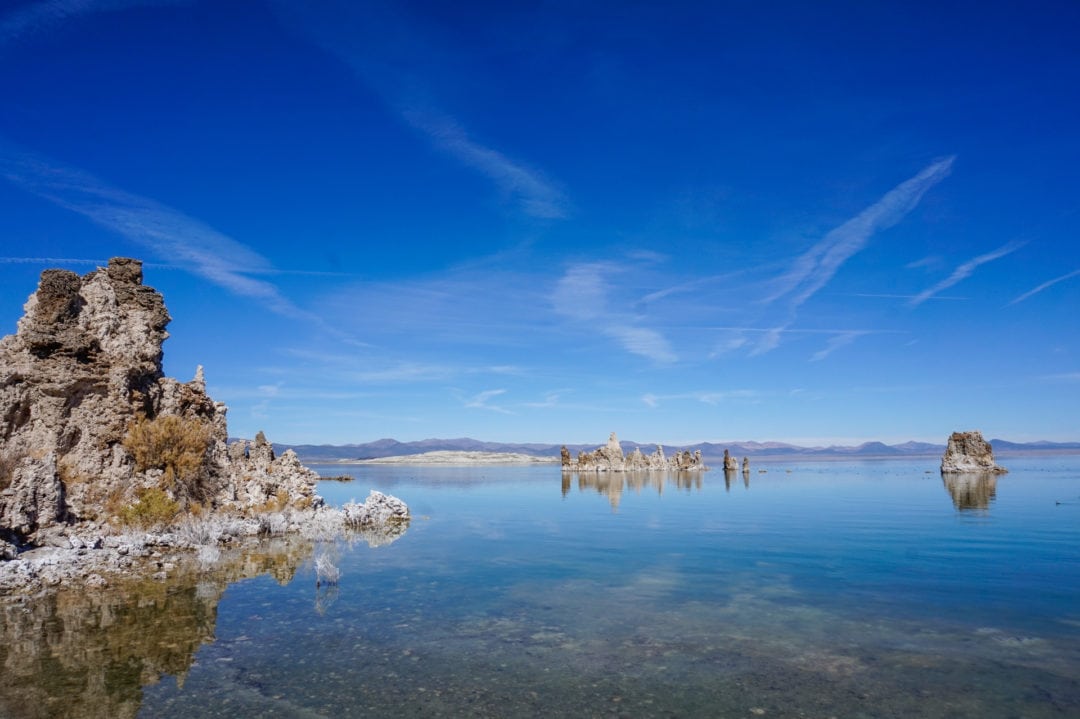 9. Mono Lake
If the Hot Creek Geological Site and hot springs weren't unusual enough, make sure to stop at Mono Lake, known as the "Dead Sea of California." Located in the town of Lee Vining, the ancient saline lake is home to brine shrimp, birds, and world-famous limestone formations called tufa towers. Mono Lake is calm and beautiful, offering an amazing backdrop of the Sierra Nevada Mountains.
Related Tufa towers, volcanic rocks, and an alien landscape at California's Mono Lake
---
10. Devils Postpile National Monument
Located near the town of Mammoth Lakes, Devils Postpile is considered a geologic wonder. Its columnar-jointed basalt is a rare sight, formed when lava erupted in the valley. Devils Postpile National Monument is open to visitors during the summer months and is accessible by a shuttle bus.
---