At the beginning of the 20th century, Springfield, Massachusetts looked very different than it does today. The "City of Progress" buzzed with activity and excitement. Factories churned out new, innovative products. The hum of locally-manufactured automobiles and motorcycles could be heard throughout the city, clamoring over cobblestone streets.
For a young boy named Theodor Geisel, growing up in Springfield provided a world of inspiration that he'd eventually draw on to become one of the most successful children's authors of all time. Though by that point, most would know him better by his pen name: Dr. Seuss.
I'm walking along the same busy streets in Geisel's hometown more than a century later. It's the kind of cold and gray day in January that always seems to accompany the return to normalcy after the holiday season. I'm admittedly having a hard time imagining that many of the author's colorful stories could have originated here. But as I arrive at The Amazing World of Dr. Seuss Museum, I know I'm in the right place.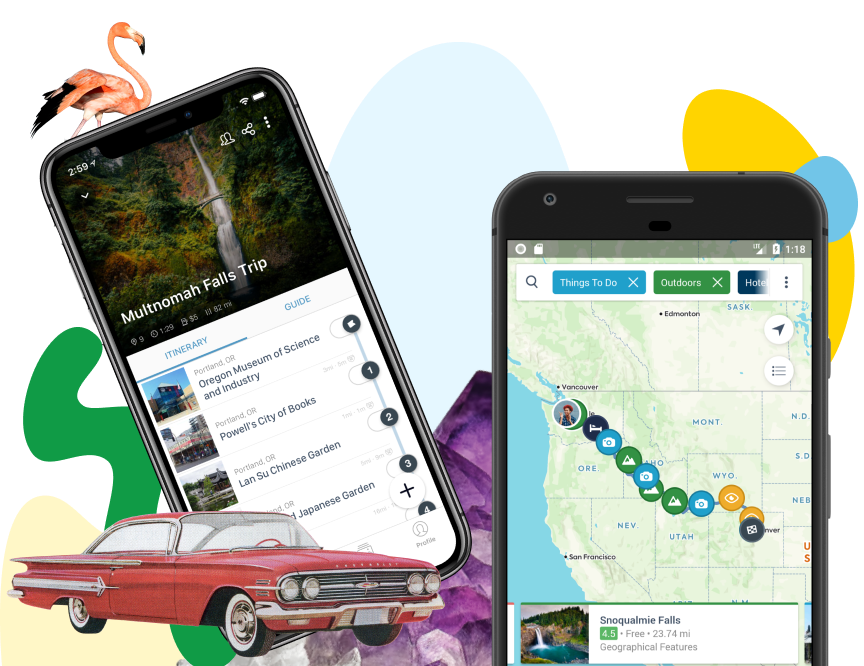 Download the mobile app to plan on the go.
Share and plan trips with friends while discovering millions of places along your route.
Get the App
Seuss in Springfield
Dr. Seuss was born Theodor Seuss Geisel in Springfield on March 2, 1904. Though he spent the majority of his life in California, the author of The Cat in the Hat and other beloved children's books lived in Massachusetts until he left to attend Dartmouth College at age 18. The Amazing World of Dr. Seuss Museum opened its doors to the public in 2017 as the newest addition to the Quadrangle, a cluster of museums in Springfield's Metro Center. It aims to highlight Geisel's formative Springfield roots, while simultaneously celebrating his life and iconic career.
On the first floor of the museum, imaginary destinations such as Whoville and Readingville come to life through interactive, family-friendly exhibits featuring life-size statues of Seuss' most beloved characters, audio-visual story games, and vibrantly-colored murals. In the museum's entryway, I'm greeted by familiar faces from my childhood: Sam I Am races down the stairs with a plate of his famous green eggs and ham in tow; he's followed by the Cat in the Hat, who is balancing a number of silly objects on his paws and head. On the other side of the hall, Horton the Elephant is perched on top of a tree that's much too small for him, carefully studying Mayzie the bird's fragile egg.
"We get a lot of comments like, 'I'm 60 years old, and I feel like I'm five again,'" a member of the museum's staff tells me in between greeting a family of four shuffling in behind me. Based on the matching looks of excitement on the parents' and children's faces, I can already see that he's right.
After venturing through a few tall Truffula trees from The Lorax and past a group of children laughing and climbing onto a statue of Mr. Gump's seven-hump Wump, I find a gallery titled "Ted in Springfield" modeled after Seuss's boyhood home on Fairfield Street. The exhibit explores Geisel's early life and childhood, provides an itinerary for a Seussian tour of the city, and even reveals a few nods to Springfield that are sprinkled throughout the many stories he penned over the years.
Among the more obvious is Springfield's own Mulberry Street, which appeared in Geisel's first published book, And to Think That I Saw It On Mulberry Street, in 1937. Less apparent references include the names of Geisel's childhood neighbors, architectural details inspired by Springfield's Howard Street Armory, and Forest Park Zoo, one of his favorite childhood spots that is said to have inspired If I Ran the Zoo, published in 1950.
The cat behind the hat
The museum's second-floor exhibits offer a slight change of pace. Curated by Geisel's two step-daughters and great nephew, these galleries commemorate "the cat behind the hat" by providing visitors with an intimate look at Geisel's career and family life.
A large red archway greets me at the top of the stairs as I step inside the "Ted, Dr. Seuss" exhibit. A recreation of Geisel's La Jolla, California studio and workspace, the gallery features the drawing table, chair, and select art materials used by Geisel. I examine rare family photos, artifacts, and never publicly displayed artworks before reading a few personal letters and notes exchanged between Geisel and his family members.
Leagrey Dimond, one of Geisel's step-daughters, appears in an introductory video playing on a television mounted to the wall; she recounts a few favorite memories of her "step-pop" as I continue to explore the rest of what she describes as "one of the happiest rooms in the museum."
"You saw him at his desk making these things," Dimond says in the video. "He would drop little notes on your bed or tuck them inside of your pocket. Those are your memories if Ted was your step-pop."
Immortalized in bronze
Since no visit to The Amazing World of Dr. Seuss Museum is complete without a stroll through the Dr. Seuss National Memorial Sculpture Garden, I venture out into the cold once again. Attracting more than 3 million visitors since it opened in 2002, the bronze figures that populate the courtyard of the Quadrangle were created by Lark Grey Dimond-Cates, Dimond's older sister.
The sculptures are covered in snow and ice, but rambunctious children still swing from the arms of Thing 1 and Thing 2, dart through Horton the Elephant's legs, and try to high-five the Cat in the Hat, loyally situated next to a statue of Geisel at his drawing table. After seeing so many families, I can't help but think that it only seems fitting for one of the most beloved children's authors of all time to have found an eternal home where children play, frolic, and discover the joy of reading in his own hometown.
"This is a dream come true that we have this wonderful home for Ted in his hometown and that we get to share him with people that love him," Dimond said in an interview prior to the museum's opening. "It means the world to us."
If you go
The Amazing World of Dr. Seuss Museum is open from 10 a.m. to 5 p.m. Tuesday through Saturday and 11 a.m. to 5 p.m. on Sundays. The outdoor Dr. Seuss National Memorial Sculpture Garden is free to visit.