We're in Utah, boondocking on Bureau of Land Management (BLM) land in our Sprinter campervan. Our 8- and 10-year-old kids are exploring the surrounding canyon, followed by our dog, Mojo. The kids have walkie-talkies to call for help ("Mom, do you copy? We need hot chocolate. Over."). Suddenly, ominous, gray clouds start rolling in. "Remind me again why we do this," I ask my husband, as I mentally calculate the chances that we wind up getting stuck here, in the middle of nowhere, off a dirt road that becomes impassable when wet.
But the truth is, I don't need the reminder. I know. Family vanlife brings irreplaceable adventure, relaxation, and bonding that I can't imagine living without. Every trip has pitfalls, of course, but over the years, we've developed some tried-and-true strategies for maximizing the fun and minimizing the stress. 
Related 8 myths of vanlife no one tells you
1. Make lists
Fitting a whole family into a van takes planning. Make a comprehensive packing list to minimize the time and hassle of packing, and avoid taking up precious van space with unnecessary items. Create lists for everything, from food to tools for auto repair. Keep a "restock" list handy on the road to keep track of things you use up or realize you need. We use both a detailed spreadsheet and a to-do list app that multiple family members can access.
---
2. Make the same meals on every trip
Getting to cook tasty meals and not having to rely on eating out is a major perk of vanlife. But planning, shopping, and cooking can be a lot of work. Our top hack for this chore is to come up with a few easy meals that our family likes, and make them on every trip. That way we're already familiar with what groceries and supplies we need and how to pack and cook them—plus, we're less likely to forget something. Keep ingredients and cooking gear simple. For us, a 3-night trip means hot dogs, tacos, and spaghetti.
Related 8 tasty and unique ways to top your hot dog
---
3. Plan like Goldilocks—just the right amount
It's easy to romanticize heading out with no plan and seeing where the road takes you. Until you're 8 hours into a drive with cranky kids, no daylight, and no available campsites. On the flip side, most families don't want a strict agenda that leaves no time for swinging in a hammock or a spontaneous stop at an offbeat attraction. Find a middle ground between checking all the must-dos off your list and leaving time to relax and improvise.
Related 6 steps to planning a successful RV road trip
---
4. Stay organized
We swear by color-coded packing cubes stored in durable duffels. Soft-sided storage is more versatile, packable, and lightweight—essential features for van packing—than hard bins, so limit hard storage to things that truly require it. Each member of our family gets packing cubes in their own color for clothes and personal items, and we use other colors for communal items. We store packing cubes in tough, waterproof duffels that can weather a night outdoors. 
Related The ultimate guide to vanlife storage and organization
---
5. Set screen rules in advance
Whatever your family's screen time rules are, you don't want to argue about them on the road because the kids didn't know what to expect ahead of time. Have a family discussion about screens well ahead of your trip to avoid surprises. Prepare to be without WiFi or cell phone service and download anything you want access to in advance, including digital maps, guidebooks, e-books, and entertainment.
---
6. Bring a "bag of tricks"
Camping teaches kids how to make their own fun. Bringing a "bag of tricks" with activities that kids can use on their own helps facilitate independence and gives parents a welcome breather. Bring a few things in each of these categories: games, books, art supplies, sports gear, and camp amenities. Involve kids in choosing the activities, but also add in some surprises. Some favorites for our crew include the Spot It card game, a flip-up license plate tracker, small notebooks for coloring, a toy bow and arrow, a hammock, and travel corn hole.
---
7. Up your campfire game
A great campfire includes four key elements: a hearty fire, comfortable seating, yummy snacks and drinks, and good vibes. For the fire itself, bring kindling and a long-neck lighter, as well as a tool for moving logs in the fire. Comfortable chairs and blankets are a must. Elevate your s'mores with a set of collapsible roasting sticks, and toppings like chocolate peanut butter cups, peppermint patties, or strawberry slices. Set the vibe with games, musical instruments, a songbook, and campfire stories. 
---
8. Prepare for emergencies
Vanlife lets you escape into the wilderness, but that makes it important to be prepared for emergencies, especially when traveling with kids. Consult resources like the Red Cross and AAA to source a list of emergency supplies that cover first aid, medications, protection from bugs and the elements, emergency food, water, auto supplies, and forms of emergency communication. Some vanlife essentials include soap for poison oak and ivy; tweezers for tick bites, cactus spikes, and splinters; a tire repair kit and air compressor for any flats; extraction boards if your van gets stuck; and a GPS beacon or satellite phone. 
---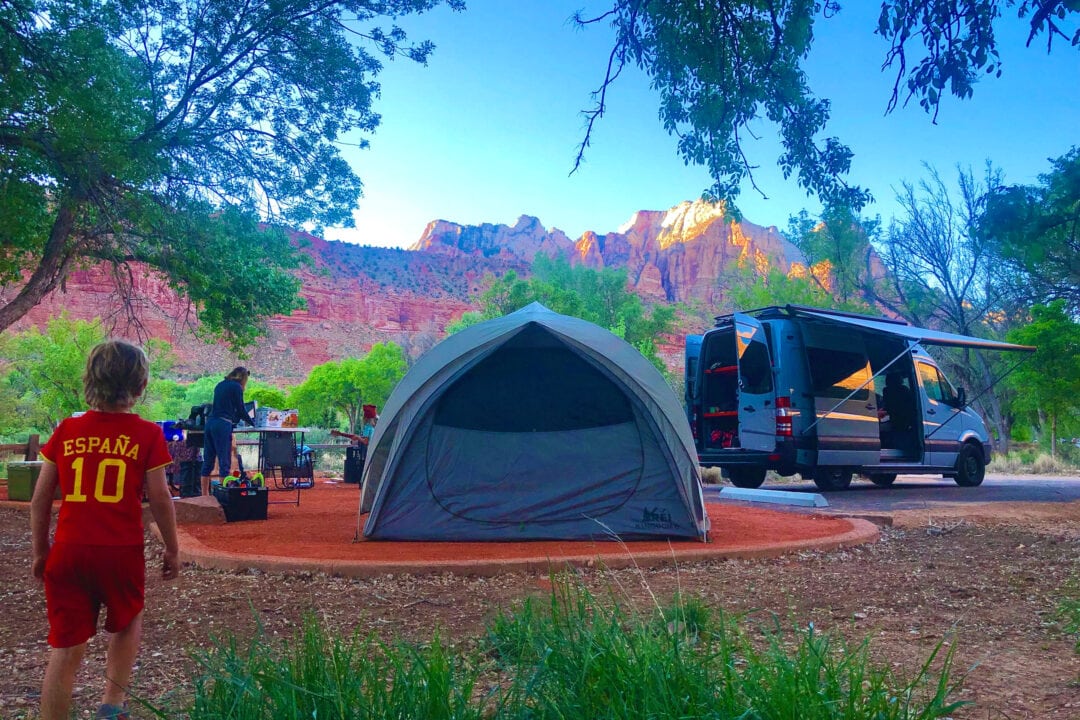 9. Location, location, location
A van gives you the flexibility to camp just about anywhere, from an RV resort to a tent-only park-and-pitch to an undeveloped off-road site. Regardless of the style of campground, it's best to find a spot that's safe for kids to play in without constant supervision (no steep cliffs or treacherous rivers) and that has built-in activities. This can mean a state park campground with ranger programs, an RV resort with a pool and bounce pillow, or BLM land with a wall of boulders to scramble. 
Related 10 best RV resorts and campgrounds for families
---
10. Make vanlife daily life
You don't have to live on the road full-time to be a vanlifer. We live in a sticks-and-bricks house and our kids attend a traditional school, but we are still a van family. We take our van everywhere: kids' sports, beach days, hikes, snow play, bike rides, school field trips, and dog outings. Having a fridge filled with cold drinks and snacks, our own bathroom, backup clothing, sporting gear, folding chairs, an awning, and anything else we might need comes in handy, and also means we're always ready for spontaneous adventures.
We often decide at the last minute to sneak in a night of beach camping or a day trip to the woods. Our van is where we make our best memories. If you bring the spirit of vanlife adventures into your everyday routine, then family vanlife doesn't just have to be your vacation plan—it can be your way of life.