I have to admit, I never cared much for Ernest Hemingway. I trudged through The Old Man and the Sea in high school and grudgingly read The Sun Also Rises and A Farewell to Arms in college. I admire Hemingway's spare, clean style, but I can't help rolling my eyes whenever he describes a female character's figure before he tells us her name.
So when my mother-in-law, a well-known Milwaukee poet, visited us in Boise one February, I wasn't exactly thrilled when she proposed a trip to Sun Valley, Idaho, to see the Hemingway sights. But she loves to visit other writers' homes, breathe the same air they did, and take in the views that inspired the prose she admires, so I agreed.
Thankfully, breathtaking views are not in short supply in Sun Valley, where Hemingway arrived in September 1939 together with journalist Martha Gellhorn, who later became his third wife. When I visit, 80 years later, I quickly realize I have at least one thing in common with "Papa," as the author was affectionately known: I can't get enough of this place.
Never miss a sunrise
Hemingway was initially invited to Sun Valley as part of a campaign to lure tourists to central Idaho using celebrities. He spent the fall of 1939 living rent-free at the Sun Valley Lodge, where he wrote most of his novel For Whom the Bell Tolls; he mentions the area by name in Chapter 13.
Hemingway lived for free for months in room 206 (now room 228), which he referred to as "Glamor House." Today, it's one of the lodge's five Celebrity Suites. His typewriter still sits on the desk. Hemingway would rise before dawn to work on his manuscript and boasted that he never missed a sunrise. By afternoon, he'd head to Silver Creek, 30 miles south of the resort. An avid sportsman, Hemingway relished any opportunity to hunt birds, and Silver Creek was among his favorite spots.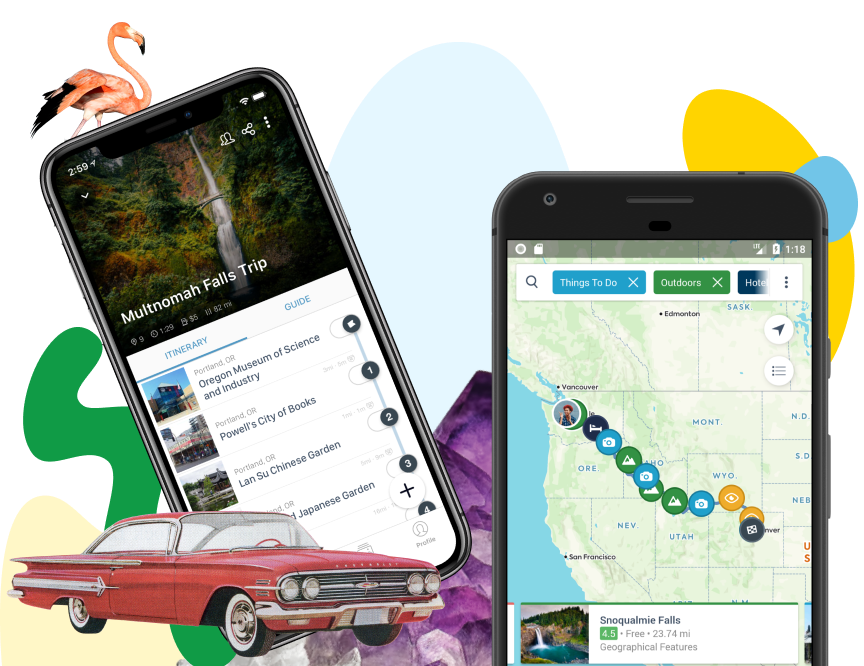 Download the mobile app to plan on the go.
Share and plan trips with friends while discovering millions of places along your route.
Get the App
Today, Silver Creek Preserve looks much the same as it did when Hemingway hunted here. Owned by The Nature Conservancy, it's still open for hunting and fishing, though even if you're not a hunter or angler, it's worth the visit. Nature Conservancy Watershed Manager Erika Phillips recommends hiking or snowshoeing from the visitor center over the hill to the west, "to get a nice vantage point of the creek and valley beyond."
Closer to town, a Hemingway Memorial overlooks Trail Creek and features an excerpt from a eulogy the author delivered in 1940. The bronze bust also marks the start of the 4.4-mile Proctor Mountain Loop, which affords sweeping views of the Wood River Valley.
Don't bother with churches
When he wasn't outside, Hemingway could usually be found on a barstool. "Don't bother with churches, government buildings, or city squares," he famously said. "If you want to know about a culture, spend a night in its bars."
Among his favorites was the cozy Sawtooth Club, where you can still get a gin martini just as Hemingway liked them. "He was precise about how it should be made," writes Philip Greene in his Hemingway cocktail companion, To Have and Have Another. "Very cold and very dry." Hemingway's preferred 94-proof gin is not available in the U.S. anymore, but Tanqueray is a fairly close approximation. If you really want to emulate the author's martini habits, garnish with a couple of frozen Spanish cocktail onions.
Today, the Sawtooth Club is decidedly more upscale than it was during Hemingway's tenure in Sun Valley, but there are still remnants of his time here. A set of mounted elk antlers hangs above the brick fireplace, which features a framed photo of Hemingway and an excerpt about him from Hunter S. Thompson's The Great Shark Hunt.
During his first stint in Sun Valley, Hemingway took most of his meals at the Ram, located a short walk from the lodge. Today, the Ram serves the same no-nonsense Swiss alpine fare it did when Hemingway dined here without feeling stodgy. You can't ski the Alps in Sun Valley, but you can eat the Ram's fondue for two, which is a decent substitute.
Last meal
Just a mile down the road from the Ram is Michel's Christiania, another one of Hemingway's preferred dinner spots. While the ownership has changed, the restaurant still serves the traditional French haute cuisine the author enjoyed during his Paris days. It also has an extensive, well-curated wine list. Hemingway loved to drink wine with his meals. Greene writes, "From his years living in France he developed quite a palate."
I sit at a corner table, enjoying a view of the entire restaurant. "This was Hemingway's table," the host says while placing the wine list in front of me. "He came often—he even ate his last meal here." It's true—Hemingway and his fourth wife, Mary, had dinner at Christiania's on July 1, 1961; he took his own life the following morning. Hemingway is buried less than a mile away at Ketchum Cemetery.
I've made a habit of swinging through the cemetery, regardless of the season, whenever I'm back in Sun Valley. While I may have more admiration for Hemingway the artist than for Hemingway the man, I'm glad he's still got a view of the Wood River Valley.