In 1997, the founder of the Longaberger Company, Dave Longaberger, was meeting with architects to discuss the design of his company's new headquarters. He walked out of the room and came back swinging a medium market basket by its handles. Longaberger set the basket—his favorite of all the baskets his company made—on the conference table and said, "This is what I want. If you can't do it, I'll find someone who can."
Anyone who has driven down State Route 16 in Newark, Ohio, knows that Longaberger got his wish. At the end of 1997, 500 employees of the Longaberger Company moved into their new $30 million headquarters—an exact replica of the popular basket, 160 times larger than its inspiration.
The title of Longaberger's memoir is Longaberger: An American Success Story, and for a while that was true. By the end of 2000, the company had more than 8,000 employees and boasted $1 billion in revenue. Soon after, however, sales began to decline and in 2015—in an effort to stay afloat—the company put its famous basket building up for sale.
After years on the market, the instantly-recognizable building was purchased in December, 2017, by Steve Coon, an Ohio-based developer, for $1.2 million—plus more than $800,000 in back taxes still owed by the Longaberger Company—significantly less than the original asking price of $7.5 million. The 9,000-ton basket was being marketed as a "premier location for corporate headquarters, a boutique hotel, condominiums, a convention center, a social club, or a communal work space." A potential deal to turn the basket into a hotel fell through during the pandemic, and as of March 2022 the property is no longer for sale; Coon told Columbus Business First that he is weighing other options for his iconic building.
Newark is a sleepy, rural suburb, but it's located just 30 minutes east of Columbus, the state's capital and most populous city. Amazon recently opened a fulfillment center nearby and Intel has pledged to invest $20 billion in the region building two semi-conductor factories.
Fans of novelty architecture can take a tentative breath, however, because Coon—a recent recipient of Heritage Ohio's Preservation Hero Award—has a passion for restoring historic structures. "Believe it or not, it's historic," Coon told the Canton Repository. "It's the only basket [building] in the world." Stanbro agreed: "People have no idea how beautiful the interior of the basket is, until you actually experience it. There is no other building like this in the world."
Huge handles and a great glass elevator
"I figured if Walt Disney could build an empire around a mouse, the Longaberger home office building could resemble a basket," Longaberger writes in his memoir. "Whenever I talked about it, people looked at me like I was nuts."
The 180,000-square-foot, seven-story basket has a 30,000-square-foot atrium topped with a glass ceiling. The basket's 150-ton handles—which took eighteen months to construct—contain a special heating element to keep ice from forming, and potentially crashing through the roof, in the winter. Two 725-pound, 25-feet-wide, gold-leaf tags are attached to each long side of the building.
The interior—which is in remarkably good condition—is more conventional than you'd expect from its whimsical exterior. Although the dimensions vary from floor to floor (it's wider at the top, like a basket would be), the effect is gradual enough that you almost forget that you're inside an enormous basket—until you look up through the atrium and catch a glimpse of those handles.
There are other subtle nods to the company's star product sprinkled throughout the building, including a basket-weave wall treatment in Longaberger's executive suite, undulating cabinets, and "woven" brass plaque informational signage. Due to the basket weave stucco design, the building could only have a maximum of 84 windows.
"The architects suggested we put a giant basket 'shell' around a traditional building," Longaberger writes. "Each time they mentioned a compromise, I'd point to the basket, and say, this is what I want!"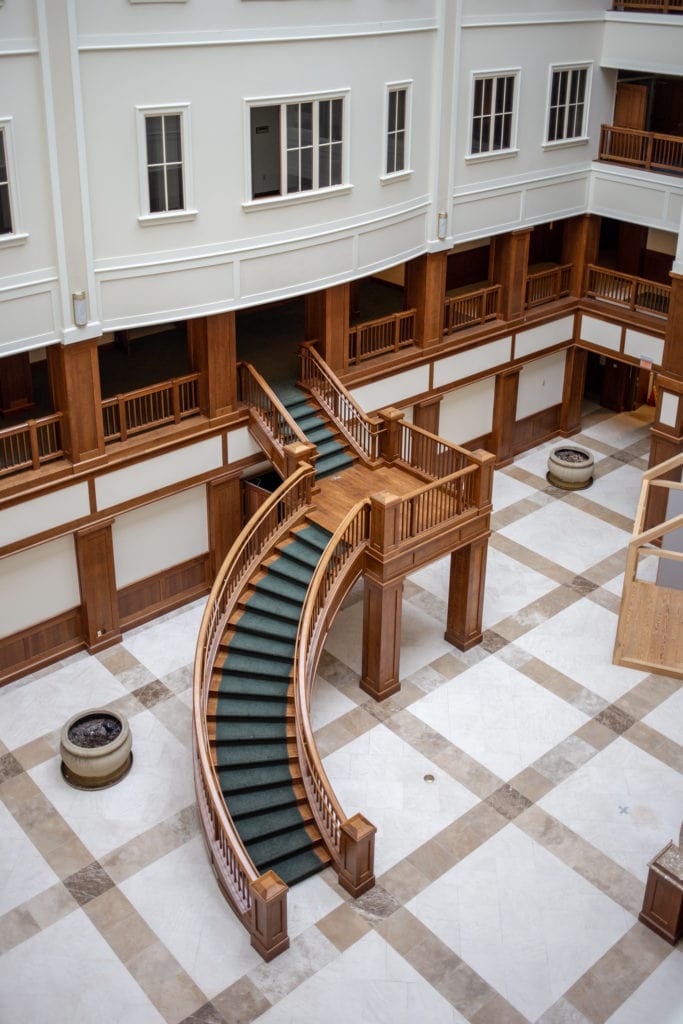 The cherry woodwork and trim was harvested from a nearby Longaberger-owned golf course. In addition to private offices, open-concept work spaces, and conference rooms, the building includes a 141-seat auditorium, 25 underground parking spaces, a fitness center, medical facilities, a cafeteria, several kitchens, and multiple elevators.
When the Longaberger Company vacated the basket in 2016, they had fewer than 75 full-time employees. Perhaps it's this slow slide toward bankruptcy that makes the building feel strangely devoid of life as it sits today. The floral wallpaper, boxy television sets, and outdated computer equipment make it seem as if it was actually abandoned shortly after its construction in the late '90s. In fact, there are few hints that it was ever occupied at all—let alone for nearly 20 years.
A marketer's dream
"It wasn't only the architects who warned against building it," Longaberger writes. "Everyone opposed it, including local residents, bankers, and even employees. They were certain that I had gone off the deep end."
If you were a Midwestern housewife—or knew one—in the late '90s, it's likely that you encountered a Longaberger basket. The company, like Avon or Mary Kay, used a multi-level marketing structure to sell its products. Roughly 45,000 independent distributors—called Home Consultants—sold the Longaberger products directly to customers, usually by hosting parties for family and friends in their own homes.

During the company's peak popularity, 15 to 20 tour buses a day would drop Longaberger fans off in Newark to tour the headquarters and nearby manufacturing facilities. "People could not imagine why out-of-towners would ever want to visit someplace out in the boondocks," writes Longaberger. "For the record, our basket-shaped building sells product. It's a marketer's, and a publicist's dream."
The baskets, which once sold for hundreds of dollars, were seen as collectors' items. But like Beanie Babies and so many other fads before (and after) them, their value is unlikely to ever rebound.
"I can't even tell you how many baskets I own," says Laurie Stanbro, the NAI Ohio River Corridor real estate agent who showed me around the building. "Now, like many others, I only have the baskets as a reminder of the Longaberger story."
After the Longaberger company jumped ship, their highly-specific building was also a hard sell—it was in danger of going into foreclosure and its future was uncertain. The marketer's dream had turned into a real estate agent's nightmare—or at the very least, a unique challenge.
Stanbro, however, was optimistic about the buildings prospects. "You can see there's so much potential here—for multiple uses, a boutique hotel, cool office, retail space, or condominiums," she said, gesturing around the lobby.
The man behind the basket
Dave Longaberger didn't finish high school until he was 21. Although he described himself as "the least likely to succeed," he opened a grocery store and restaurant in Dresden, Ohio and sold baskets made by his father. "In 1973, basket-making didn't seem like such a bright idea for a start-up company," Longaberger writes. "Handmade baskets were relics."
Even before he convinced architects to build his oversized basket, Longaberger was used to being called crazy. He was also the first to admit that his management style was unorthodox.
"Work should be twenty-five percent fun, I tell everyone," he writes. An advocate of a well-rested workforce, he strongly encouraged his employees to leave work no later than 5 p.m.: "I practically chase people out of the building at closing time."
A whimsical headquarters had been a dream of Longaberger's for a long time, but in his mind, that was just the beginning. He also envisioned his sales consultants out on the road in basket-shaped vans, a high-rise hotel in the shape of a hamper-style basket, and a Rockette-style dance troupe called The Basketeers.
"Believe me, I made plenty of mistakes," Longaberger writes. "I did things my way, which a lot of folks thought was unconventional. But it was my own style, what you could call 'thinking outside the box.'"
Around the same time that his grandiose dream was becoming a reality, Longaberger was diagnosed with cancer. He got to spend less than two years in his seventh-floor executive suite. When he died in 1999, 8,000 people attended his two-day memorial service.
Longaberger's two daughters, Tami and Rachel, immediately took the reins and for a while the company continued to thrive. But without its charismatic founder—coupled with an economic downturn and changing home decor tastes—the company eventually floundered. On May 4, 2018, the Longaberger Company ceased operations; the brand was revived in 2019 when its intellectual property was purchased by Xcel Brands.
"Thousands who dearly love what Longaberger stands for have reached out to us in hopes that we can reclaim Longaberger," Tami said in a statement. "Our shared values—integrity, craftsmanship, and opportunity for all—will move us forward."
Before he died, Longaberger expressed optimism for the future of his company, and had no regrets about how he had lived his life. "Sure, I'd like to live longer," he writes. "But when I think about what we've accomplished, I look at it and say, I'm so thankful to be able to say I've made a difference in other people's lives and leave a little behind."
His company may be gone, but it's obvious to anyone who's ever glimpsed his enormous basket building that Longaberger left more than "a little" behind. Whether he intended it or not, his unorthodox headquarters is a fitting monument to the American Dream—improbable, whimsical, and a little rough around the edges, but always hopeful. His legacy for thinking outside the box—or rather, inside the basket—is inextricably bound up in his building, no matter what its future may hold.
---
More inspiration