Dressed in festive, bright red shirts, 50 people are seated around small tables, delicately ink-stamping envelopes with a special Valentine's Day message. The red, pink, and white envelopes contain romantic notes and cards, and they're being sent with a little extra love by way of Loveland, Colorado, also known as the Sweetheart City.
In a town where Valentine's Day is more of a way of life than a once-a-year holiday, these volunteer stampers are performing an almost-sacred duty. For 74 years, people have been mailing their Valentine's Day cards to Loveland as part of the city's remailing program. Along with a heartfelt verse and design, the envelopes that come through here also receive the coveted Loveland postmark.
Sitting in groups of four, the volunteers are surrounded by small bins full of brightly colored envelopes, red and black ink pads, and specially made stamps. On the wall behind them hangs a large red heart with the words "Be Mine" written in white, a banner that says "Happy Valentine's Day," and several red and pink hearts made out of tinsel. As they grasp each new envelope and press the stamp into the ink pad, the volunteers chit-chat and laugh with each other.
The Valentine's Day remailing tradition dates back to the mid-1940s, when members of the Loveland Stamp Club came up with the idea. But, needing help with marketing, they brought the idea to Ted Thompson, then president of the Loveland Chamber of Commerce and manager of the local Rialto Theater. Over the years, Thompson and his wife Mabel helped the remailing program grow and gain national exposure, earning them the moniker of Loveland's "sweetheart couple." A bronze relief of the late couple stands in downtown Loveland, and their remailing program lives on.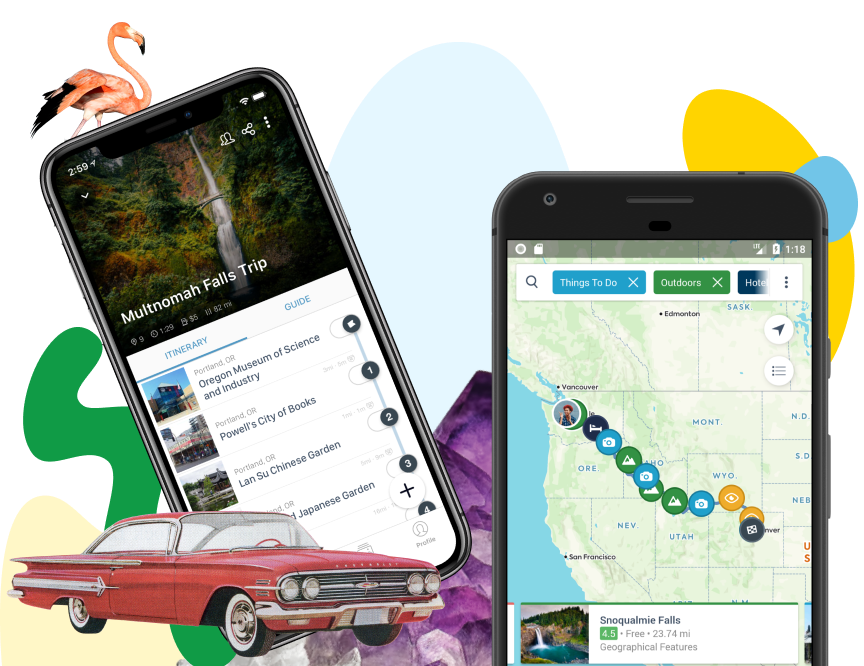 Download the mobile app to plan on the go.
Share and plan trips with friends while discovering millions of places along your route.
Get the App
Special stampers
Every year, people from more than 110 countries and all 50 U.S. states send their valentines by way of the Sweetheart City. Senders place the sealed and addressed envelope containing their card into a larger envelope, then mail it to the Loveland postmaster.
When these special letters arrive in Loveland, staffers remove the larger outside envelopes and bring their contents to the Chamber of Commerce. Here, the volunteers lovingly hand-stamp the envelopes with a cachet and the Loveland Post Office cancellation. The stampers, who are primarily retirees, spend four or five hours a day stamping during the two weeks leading up to Valentine's Day.
They strive for perfection with every stamp, moving methodically through the stacks of valentines, in the hopes that their stamps will bring even the smallest bit of joy to strangers around the globe. The volunteer stamper positions are in such high demand that more than 100 people are on a waitlist for them.
"I'm really excited to do something that is non-political and reaches everyone in the world, in the same way, on the same level," says Jeanne Perrine, who's been a volunteer stamper for the last five years. "It does give us some connection, in a good way, to everybody around the world instead of thinking that everybody is against each other all the time."
The city hosts a contest every year to determine the rhyme and design volunteers stamp on the envelopes. This year's verse reads, "Dan Cupid continues to play his part, though he doesn't text or tweet. He knows a Loveland Valentine is a sweeter treat." The design features Cupid dressed in cowboy boots and a hat, and the word "Love" set against a backdrop of mountains.
Sweetheart City
With a nickname like the Sweetheart City, it should come as no surprise that Loveland aims to keep the spirit of love and kindness alive all year long. "Living in Loveland for almost 40 years, I see the love year-round," says Dixie Daly, who oversees the stamping operation for the Loveland Chamber of Commerce.
The city has a heart-shaped mascot named Valentina and a massive love lock sculpture that spells out L-O-V-E. Anyone can stop by the visitor center to buy and engrave a lock to attach to the sculpture; many people throw away the key to symbolize that their love is for eternity. This year, the city also unveiled another love lock sculpture, this one in the shape of a heart.
The city hosts an annual Sweetheart Festival, complete with a Little Miss Valentine and Little Mr. Cupid pageant that features children in adorable, love-related costumes. On Valentine's Day, the city hosts a large group wedding and vow renewal ceremony for couples who want to share the love on their special day. If you can't make it on February 14, any marriage license issued by the Loveland branch of the Larimer County Clerk and Recorder's office year round will say it was issued by the Sweetheart City.
Local Sweet Heart Winery makes the city's official valentine wine (a malbec) and Grimm Brothers Brewhouse brews the Bleeding Heart, a Baltic porter with tart cherry and blackberry.
On a more personal level, residents of Loveland have their own special traditions. Leah Johnson, a third-generation Loveland resident who is now raising two kids here, sends out Valentine's Day cards to all her family and friends instead of the traditional Christmas card.
Residents also share the love by supporting local nonprofits and businesses, welcoming newcomers, and generally trying to make the city better in whatever way they can. "Even though it's growing, Loveland still maintains that small-town feel," Johnson says. "People here are proud of their community and proud of what we represent."
If you go
Loveland's Sweetheart Festival takes place February 14 and 15, 2020. For more info on the remailing program, including deadlines and addresses, visit the Loveland Chamber of Commerce's website.