Omega Mart is not your typical grocery store. Housed inside Area 15, an "immersive entertainment and events complex" in Las Vegas, Nevada, this extraordinary supermarket hides a multi-sensory, multi-level multiverse accessible by various portals throughout the store.
Confused by what any of that means? Let's back up a bit.
Omega Mart, which launched in February of 2021, is the second permanent installation by art collective Meow Wolf. The first one, House of Eternal Return in Santa Fe, New Mexico, is centered around a Victorian house. But once you step in and start looking around, you quickly realize that something is off. Open the refrigerator or crawl into the fireplace, and you'll suddenly find yourself transported to a different dimension.
Omega Mart is based on a similar concept—but it's also wholly original.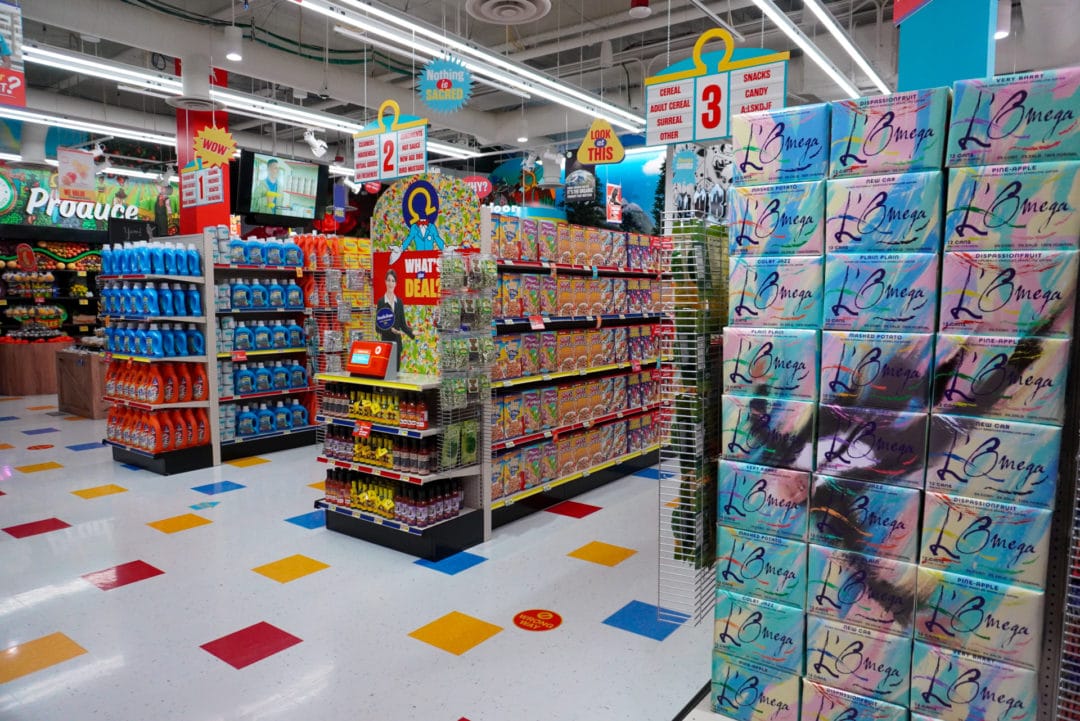 "The House of Eternal Return starts with a house. Here we're starting with something else you're very familiar with, a grocery store," says Drew DiCostanzo, director of sales and marketing at Meow Wolf. "The grocery store is just one of those kinds of everyday places that we all go to. In some ways it's very familiar, and in some ways it's very strange when you think about what a grocery store really is."
The concept seems extra fitting after a year where many of us barely left the house—except to go to the grocery store. But the products at Omega Mart are not typical household items. Cans of "implied chicken soup" are lined up next to "dream of mushroom"; one shelf is stocked with "nut free salted peanuts" (it's just a box of salt); and according to DiCostanzo, the Plausible Deniability brand of laundry detergent is a big hit in Las Vegas.
"We have over a hundred custom products on our shelves, and they're all a little different and unusual when you start to explore them," DiCostanzo says as we stroll up and down the aisles of the store. But the storefront is just the beginning of the Omega Mart adventure, and it barely scratches the surface of what this strange place has to offer.
Something sinister
I'm walking through a narrow, winding ice cave. The walls are lined with oddly shaped soda bottles. This tunnel—accessed through a walk-in fridge inside Omega Mart—leads to an office that feels far removed from the brightly lit grocery store. Under the dim lighting, a stack of documents seems to have been left behind in a hurry. Other clues imply that something sinister is going on here. What is Dramcorp? And what has happened to the Dram family? Despite the cheerful, friendly faces of the staff in the store, perhaps everything is not as perfect as it seems.
And this feeling of unease is not uncommon with Meow Wolf's installations. A dark and vaguely threatening storyline underlines the entire experience. For those with the time and mindset to go deep, the mystery can be unraveled using clues, interactive displays, and elusive chat bots throughout the installation. (Don't forget to ask for a "boop" card if you visit—it can be scanned at different screens throughout the experience to help reveal even more clues.)
As we enter the office behind the ice cave, a mother and her young child are examining some of the clues strewn about the room. The mother quickly gets frustrated, gives an exasperated sigh, and leaves the room. According to DiCostanzo, this is something that happens regularly.
"All of our lives tend to be so regimented, we get used to the same things over and over," he says. "There's not that opportunity, especially as an adult, to explore and discover something, and that's really what we're trying to build with Meow Wolf. But because we're not telling you how to do it, in what order to do it, or even that there's an 'it' to do besides walk around and look at pretty stuff, it rattles a lot of adults."
DiCostanzo says that it helps to have a child (or open-minded adult) in the group to turn the frustrations around and start seeing the mystery as an exciting part of the experience. "It just takes that moment, and suddenly all of that frustration clicks over and you see them become lighter," he says. "It's one of my favorite things, after they pass through this discomfort of 'Am I doing it wrong?' It's a nice moment to have."
Opening minds
Omega Mart can certainly be enjoyed as an all-ages playground without paying much attention to the plot. Eight different portals within the supermarket lead to the rest of the 52,000-square-foot exhibition, which consists of 60 unique spaces designed by more than 325 artists. Much like previous Meow Wolf projects, it's easy to get overwhelmed by the sheer size and scope of the experience.
There's no linear progression and no specific order in which to move through the exhibit. A tiny crawl space opens to reveal a vertical tunnel with a rope to climb; an intergalactic black hole hides a multi-level slide. One room has strobe lights so intense that I'm only able to spend a few seconds in it; other rooms are more soothing and relaxing. But sensory overload is almost impossible to avoid here.
Everywhere I turn there are blinking lights, changing colors, sounds, and optical illusions. Nothing is off limits to try and climb, pull, open, or enter. Even completely sober, the experience is what I imagine a multi-hour acid trip must feel like. And much like a psychedelic drug, Meow Wolf wants to open people's minds to a new kind of adventure. "A good way to do that is by having people do something physical that maybe they don't normally do, like crawling up into a strange place or sliding down something," DiCostanzo says. "So, suddenly your mind is starting to go, 'Wait, I'm in a different place.' It's more aware, it's more open to receive information."
It's not easy to bring a new experience to a town that is world-famous for its over-the-top, non-stop entertainment. But since it opened on February 18, Omega Mart has been in high demand and consistently sells out. It launched at 25 percent capacity due to COVID-19, but has been slowly increasing that number in accordance with state guidelines. Twice, it's had to expand its opening hours.
"I think many people in Vegas feel like they've seen it all and done it all," DiCostanzo says. "But they haven't done this."
If you go
Omega Mart is open Sunday through Thursday between 10 a.m. and 10 p.m., and Friday and Saturday between 10 a.m. and 12 a.m. General admission is $49 and tickets should be booked in advance.