The National Museum of Wildlife Art, located just 3 miles from downtown Jackson Hole, Wyoming, boasts one of the world's largest collections of wildlife art—and it's a collection that makes you think. More than 5,000 pieces inspire some 70,000 annual visitors at ​​the mountain-view museum to "explore humanity's relationship with nature through art," says Lisa Simmons, my tour guide and former associate curator of art for the museum, which features a variety of permanent and rotating exhibits.
It's not just art for the sake of art here, as Simmons shows me throughout our hour-long tour. The museum's paintings, drawings, and sculptures push patrons to think about humanity's footprint on the planet. Some of the trickle-down effects, both positive and negative, are visible right from the museum's front doors and adjacent sculpture trail. The museum terrace overlooks the 24,700-acre Jackson Hole National Elk Refuge, which draws around 9,000 migrating elk to the area each winter.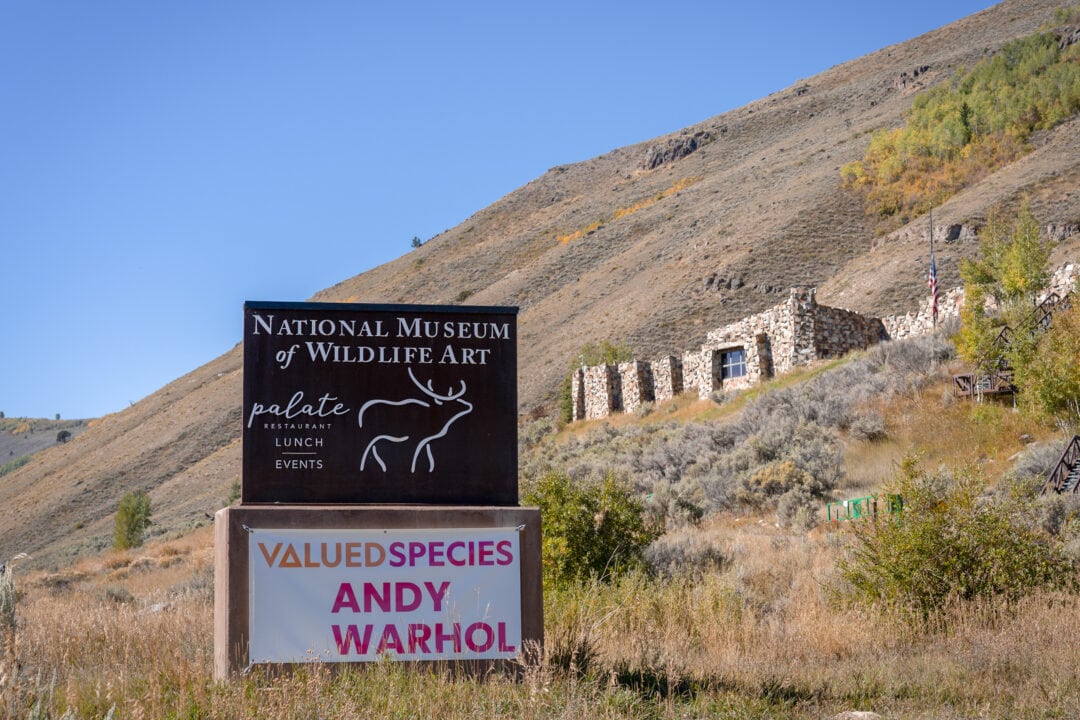 "There are not many places on Earth, outside the Serengeti in Africa, where you see those large ancestral migrations of animals," Simmons tells me. "This is one of many different herds that migrate in and out of Yellowstone each year. It's their ancestral migration path."
The U.S. Congress created this reserve in 1912 to protect the migratory land from overdevelopment; by the late 1800s, a rise in ranches and livestock had led to increased food competition and, ultimately, elk starvation. In line with the present-day National Museum of Wildlife Art's mission, early 20th-century rancher Stephen Leek raised awareness about the risks plaguing the area's elk populations via wildlife photography and writing. Through visual storytelling that helped inspire the refuge's creation, Leek was a creative catalyst in the country's fight for wildlife conservation—as are the more than 550 current artists on display at the National Museum of Wildlife Art.
Cataloging the natural world
"The museum exists to inspire and connect," Simmons says as we enter the first exhibit hall. She joined the museum as an art curator after working as a park ranger in Utah's Arches National Park, and then in nearby Grand Teton National Park. "I realized that interpreting the natural world and interpreting art have so many commonalities," she says. Quickly, I learned she was right.
We start with a contemporary piece by renowned artist James Prosek. It's a smart take on the everyday field guide—or, it looks that way. Each bird silhouette is numbered, and Simmons explains that most visitors ask about a key, with some even asking the front desk for the guide's legend.
"[Prosek] does that intentionally to make us retrain our brains," she says. "Humans have this great impulse to catalog the natural world, to isolate individual species and study one animal, but he's saying that we can never truly come to understand the intricacies of our world and how it works until we study it as a whole."
This first piece pushes me to ponder the human-wildlife relationship, but it also reminds me of the messages and layers behind virtually every piece of artwork, nature-related or not. All too often I'm guilty of zipping through fine art museums, swiftly and broadly admiring hues and brush strokes. But I rarely stand back to interpret and absorb the artist's message. The National Museum of Wildlife Art may have finally changed that.
Unspoiled vistas
"Art has the power to create an emotional connection and a need to learn more," Simmons says, noting some of the pieces may encourage guests to take action to help the planet. But action doesn't have to mean sweeping lifestyle edits or massive NGO donations. Sometimes, it's as simple as changing your perspective, and rethinking how you view and treat your surroundings.
Each piece throughout the museum works in tandem to showcase how humans have interpreted animals and nature throughout history. "This museum isn't just about wildlife art, it's almost more about how artists use wildlife to communicate human values, human histories, human emotions," says Simmons.
The largely chronological galleries oscillate from pieces depicting wild, pre-colonization spaces to artwork showcasing animals as food, and later in the gallery, artwork solely to inspire conservationism. "It visually communicates the way the definition of wildlife has shifted in America through time," Simmons says.
These earlier pieces also illustrate the very European-centric mindset of early colonizers. "It's a lesson in colonization and history," Simmons says. Many paintings from the days of early settlers depict vast, untouched wilderness with throngs of animals, unspoiled vistas, and one glaring omission: people. "There would have been humans in these places, so that story always has to be told side by side," Simmons notes, later showing me the museum's growing collection of Indigenous art, including small slate, granite, and porphyry sculptures from tribes in southern Michigan and northern Indiana.
Penguins and preservation
Simmons and I end our tour in a pressing moment of the conservation conversation: the present. The museum's contemporary pieces are an important reminder of the chance we have to write the next chapter in the human-wildlife relationship.
Belgian artist William Sweetlove crafted his small penguins out of recycled plastic, which fall within the environmentalist Cracking Art movement. This collective of conservationists uses art to analyze the link between natural and artificial reality. While their pieces are objectively adorable, the symbolism is particularly noteworthy. "[Each animal here] is prepped with water bottles, because water is going to be a scarce resource," Simmons explains. Other similar pieces feature boots, a nod to rising sea levels.
One of the artists on display during my visit is Andy Warhol, with his portrait series of endangered species created in the same style as his famous screen print pieces. "He called them 'animals in makeup' and tried to make them into celebrities to elevate awareness to help people connect," Simmons says of the animal portraits on display.
The works are inspiring—as is most of Warhol's art. But what I find particularly motivating is just how much Warhol was involved with conservation efforts. In 1992, the Andy Warhol Foundation for the Visual Arts donated the artist's 15-acre Long Island ocean-front preserve to The Nature Conservancy, to help preserve the Montauk Moorlands, an important flyway and feeding ground for migratory birds.
This move played into Warhol's ultimate conservation-meets-art mantra, a belief recorded in his memoir, The Philosophy of Andy Warhol, and shared by the museum: "I think having land and not ruining it is the most beautiful art that anybody could ever want to own."
---
If you go
The National Museum of Wildlife Art is open Tuesday through Sunday, 10 a.m. to 5 p.m. from November 1 until April 30, and daily from 10 a.m. to 5 p.m. May 1 through October 31.