As I'm driving along rural highways lined with tiny fishing villages in Nova Scotia, breathing in the salty air of the Atlantic Ocean, I feel right at home. Though I've never lived here, I spent many summers visiting my grandparents in the Annapolis Valley—a fertile agricultural region on the shores of the Bay of Fundy, famous for having the world's highest tides—where they operated a commercial dairy farm and grew apples.
I have fond memories of sitting in the dining room of my grandparents' 130-year-old house and savoring a bowl of my grandmother's fish chowder. She used the freshest cream skimmed from the top of the milk housed in a stainless steel cooler in the barn, just a few yards from the black and white cows lined up in their stalls.
Her soup was thick and hearty, but chowder styles vary widely across the province. Some are more stew-like, complete meals on their own, where the broth is almost an afterthought to fill in the spaces surrounding the chunks of seafood, while others are light and herbaceous. I wanted to taste them all—and Nova Scotia's Chowder Trail, a route with more than 50 stops, is a good place to start exploring the many interpretations available.
An international reputation
Within two hours of landing at the Halifax airport and pulling away in my rental car, I'm more than ready to sample my first chowder. Where I live, in Ontario more than 1,200 miles away, authentic chowder is scarce. Nova Scotia, on the other hand, has built an international reputation for its fresh local lobster, fish, and shellfish.
At the Grand Banker Bar & Grill in the fishing town of Lunenburg, the chowder is unapologetically old school—there's not a trendy ingredient to be found in its midst. The broth is creamy (thanks to 10 percent cream), but not overly thick. The stars of the bowl are the scallops, haddock, shrimp, and clams mixed in with the odd chunk of potato or celery. When owner Adam Bower is asked by customers where the seafood came from, he points to the fishing boats out in the bay, visible from the dining room. "We know the people who supply us with our seafood," Bower says. "Lunenburg is a fishing community and everyone knows someone who is working in the industry."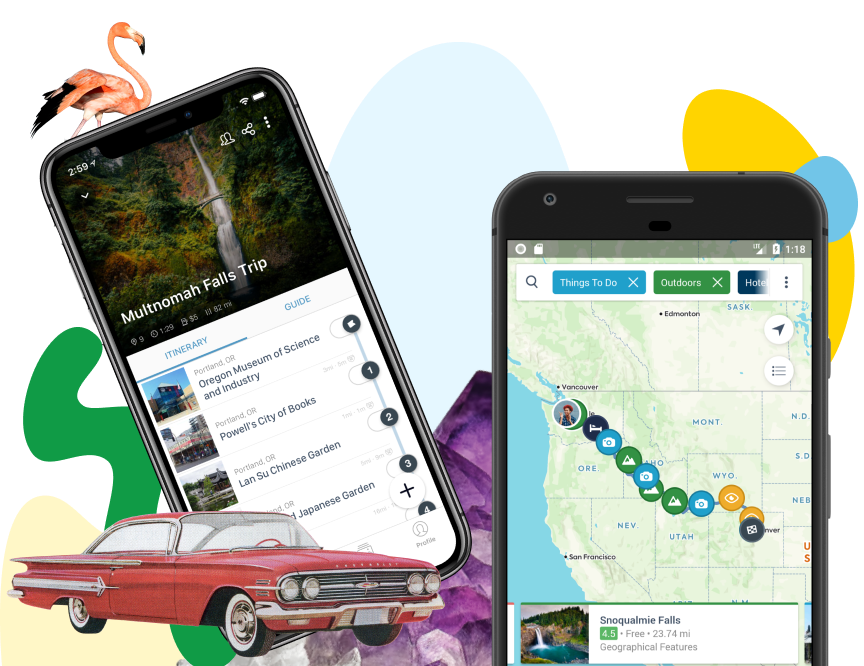 Download the mobile app to plan on the go.
Share and plan trips with friends while discovering millions of places along your route.
Get the App
The chowder here has been a top seller on the menu since the restaurant opened in 1996, and the recipe hasn't changed in those nearly 25 years. Bower used to bus tables at the Grand Banker and had his first taste of chowder here. He bought the restaurant five years ago. Though he was born in Nova Scotia, he didn't eat much seafood as a kid. Now, of course, he's a fan.
"We don't mess with our chowder," Bower says. "Locals and out-of-town visitors have strong connections to it. They have expectations of how it should taste. People here grew up with chowder in the house and have so many memories of it. It's an emotional connection for some.
Secret soup
Moving along the south shore of the Atlantic Coast, I head to the Quarterdeck Beachside Villas and Grill for round two of my tasting tour. The restaurant overlooks the popular Summerville Beach, a place I haven't seen for nearly 25 years. My family used to come to swim, collect seashells, and walk along the sand during the summer. The dining room shows off its seaside charm with light fixtures fashioned from lobster traps, a mermaid sculpture dangling from the ceiling, and polished concrete floors.
My grandmother would have approved of the Quarterdeck's chowder. It's so thick that the steamed mussels in their shells sit on top of the broth without sinking. It comes garnished with green pea shoots and a cheddar tea biscuit on the side, plus a glass of crisp white Tidal Bay, the first Nova Scotia wine appellation, developed to pair with local seafood. The soup takes me back to my grandparents' farm and I can almost smell the briny haddock simmering away on top of the wood stove in their kitchen. I'm sad when I scrape up the last bits of chowder from the bottom of the bowl.
Driving north to Barrington Passage, there's no doubt that I'm in the heart of lobster territory. Traps are piled up next to the homes along the shore, waiting for the season to begin again. At Captain Kat's Lobster Shack, I'm not surprised that the chowder is lobster-centric with a texture that is creamy, yet light. A chunk of claw sits on top and a delicious butteriness shines through. When I ask the server what's in it, she laughs. "It has potatoes, white onions, and lobster," she says. "Other than that, we don't know. The cook won't tell us."
Flavorful and economical
It's not uncommon for restaurants to closely guard their chowder recipes. But Chef Chris Pyne from Founders House Dining & Drinks in the historic town of Annapolis Royal doesn't mind talking about his "nontraditional" chowder, which he entered into the annual Taste of Nova Scotia Chowder Cook-Off. "We use steam and shelled mussels, smoked haddock, and seared Digby scallops all prepared separately and arranged at the bottom of the bowl to ensure each bite of seafood is cooked properly," he says.
Pyne's chowder is garnished with fresh chives, chive oil, fennel fronds, and a dollop of spiced grapefruit chutney. It's presented with a house-baked aged cheddar and mustard scone on the side, and a silky potato velouté is poured around the seafood tableside by the servers. The broth's consistency is neither thin nor thick, hitting that sweet spot in between. "The potato acts as a thickening agent, making the texture nice and smooth, without using a roux [from butter and flour]," Pyne says. The result is a full-bodied chowder, cut with the tartness of the grapefruit.
Like many great dishes, Pyne's chowder is the result of trial and error. It started out as a potato soup and evolved from there. "One day I was just thinking about how I like my chowder," he says. "I found there are two styles, either really thin and milky, or really thick and roux-based. I wanted a happy medium." His unique take on chowder was a risk that paid off. Pyles' recipe earned him the top prize at the 2019 competition. "I think, ultimately, chowder is so important because it's what binds Nova Scotia together from coast to coast," Pyne says.
Culinary instructor and consultant Alain Bossé, known as "The Kilted Chef," also has a soft spot for the province's beloved dish. "Chowder has a long history in our region," he says. "Seafood has always been part of our foodscape and it was a staple long before it was a luxury. Families would have a supply of dried and salted fish on hand to sustain them through the winter. With milk from the family cow, chowder was both flavorful and economical."
Today, chowder is one of the highlights visitors look forward to in Nova Scotia. "Tourists come here expecting an abundance of fresh, local seafood and we don't disappoint," Bossé says.