In partnership with
For many, winter can be a long, arduous season. Shorter days, icy roads, and inclement weather can make getting outside much more complicated than during the rest of the year. However, not all is lost in the frigid chill—winter offers a lot of opportunities to dream up and plan some amazing future trips. With a little planning and the right information, you're bound to find your perfect camping destination.
Plot your plan
One of the first things I like to do when winter hits is to start planning the trips I'd like to take in the next year. Considering things like weather, vacation time allotted, and distance from my home, I start to strategically plan which destinations make the most sense for different times of the year. For instance, I know that Moab, Utah will be way too hot to visit in the middle of the summer. Still, the warmer temperatures of the desert would offer an incredible relief during the spring and fall.
After I've made a possible timeframe for my dream locations, I dive into researching each spot. This not only includes potential routes, sites, and activities I want to add along the way, but also campsite reservations for my Airstream. Roadtrippers has proven to be an extremely handy resource for planning and visualizing my trips. Popular national parks like Yosemite, Yellowstone, Arches, and the Grand Canyon book up months in advance, so it's important to think ahead and book as early as possible.
Tips for national parks
Most National Park Service (NPS) campsites are available for reservation six months in advance for individual sites or twelve months in advance for group sites. So, if you'd like to make a reservation for August, you should start booking as early as February. Reservations can be made online at recreation.gov or by calling the specific park's office.
If you miss the window for reservations, most locations do have a lottery system for cancellations so you might get lucky. If you're an RVer like me, one thing to consider is the size of your trailer. National parks often have length limits and many don't have full RV hookups. Each park is different, but most allow up to 27 feet in length. Some parks like Yellowstone do have several spots for RVs that measure up to 40 feet, but these spots book up quickly so make your reservation as soon as it is available.
While most people are aware of places like Yellowstone and Yosemite, the NPS has more than 400 sites all across the country, including 129 national monuments. Many of these lesser-known places are well worth a visit and offer several perks, including smaller crowds and more options for campground sites, even with late notice. Some of my personal favorites with far fewer people to consider are Great Sand Dunes in Colorado, Craters of the Moon in Idaho, White Sands in New Mexico, and Giant Sequoia in California.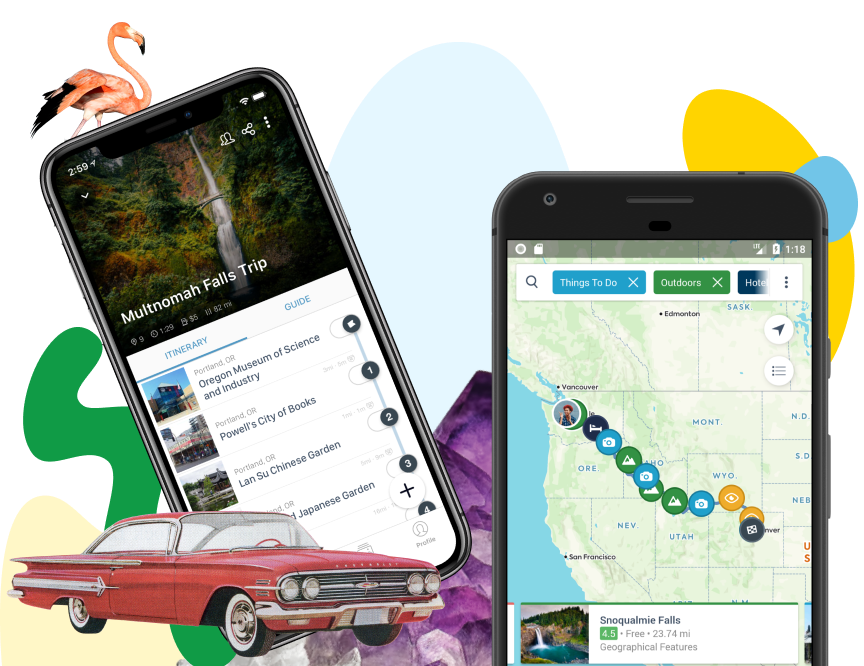 Download the mobile app to plan on the go.
Share and plan trips with friends while discovering millions of places along your route.
Get the App
Campgrounds 101
Finding campsites outside of the parks is another great option, especially for those wanting to have full hookups. However, many of these sites also book up quickly, especially if they are near popular destinations. You should always call the specific campground to see how far in advance you can book a reservation. A quick online search around your desired park will turn up many campsites. Calling the local Chamber of Commerce might also give you some good insight into campgrounds that don't have websites. Make sure to ask about things like whether the campground is dog-friendly, if there are bathrooms or showers on the premises, or if they have any local tips. Both the Chamber of Commerce and RV campground hosts usually have some amazing insight into things like where to stop for food while hauling a 30-foot trailer—something that many travel guides don't keep in mind.
Dispersed camping
Across the United States, and particularly in the western part of the country, the Bureau of Land Management (BLM) has plenty of public land that is free to camp on for up to two weeks. After two weeks, you are required to move—but you can continue to camp on BLM land elsewhere. This style of camping is mostly dispersed, and you can often find incredibly campsites by driving up county roads. Make sure to ask some locals or a park ranger before heading out on the dirt roads with an RV. Some roads are not well maintained and can be very muddy, washed out, or covered with debris.
Your RV camping checklist
One of the benefits of RV camping is that you can get out earlier than traditional tent camping. Inside an RV, you're less exposed to the elements. And if Mother Nature decides to throw a storm your way, you don't have to worry about laying on wet ground or putting up tarps. That being said, spring camping in an RV does have its own considerations. Here are a few things to keep in mind as you dream and plan your next spring camping trip.
Be Flexible. Springtime weather is notorious for being unpredictable. You might encounter 80 degree days, torrential downpours, blizzards, fog, and everything in between. Check the forecast often and make changes to your route if needed. Always have a backup route, or at least a few extra travel days, in case you need to hang out in one spot while a storm passes.
Check road conditions. Campsites might still have snow on the ground, especially if they are under a lot of tree cover or in the shade of a mountain. Roads to the campsites might also still be covered in snow or other debris that hasn't been cleared yet. Make sure to call ahead and get a local's perspective before diving into the unknown.
Look indoors. Plan some indoor options in case bad weather hits, including museums, local historical sites, and other cultural events. A few great examples are the Stanley Hotel outside of Rocky Mountain National Park and the Steam Engine Tour outside of Durango, Colorado.
Layer up. Make sure to bring a lot of layers for the many types of weather you might encounter. This includes blankets, towels, coats, leggings, hats, and gloves. Other helpful essentials are waterproof items such as tarps, rubber mats for muddy shoes, and trash bags (they make for great backup ponchos).
Plan for the unexpected. My grandfather always used to remind me to expect to get stuck in the worst weather possible. Because of this, I always try to have some basic survival essentials stashed in my Airstream—including a large sleeping bag, extra water, a headlamp, a first aid kit, a basic set of tools, and a physical map.
Don't forget to de-winterize. Last but not least, make sure you go through all of your safety checks and double check that your RV is ready to hit the road. This includes things like giving your home on wheels a good cleaning, sanitizing the water tanks with a bleach solution, checking your fire extinguisher and smoke detector, checking tire pressure, ensuring the brake lights and turn signals are working, and doing a quick test drive to listen for any unusual sounds.
Above all else, have fun. Planning ahead will not only help alleviate any last minute stresses, but it will ensure you have the best time possible and get the most out of your camping experience. Happy trails!
---
Tis the Season
Check out more stories by Beth Johnston on the Thor Industries website: