When I needed to rent a car on a recent trip to Southern California, I thought it was the perfect time to try an electric vehicle. After all, the state is home to the most EV chargers in the U.S.—by a lot. California is also banning the sale of new gas-powered vehicles by 2035. If I couldn't survive renting a car here, then we're all doomed, I thought. Spoiler: It was way easier than I expected.
Related Can you take a road trip in an electric vehicle?
With this inflated sense of confidence, I booked a Tesla Model 3 through the car rental company Hertz. Here's what I learned on my road trip in an EV rental.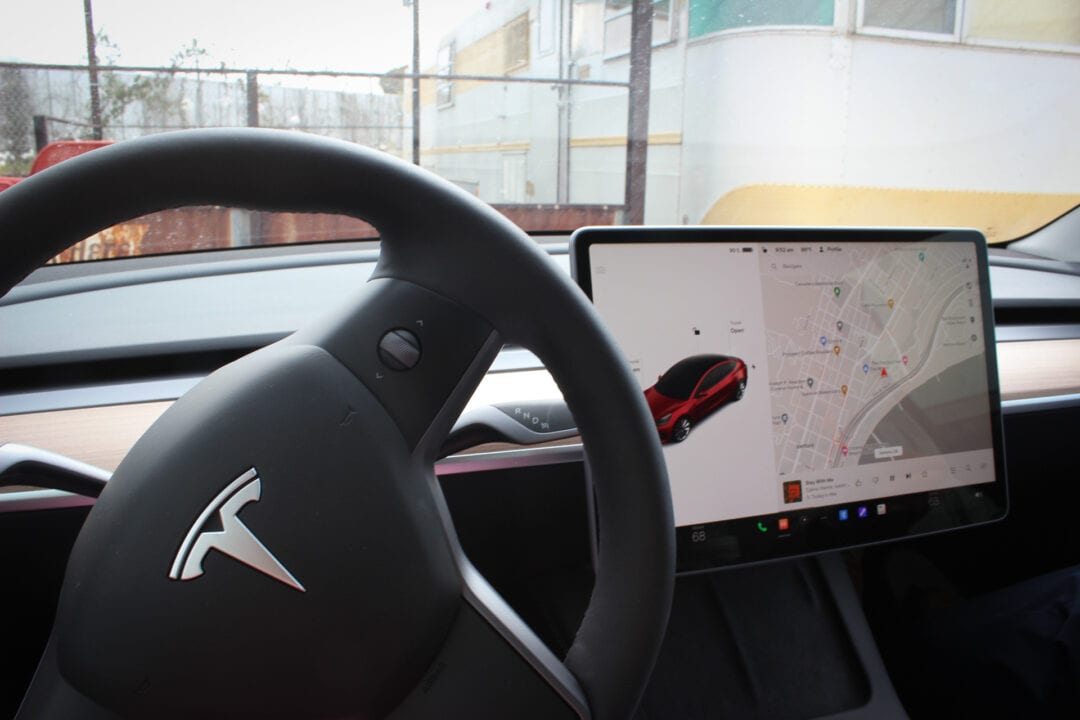 Reasons to rent an EV for a road trip
Test drive
As someone who reads and writes about the roadtripping industry for a living, I've researched the EV market a lot. With an upcoming expiring car lease, I'm also in the market for a new car. Renting an EV is the perfect opportunity to see if it's a good fit for you. Since I was taking a road trip and want my daily driver to be equipped for longer drives, the timing was ideal to see if EV travel is for me.
Related Interested in buying an EV? Here's where to start and what to look for
Look for features in your EV rental that you'd want in your own vehicle. If I purchase or lease an EV, I know I want fast-charging capabilities, and Tesla is currently the market leader in this infrastructure.
While owning an EV can save you money in the long run, it does require an investment up front, especially if you're looking for super-charging compatibility and a long driving range. Before you commit to an EV, rent one to see if you like swapping the gas station for a charging station.
Avoid gas stations and their price tag
While my road trip was only around 500 miles round trip, I would have needed to fill up the gas tank at least once. Knowing I could avoid gas stations and return the car with a low charge and not encounter any additional fees made it feel like I was saving money. My rental had unlimited mileage and I didn't have to spend a penny on gas, which in California is much more expensive than the national average.
Be kind to the environment
Since EVs don't run on fossil fuels, you're reducing emissions. EVs also require less maintenance, so you can feel confident in the safety of your rental car. And if you're already an EV owner, continue your zero-car emissions lifestyle by renting a car you're already comfortable with.
Add to the adventure
All that said, you need to understand how and where you can charge your vehicle. Planning your road trip around charging stations doesn't sound fun, but it can lead to some fun detours. Charging stations can be found at shopping centers, restaurants, and increasingly at road trip destinations like National Park Service sites. You can use the Roadtrippers app to find EV charging stations near points of interest along your route.
Related 6 national parks with convenient EV charging stations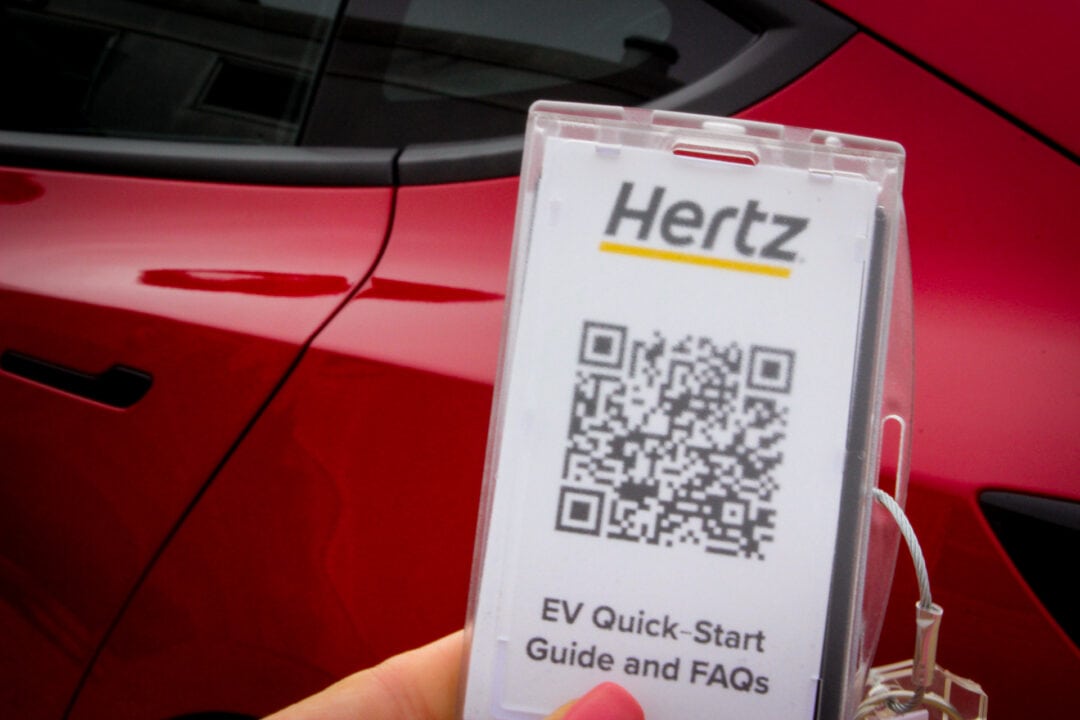 Tips for renting an EV
1. Use a reputable rental car company
When renting an EV—especially if it's your first time driving one—you want to ensure that company representatives can answer any questions about your vehicle, the charging process, how to find charging stations, and more.
Related 5 things I learned from renting a car for a road trip for the first time
Hertz offers vehicles by two EV manufacturers: Tesla and Polestar. Benefits include discounted weekly rates, using a rewards membership, and a smooth pick-up and drop-off experience. However, one-way trips aren't an option yet with Hertz's electric vehicle fleet.
Hertz currently has the most options for EV rentals, but increased availability among its competitors is likely to lower daily rental rates. Enterprise offers hybrid options and mid-size electric cars, like the Nissan LEAF. Avis offers Tesla Model 3 and Kia Niro EV rentals, as well as a variety of hybrids.
2. Choose a long-range vehicle
Depending on the type of road trip you're planning, you'll probably want a vehicle that can go at least 250 miles on a charge to avoid frustrations around constant recharging. Note that factors like temperature, incline, traffic, speed, and using A/C or heat impact your battery usage.
Depending on the range, type of vehicle, and route, you may need to stop to recharge more. If you rent a longer-range EV and plan your daily driving distances accordingly, you won't feel the impact of needing to stop to recharge as much.
3. Understand the charging station infrastructure
What charger type you'll need depends on the vehicle you rent. Most EVs are compatible with Level 2 chargers (some are also compatible with DC fast charging, or Level 3), while Tesla vehicles can also charge with the manufacturer's Supercharger network.
I was impressed by Tesla's Superchargers and the integrated navigation system, which gave me confidence in finding quick and convenient options if I needed them. You can filter for charging stations along your route, including by charger type. Also, when you input your destination into the car's GPS, it tells you if you'll make it there based on your current battery level. If not, it helps plot a recharging stop along your route around the time you'll need to charge up.
Apps like ChargeHub, Open Charge Map, and PlugShare can help you find charging stations if you rent a non-Tesla vehicle.
Related How to find EV charging stations on a road trip
In Southern California, I was never far from a charging station, but in more remote areas and other states, options are more limited, which can lead to a more stressful experience. West Coast states in general have a better charging infrastructure and some states even have designated EV byways, including Arizona and Oregon.
No matter what vehicle you choose to rent, make sure you understand its charging capabilities, how long it will take to charge, and how you'll find charging stations—it's most definitely not comparable to filling up at a gas station.
4. Book accommodations with charging stations
Booking accommodations with EV charging stations and only traveling the distance within the car's range each day makes planning easy. This way, you can charge up for free overnight, and you don't have to worry about finding a charging station during the driving legs of the trip.
A growing number of hotels and some campgrounds now offer Level 2 chargers (which will give you a full charge in 5 to 7 hours). Check your hotel's website or call ahead and ask about EV charger availability.
5. Research peer-to-peer platforms carefully
An alternative to renting an EV through a rental car company is renting an EV through a peer-to-peer platform, like Turo. I compared this option to Hertz, and while the quoted price was less expensive, I wanted the assurance and convenience of a rental car company. However, there's more variety of vehicle types on a peer-to-peer platform, and you can choose a convenient location for pick-up and drop-off, or even have the vehicle delivered to you (for an additional fee).
Depending on your budget and destination, this might be a better option. Just make sure you understand the rental agreement terms and insurance coverage.
6. Expect a learning curve
Once you've picked up your rental car, spend a few minutes understanding the features and navigation system. If your rental car uses regenerative braking (which is standard in EVs), take it slow in the parking lot to get a feel for how the brakes work.
Someone explained to me that driving a Tesla is like "driving a giant iPad," and the analogy is true. There are an overwhelming number of features, from Camp Mode to opening the "frunk." Don't be intimidated if you can't even get in the vehicle at first—those door handles are tricky. It was easy to adapt, and once I was comfortable driving, I enjoyed it even more than my car at home.
---