Nearly two decades after its debut, it's almost impossible to travel along any portion of Route 66 and not see several references to Disney Pixar's 2006 animated movie Cars. Inspired by director John Lasseter's real-life cross-country road trip, the film still draws families and fans to iconic attractions featured (or riffed on) in the movie, including the remaining Wigwam Villages, trading posts, curiosity shops, and vintage filling stations.
Here are seven real-life locations that inspired the makers of Cars.
---
---
1. Indianapolis Motor Speedway
Although synonymous with Route 66, Cars begins somewhere in the Midwest with the Dinoco 400, the final race of the Piston Cup. It's not hard to draw comparisons between Dinoco and Sinclair (both oil companies have a prehistoric giant as a mascot) or the Piston Cup and the Indianapolis 500, known as the "Greatest Spectacle in Racing."
Sinclair gas stations—and their iconic green apatosaurus—can still be found scattered across states in the Midwest and West. And the annual Indy 500, which takes place at the Indianapolis Motor Speedway 3 hours southeast of the Chicago terminus of Route 66, is the largest single-day sporting event in the world.
---
2. Wigwam Motel No. 6
At one time there were seven Wigwam Villages, but now there are only three remaining; two are located along Route 66, and the third is in Cave City, Kentucky. The concrete teepees, arranged in a semi-circle, are plenty spacious inside, and each comes with its own bathroom, AC unit, TV, and mini fridge.
With vintage cars permanently parked around the property, Wigwam Village Motel No. 6, in Holbrook, Arizona, is the most photogenic, set along a stretch of the Mother Road full of rock shops, restaurants, and motels. Cars' Cozy Cone Motel is perhaps the movie's most clever auto-themed twist on a real-life icon, with each room resembling a bright orange traffic cone, and amenities such as a free "Lincoln Continental breakfast."
---
3. Jack Rabbit Trading Post
At the center of Radiator Springs is a large yellow sign with red lettering that says "Here it is," which is a near copy of the one that stands outside of the real Jack Rabbit Trading Post 5 miles west of Joseph City, Arizona. The souvenir and curio shop has been luring travelers with hand-painted billboards from Missouri to Arizona since 1949. In real life, the sign is adorned with silhouettes of a jack rabbit; in Cars, it's a Model T Ford.
---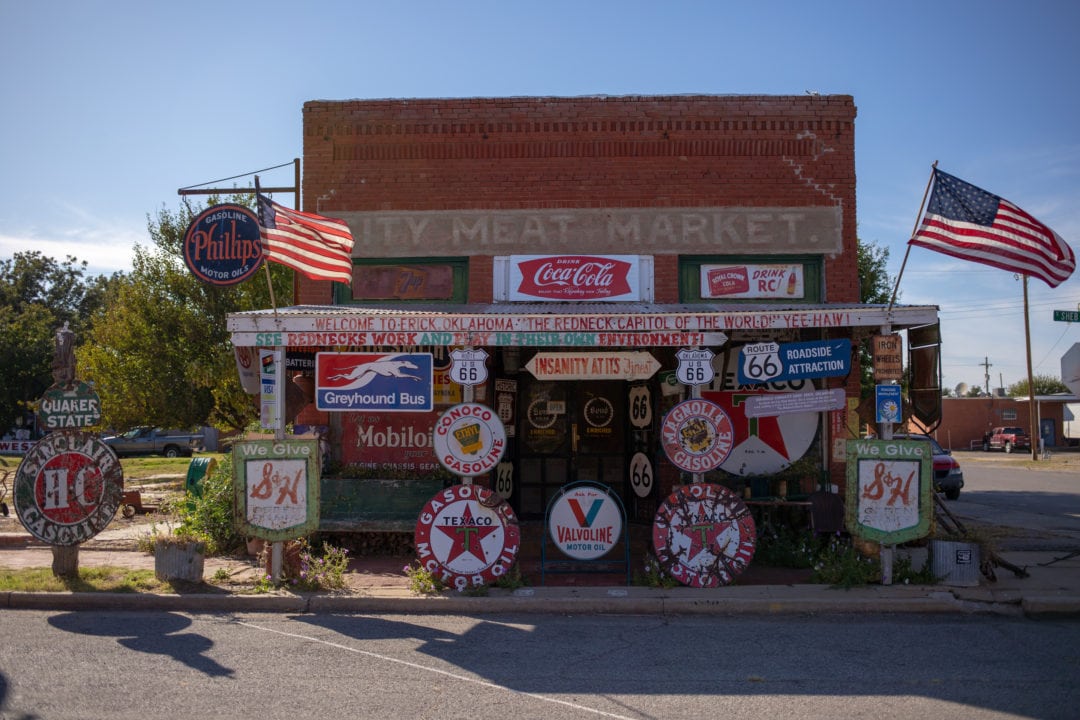 4. Sandhills Curiosity Shop
Radiator Springs' Curios could have been inspired by any number of souvenir and junk shops that line the route, but none is more memorable than the Sandhills Curiosity Shop. Sure, the collection of vintage petrobilia and other odds and ends (most of which are not actually for sale) is worth a trip to the small town of Erick, Oklahoma, alone—but it's the shop's proprietor and showman, Harley Russell, who really makes the stop a must-see attraction.
Related Route 66's hillbilly hoarder presides over a shop where nothing is for sale
---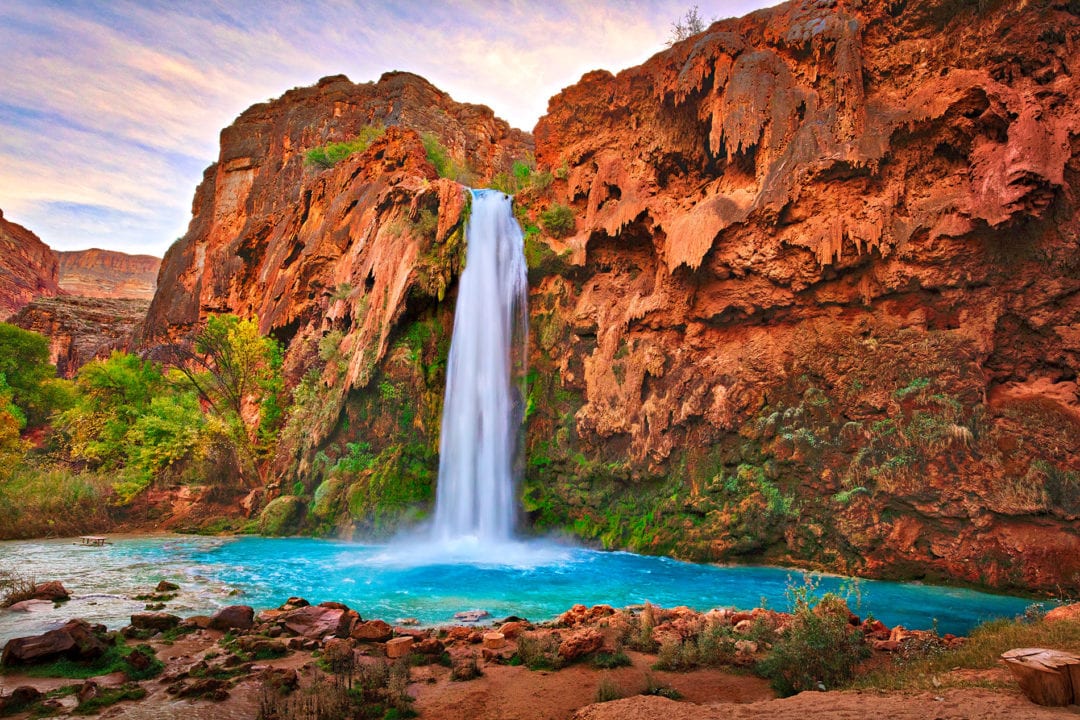 5. Havasu Falls
Lightning McQueen and Sally are awed by a desert waterfall during their drive away from Radiator Springs; Cars fans who visit the Grand Canyon might recognize it as Havasu Falls, one of several located along Havasu Creek within Havasupai tribal lands. The 100-foot waterfall drops into a series of plunge pools, rendered a stunning blue-green color thanks to a high concentration of calcium carbonate.
To see the falls in real life, you'll need a reservation—plan ahead, as these are limited and famously difficult to snag (no new reservations are issued for 2023, but hopeful hikers can check the Havasupai website for cancellations).
---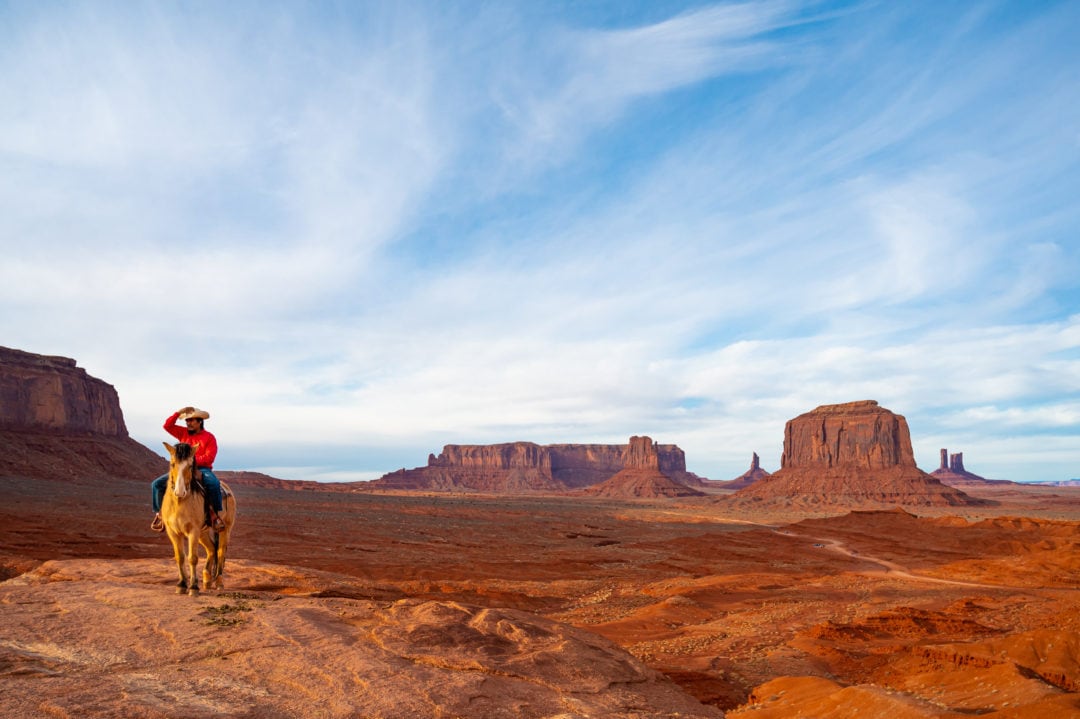 6. Monument Valley Navajo Tribal Park
Sally and Lightning take in a scenic view while she explains what life was like in Radiator Springs (and so many other small Route 66 towns) before the interstate siphoned away traffic and tourists: "Cars didn't drive on it to make great time, they drove on it to have a great time." A map of the region shows the desert park as "Ornament Valley"; for sandstone buttes and scenic views in real life, head to Monument Valley Navajo Tribal Park on the Arizona-Utah border.
---
7. Tower Station and U-Drop Inn
The art deco exterior and iconic tower of Ramone's Body Shop were clearly inspired by the Tower Station and U-Drop Inn located in Shamrock, Texas. Built in 1936 as a gas station and restaurant, today the fully-restored building is on the National Register of Historic Places and operates as a visitor center, chamber of commerce office, and community center.
---