As I'm wandering happily along the dock during the Sausalito Floating Homes tour, I find an eclectic, vividly colorful collection of dwellings permanently moored to piers, bobbing in Richardson Bay. 
The charming town, which sits on the other side of the Golden Gate Bridge from San Francisco, California, provides much to admire. An orange home with hot-pink trim is named Alien Lifeform Research. A cobalt-blue cottage has been painted with a crescent moon, stars, and flowers, and its owner is applying finishing touches between sips of wine.
Blue-and-green mosaic serpents slither amid magenta bougainvillea and other flowers at another cottage. Along wood-plank paths lined with turquoise planters overflowing with flowers, benches have been thoughtfully placed for the weary.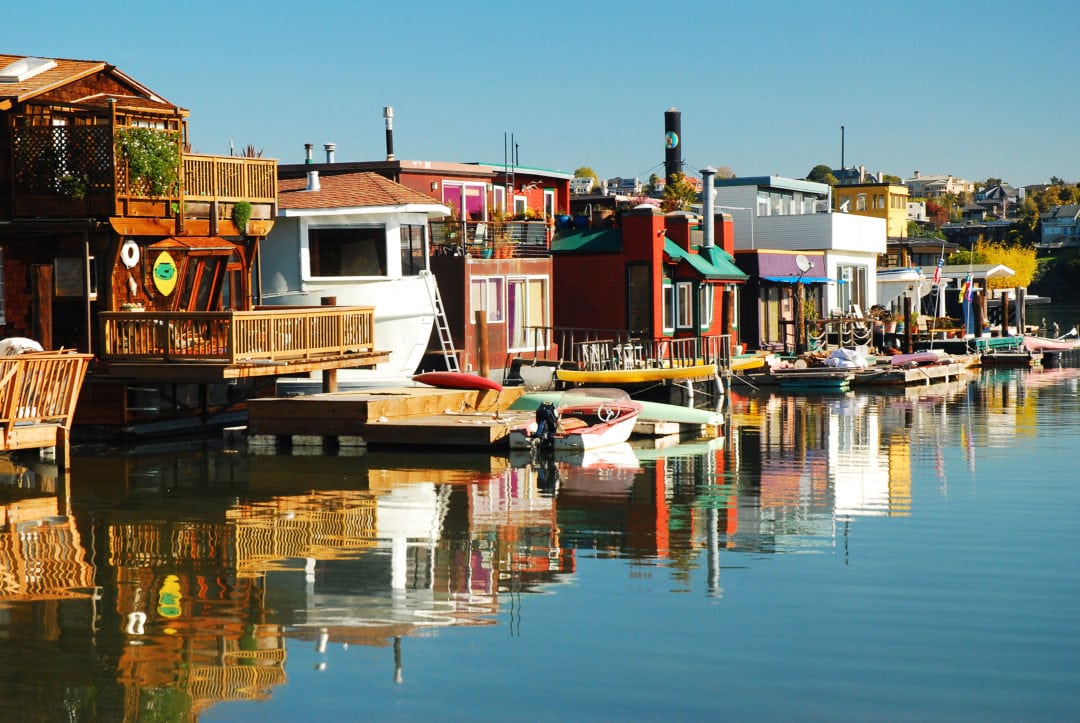 Beatniks and bohemians
The 400 or so floating homes in the affluent suburb reflect a proud bohemian history that began well over a century ago. Artists, writers, musicians, beatniks, and hippies flocked here in search of an alternative lifestyle, and an art scene flourished in the 1940s and '50s. 
Greek artist Jean Varda—friendly with Picasso and Matisse in Paris during the 1920s—lived on a former ferryboat, co-owned with British surrealist painter Gordon Onslow Ford, for 20 years. Here on the SS Vallejo, he entertained guests including Anaïs Nin, Henry Miller, Timothy Leary, Allen Ginsberg, Maya Angelou (who, long before she became a writer and Pulitzer nominee, was a singer in the Bay Area), and Sally Stanford, the ex-brothel madam in San Francisco and future mayor of Sausalito. 
Later, Varda's roommate was Alan Watts, a British philosopher who somehow found time to introduce Zen Buddhism to the U.S. amid the many boisterous parties. In 2018 and 2019, an exhibit called Ship of Dreams: Artists, Poets and Visionaries of the SS Vallejo: 1949-69, dedicated to this creative hub, was displayed at the Sonoma Valley Museum of Art and the Bolinas Museum. Former ferries also housed art galleries, restaurants, and a literary magazine.
Soul singer Otis Redding wrote the lyrics to "(Sittin' On) The Dock of the Bay" during his stay on a houseboat owned by legendary rock concert promoter Bill Graham (of The Fillmore fame) for a weeklong gig. Actor Sterling Hayden, who starred in The Godfather among other movies, and cartoonists Shel Silverstein and Phil Frank also lived here.
As a teenage hitchhiker headed west from Chicago, Catherine Lyons-Labate was dropped off at a Sausalito houseboat dock. While calling home, she realized she'd lost her wallet and had no money left. She was taken in, fed, and cared for by some compassionate houseboaters. That was 45 years ago. She never left.
She raised three children on houseboats; her first child was born on the Issaquah ferryboat. In her current two-bedroom floating home, named Shanti Ghar ("peaceful home" in Hindi), a "marble" landing inlaid with an Indian symbol is actually painted.
"I saw the boats and the sea, smelled dinner being cooked, heard someone playing soft guitar, and, since there was no electricity then, everything was lit by kerosene lamps," Lyons-Labate says. "I felt I was home."
Venetians of the West
The community's history dates back to the late 19th century, when fishermen's wooden shacks in Sausalito were converted to vacation homes by some San Franciscans. Others built houseboats and moored them in the cove, says Larry Clinton, a Sausalito Historical Society member and expert on floating homes. Some were quite inventive: One houseboat was made from four horse-drawn streetcars nailed to a raft.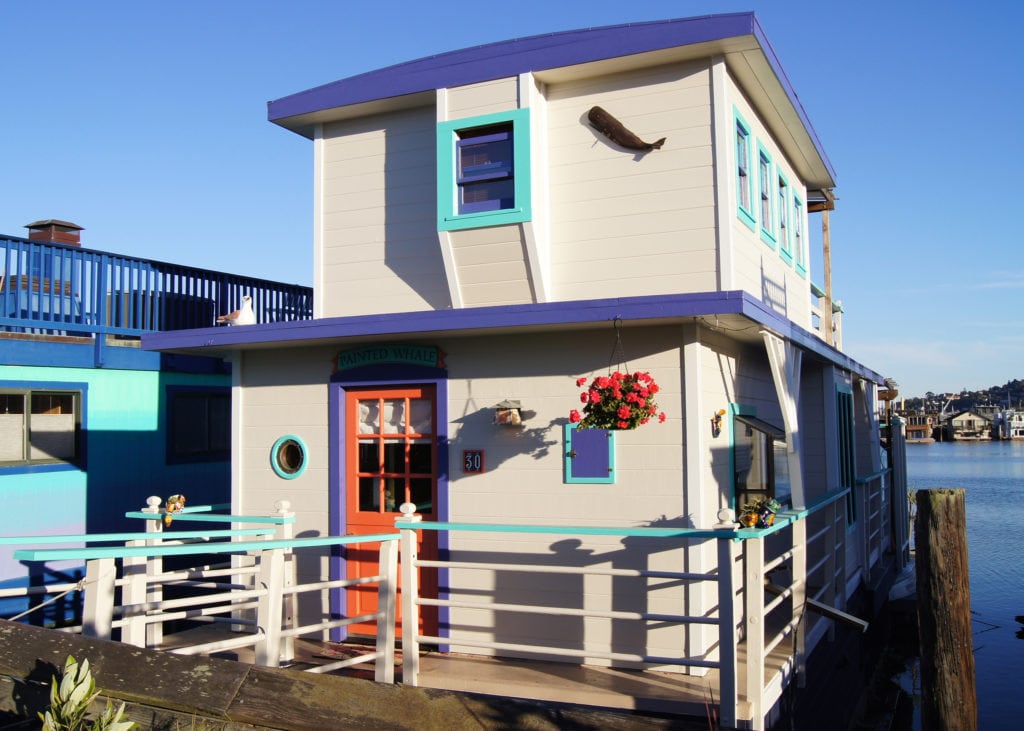 These "Venetians of the West," as they dubbed themselves, held a spectacular "Night in Venice" festival every summer. The celebration included fireworks, concerts, a torch-lit boat parade, festive decorations, and open houses. In 1899, a writer for the British magazine The Strand praised the "indescribable charm about the life." Butchers, bakers, and other suppliers took orders from their own boats each morning, delivering them for dinner.
After the 1906 earthquake, many San Franciscans' homes were destroyed, so some moved full-time to the waterside dwellings. While Sausalito's tidal flats had long been a fertile dump heap for derelict barges and sailing ships that were abandoned or sold for scrap, it was World War II that really jump started the floating home community.
After the war, the Marinship shipyard, where 20,000 people built military ships 24 hours a day, closed down. According to Annie Butler, author of The History of Issaquah Dock, a veritable gold mine of unfinished boats, lumber, metal, machinery, and parts was left behind.
People short on cash, but long on ingenuity, eagerly built living quarters atop maritime vessels. The homes were made from barges, Chinese junks, or even logs lashed together, using materials salvaged from cars, packing crates, railroad cars, and motor homes. Their creations were then linked to the piers by ramshackle wooden walkways. A tolerant landlord—a boatyard owner who liked to acquire old boats, including decommissioned ferries—charged little or no rent and often hired houseboaters. This helped the community grow, entirely unregulated.
Growing up on the dock
Jonah Owen Lamb had a freewheeling childhood on a houseboat tied to a barge named the Isle of Contempt with his carpenter father and artist mother in the late 1970s and '80s. "Our neighbors were bearded pirate men like my father, with high boots and long knives, beautiful, half-naked women, and children as feral as the dogs," he wrote in SF Weekly.
Marin County government and real estate developers, eyeing the valuable waterfront property, often attempted to evict the houseboaters over the decades, sometimes in armed confrontations with sheriff's deputies. In 1995, a state environmental agency attempted to evict about 30 houseboats in Galilee Harbor, fining them $5,000 each day they remained on the water. Lamb, then 17, testified passionately at a hearing about the "unique place" where he grew up. Two films chronicle this 40-year struggle, The Last Free Ride, about the 1960s and '70s, and Houseboat Wars, about the 1990s.
The 1995 effort failed. But eventually, the community was brought up to code and safety standards with proper power and sewage hookups, and brand-new piers were built. New floating homes, some quite palatial, were constructed with the help of architects.
A banner promoting the Sausalito Art Festival one year displayed a painting of the houseboat wars by Lamb's mother. It often seems there's no hint of their rip-roaring history. But if you listen closely to the old-timers amid the sounds of the sea, the ghosts of that past remain.
If you go
Visitors are welcome to take a self-guided walking tour of the floating homes, but keep in mind this is a residential community and be respectful.