Although the lovable bricks weren't introduced to the U.S. until the 1960s, LEGO started in Denmark in 1932. What began as a few buildable (wooden) blocks in a small carpentry shop has expanded into a global phenomenon that now includes theme parks, retail stores, museums, and several animated films.
My love for LEGO bricks began with the battery-operated train sets and cereal box prizes of the early 1990s and has continued over the years to include everything from fifth wheel RVs and cityscapes to Harry Potter's Privet Drive home and Kylo Ren's command shuttle. And while the LEGO brand itself has certainly changed over the years, the tiny interlocking bricks have mostly remained the same—and continue to spark wild imaginations and creativity for kids and adults alike.
Whether you're an aspiring LEGO Masters contestant or are simply looking for a kid-friendly road trip for the tiny brick lovers in your life, here are six LEGO locations that will entertain, inspire, and bring out the Master Builder in everyone.
---
1. LEGOLAND, Carlsbad, California
Immerse yourself in the world of LEGO at the LEGOLAND California Resort. Complete with two LEGO-themed hotels, 60 theme park rides, a water park, aquarium, and endless building opportunities—this resort has more than 30,000 LEGO models consisting of more than 60 million bricks.
Kids will particularly love this location as they can participate in a myriad of activities, from earning their LEGO license at the LEGOLAND driving school to exploring Miniland LEGO replicas made to look like New York City, San Francisco, New Orleans, and more. Plus, they can stop and visit with their favorite LEGO characters, including Emmet, Wyldstyle, and Benny, who all can be seen strolling the park throughout the day.
Located just north of San Diego and less than 2 hours from California's Disneyland, LEGOLAND is open year-round and offers daily, multi-park, and annual passes. There are also several vacation packages available for families.
---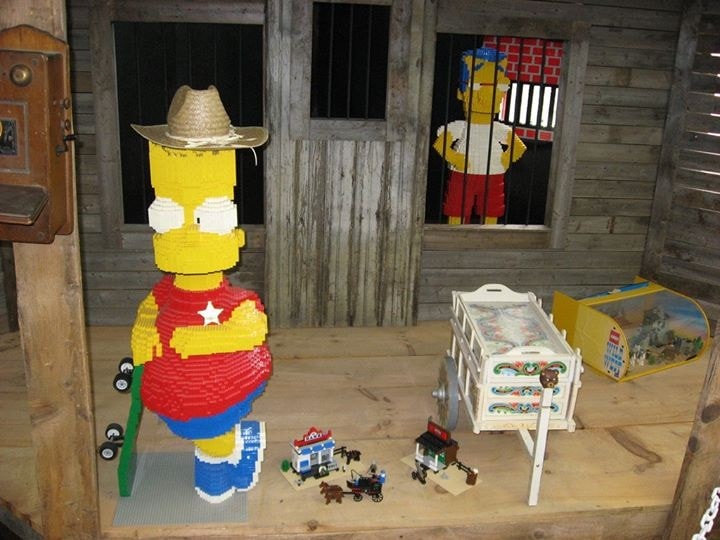 2. Toy and Plastic Brick Museum, Bellaire, Ohio
Known as the "Unofficial LEGO Museum," the Toy and Plastic Brick Museum in Ohio claims to hold the largest private collection of LEGO creations in the world, with more than 10 million bricks used throughout the three-story building.
While you won't find LEGO roller coaster rides or hotel rooms at this roadside attraction, you can explore unique, one-of-a-kind LEGO designs and exhibits, including life-sized replicas of Spider-Man, Darth Vader, Hagrid, and Scooby-Doo. The museum also features the works of some of the world's top LEGO artists, like Jason Burik, Eric Harshbarger, and Nathan Sawaya—and it's home to the Guinness Book of World Records' "World's Largest LEGO Image."
Open seasonally to the public, you can stop by the museum from Mother's Day through late September on Tuesday to Saturday, or call ahead to schedule a private appointment. Be sure to stop by the museum's shop before you leave for deals on LEGO collectibles.
---
3. The LEGO Store Mall of America, Bloomington, Minnesota
For the ultimate LEGO shopping experience, look no further than the LEGO Store Mall of America. This is the largest LEGO retail store in the U.S. and is filled with incredible creations that will make you feel like you're in an art museum.
Browse the shelves for the perfect set to take home or choose just the bricks you need from the giant pick-a-brick wall, featuring 180 different LEGO elements in an array of colors. Kids can even build creations in the store with LEGO Brick Specialists who are always ready to share their building tips and tricks with customers.
Located on the first floor of Mall of America, kids can unwind after a long day of shopping and score a set of bricks to build later. Contact the store before your visit to plan your trip around upcoming in-store events.
---
4. LEGO Millyard Project at SEE Science Center, Manchester, New Hampshire
Get a lesson in history and check out the largest permanent LEGO installation (at Minifigure scale) in the world at the SEE Science Center. The center's LEGO Millyard Project is the first large-scale display that LEGO has worked on with an external partner.
The extremely detailed installation depicts the city's former Amoskeag Millyard from the 1900s. The building was owned by the Amoskeag Manufacturing Company, one of the largest textile factories in the world at the time. Using more than 3 million bricks, the LEGO creation helps preserve the major role the textile company played in building the city—giving visitors a fun, interactive way to learn about Manchester's rich history.
The center is open Tuesday through Sunday, but it's recommended to call ahead of your visit to schedule a reservation. Be sure to check out the many rotating exhibits at the center and the adult-friendly Science on Tap events that take place throughout the year.
---
5. The Art of the Brick, Chicago, Illinois
Famed LEGO artist Nathan Sawaya's The Art of the Brick exhibit is on display at Chicago's Museum of Science and Industry. This art-meets-LEGO installation features more than 100 LEGO sculptures using more than 1 million bricks—making it the world's largest LEGO art display.
Adults and kids will be amazed at Sawaya's creations, which include original works and his take on masterpieces from the likes of Van Gogh, Da Vinci, and Michelangelo. There's also an incredible 20-foot Tyrannosaurus rex skeleton that looks like it came straight from an archaeological dig.
The exhibit requires a separate ticket from the museum and must be reserved online. This is the perfect attraction to tack on to a day at the museum, and it's located down the road from Chicago's Shedd Aquarium and Field Museum of Natural History.
Note: This is a rotating exhibit. Please visit the Art of the Brick homepage for updated location and times.
---
6. LEGOLAND Discovery Center, Yonkers, New York
The LEGOLAND Discovery Center is an indoor LEGO-themed entertainment center made for all ages. Featuring a 4D-theater to catch all of the latest LEGO films, interactive rides, building competitions, a LEGO store, and a cafe, this is the perfect way to experience LEGOLAND without traveling to the West Coast.
Adults will love the Adults-Only Nights where you can enjoy all of the features of the Discovery Center, kid-free. In addition to access to attractions, there are building challenges, giveaways, raffle prizes, and more. These events take place throughout the year, and tickets can be purchased online. For a more kid-friendly experience, check out the LEGO Ninja Training Camp where kids can put their ninja skills to the test during different quests and earn a LEGO Ninja headband.
Annual and daily passes are available for purchase and private rooms and passes can be booked for birthday parties and larger groups. The LEGOLAND Discovery Center is open year-round, Monday through Sunday, and there are multiple locations throughout the U.S. for visitors outside of the New York area.
---