For college football fans, fall is an exciting time of the year. It's more than painted faces, tailgates, and yelling for your favorite team—although there's a lot of that. It's about getting together with family and friends you haven't seen since last season, befriending your biggest rivals over hot wings and drinks at a parking lot tailgate, and setting aside all of your differences for at least four quarters to support the same schools, sing the same fight songs, and carry on the same traditions.
While in the end, it really is just a game, the collective sense of community that can be found on a college campus during a football game day truly is something special that transcends the sport itself.
This Midwest adventure will take you to six of the most iconic football stadiums in college athletics. From the banks of the Olentangy to golden domes, Big Ten stomping grounds, and monochromatic fan sections, this route is all about immersing yourself in longstanding university traditions and experiencing the history behind the venues that have made their mark on the world of sports.
1. Ohio Stadium, Columbus, Ohio
With a seating capacity of more than 100,000, Ohio State University is home to one of the most recognized football stadiums and winningest teams in college football history. Known to Buckeye fans as the "Horseshoe," this stadium is the fourth largest on-campus facility in the U.S. It has hosted some of college football's greatest games since 1922, and major musical performances by acts such as Beyoncé, Metallica, Taylor Swift, and the Rolling Stones.
Located near the heart of downtown Columbus along the scenic Olentangy River, the stadium is surrounded by parks, hiking trails, and boat access sites nearby. Columbus is also known for its booming brewery scene. If you have time to spare, you can follow the Columbus Ale Trail to more than 50 craft breweries in the area. For fans looking to participate in one of Ohio State's long standing traditions, the "Skull Session" takes place in St. John Arena on campus prior to every home football game. For nearly 2 hours before the game, you can join Buckeye fans as the marching band leads the crowd in cheers.
Traveling by RV?
Ohio State's campus offers RV parking near the stadium for travelers touring with a rig. You must purchase a permit before game day; the earlier, the better as these tend to go quick. This permit allows you to park overnight until 10 a.m. the following day.
Nearby campground:
Ohio Expo Center and State Fair Campgrounds
---
2. Michigan Stadium, Ann Arbor, Michigan
Welcome to Michigan's "Big House." The largest college football stadium in the U.S. can host a crowd of more than 100,000, with a record-breaking 115,00 fans in attendance at a 2013 game against rival Notre Dame. You don't have to be a Wolverine fan to appreciate the legacy, size, and liveliness of this stadium—and the city of Ann Arbor—on game day. Completed in 1927, the Big House has had several updates over the last century, including blue- and maize-colored bleachers, premium seating spaces, and expanded occupancy. However, the maximum capacity will forever end with a "1"—as it's rumored that an extra seat is always saved in honor of former head coach and athletic director Fritz Crisler, who had a lasting impact on the university and its athletic programs.
Ninety minutes before kickoff, immerse yourself in a game day tradition by watching the university's drumline perform on the steps outside of Revelli Hall. And after the game, head into Ann Arbor's Kerrytown neighborhood for local shopping and dining options, including Zingerman's Deli.
Traveling by RV?
RVers can purchase a parking permit from the university to keep their rig just outside the stadium on game weekends. These permits are first-come, first-served, so be sure to secure your parking as soon as you can.
Nearby campground:
---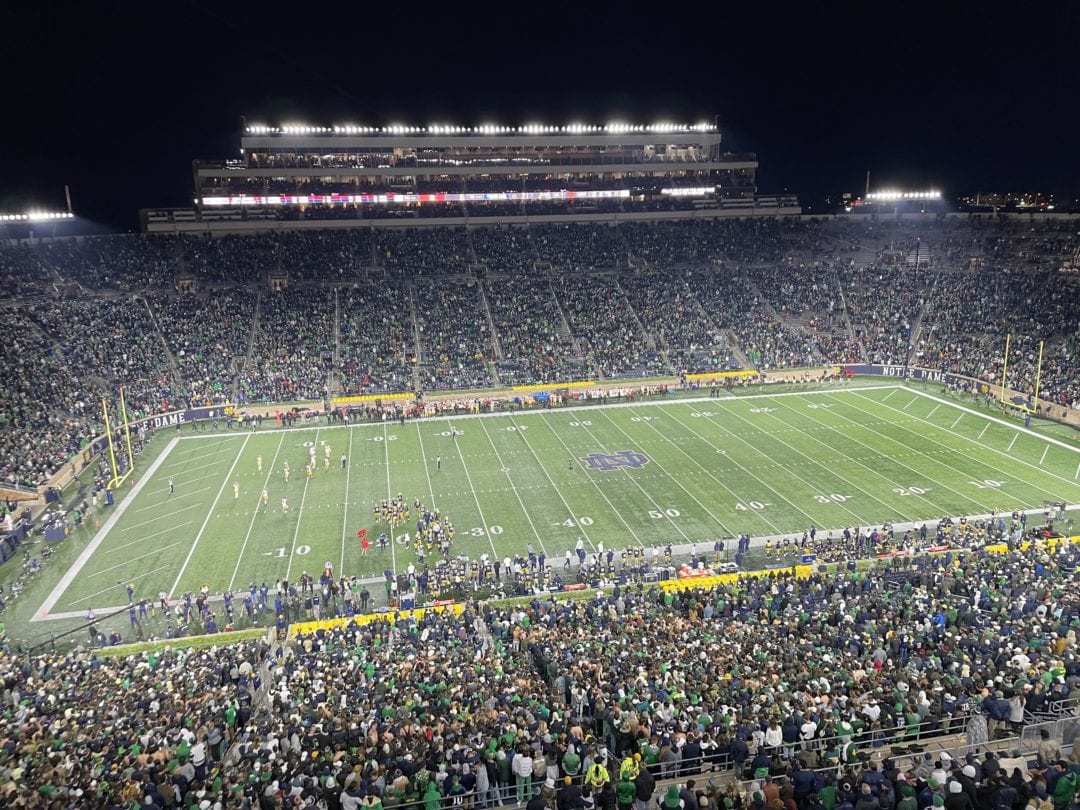 3. Notre Dame Stadium, Notre Dame, Indiana
Make your way south to the University of Notre Dame just outside of South Bend, Indiana, for one of the most revered stadiums in sports. Home of the Fighting Irish, the house that Rockne built can hold more than 80,000 fans and has an impressive record of 273 consecutive sold-out games. Recent updates have added premium seating, event areas, and even classroom spaces within the stadium. Most widely known for hosting the football team and its rivals, the stadium has also transformed to host concerts, the NHL Winter Classic, and even its first-ever international soccer match in 2019.
Notre Dame is recognized as one of the top tailgating universities in the U.S., so be sure to partake in this pre-game tradition outside the stadium in the hours leading up to kickoff. For first-time visitors, taking a picture in front of the famous World of Life Mural (known as "Touchdown Jesus") is a must before departing campus.
Traveling by RV?
With plenty of parking and tailgating space surrounding the university, RV owners can easily find a spot to park their rigs close to campus.
Nearby campground:
---
4. Camp Randall Stadium, Madison, Wisconsin
Possibly one of the most unique stadiums in collegiate sports, the University of Wisconsin's Camp Randall, home of the Badgers, was initially used as a Union Army training camp during the Civil War. In 1893, the state bought the property and worked with the university to preserve this piece of history. Today, the stadium holds more than 80,000 fans and plays host to some of the most competitive Big Ten battles. In between the third and fourth quarters of the game, you can catch Badger fans dancing as "Jump Around" by House of Pain blares from the stadium speakers.
Don't miss out on the Wisconsin Memorial Union. A popular hangout for students and visitors alike, this student union is located on the picturesque shores of Lake Mendota. Grab food at one of the many dining options and kick back in a historic Terrace chair to enjoy the view.
Traveling by RV?
Overnight RV parking is available on the university's campus, so you can wake up and tour all that Madison has to offer.
Nearby campground:
Mendota County Park Campground
---
5. Kinnick Stadium, Iowa City, Iowa
Originally named Iowa Stadium when it was constructed in 1929, the University of Iowa renamed its stadium in 1972 to honor former player and Heisman Trophy winner Nile Kinnick, who was killed in World War II. Home of the Hawkeye football team, Kinnick Stadium can hold upwards of 69,000 fans and underwent a nearly $90 million renovation in 2019 to update seating, scoreboards, and club spaces. In 2015, the nation's collegiate dual-meet wrestling match record was broken at the stadium when Iowa beat top-ranked Oklahoma State University.
While Iowa football has several long standing pre-game rituals, one of those most heartwarming traditions started in 2017 when the University of Iowa Stead Family Children's Hospital opened outside the stadium. At the end of the first quarter, fans and players from both teams turn to the hospital to wave at the children who are anxiously awaiting to wave back in the top floor's "Press Box."
Before leaving Iowa City, head to the Devonian Fossil Gorge to walk across a 375 million-year-old ocean floor of Iowa's past.
Traveling by RV?
Public parking for RVs is available near the stadium with the purchase of a parking pass from the University of Iowa.
Nearby campground:
---
6. Memorial Stadium, Lincoln, Nebraska
The University of Nebraska's Memorial Stadium is great to visit—as long as you're not a rival. Nebraska fans don't take it easy on opposing teams. Known as the "Sea of Red," when you walk into Memorial Stadium, that's just about the only color you see. The monochromatic camaraderie of the Huskers is matched only by their thunderous cheers in a close game. Potentially one of the most intimidating college football venues, Memorial Stadium can host more than 85,000 occupants and prides itself on being the first on-campus stadium to introduce big-screen instant replay and other cutting-edge technologies.
Nearly 3 hours before the game starts, join Husker fans greeting the team at the Vine Street entrance of Memorial Stadium, or head into the stadium to watch the band practice its game routine. Be sure to visit the Historic Haymarket District in downtown Lincoln before departing the area to experience local arts and entertainment, eateries, and shops.
Traveling by RV?
Weekend and daily passes are available for RVs on campus, just a short walk from the stadium.
Nearby campground:
---
Take this trip: