Surrounded by sacred Kumeyaay tribe land on one side and the rugged Anza-Borrego Desert State Park on the other, the 71-acre Vallecito County Park is hardly more than a blip on the map in Southern California's expansive desert. But the quiet campground, built around the historic Butterfield Stage Station, is teeming with history—and ghosts.
In a corner of the campground, on a small hill overlooking the surrounding desert and marshland, three graves sit in a solemn row. Two are marked with headstones, but the center grave lacks anything that identifies its eternal resident.
I'm standing next to the tiny cemetery on a bright and slightly chilly January afternoon as Diana Langley, a volunteer ranger who lives on-site in Vallecito, tells me the tragic story. "The unmarked grave in the middle is 'the Lady in White,' and I found out that her name was Eileen O'Conner," she says.
Just a kid
In the late 1850s, O'Conner was on her way to Sacramento to meet her fiancé, who had become rich in the Sierra goldfields, when she fell ill. Shortly after her stagecoach arrived at Vallecito, the young woman passed away. She was dressed in a white wedding dress found in her luggage and buried on the property. Since then, she's reportedly been haunting the former stage station.
"Sometimes people just see her walking through and then they get this overwhelming feeling of sadness," Langley says. While she hasn't seen the ghost herself, she is convinced that the Lady in White still haunts the grounds. Langley points out that O'Conner was likely only about 15 years old when she died. "She was just a kid and she does kids' stuff," she says. "She'll steal my gloves and then put them back at the other end of the park a week later. I've had keys taken and then she'll put them back. She always brings the stuff back, but she keeps it for a while."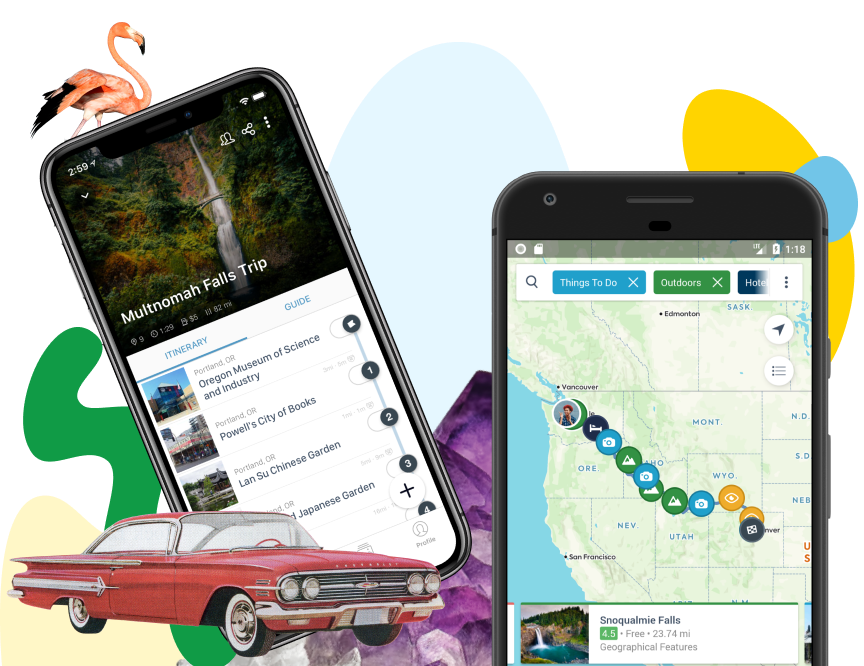 Download the mobile app to plan on the go.
Share and plan trips with friends while discovering millions of places along your route.
Get the App
At other times, Langley has heard toilets flush or smelled a sweet perfume when no one was around. She's also seen swings on the playground move on their own. "It was a perfectly still day and the two swings on the ends were absolutely still," she says. "The one in the middle was just going back and forth, back and forth, back and forth."
But the Lady in White is not the only ghost haunting Vallecito County Park. Another legend tells the story of two bandits—one of them mounted on a white stallion—who shot each other at the stage station after a robbery-gone-wrong. Eye witnesses have reported sightings of the "Ghost of the White Horse" in the surrounding hills, in the area where the bandits allegedly buried their loot.
"They're here, but nobody's scary," Langley says of the ghosts. "You know, I've been here five years and nothing has happened that would make me flip out and want to leave and never come back again."
Hawi oasis
Vallecito County Park is located within San Diego County, but it sits far away from anything resembling civilization. Aside from its nearby sister park, Agua Caliente—a more popular destination thanks to its naturally-fed mineral hot springs—the closest town is about 30 miles away. The only road leading in and out of Vallecito is the rural two-lane County Route S2, also known as the Great Southern Overland Stage Route of 1849.
Langley has lived in Vallecito for the last five years and calls it her "little ranchita." While the campground is closed in the summer—temperatures in the desert regularly reach 110 degrees Fahrenheit during the hottest months—there isn't a whole lot of activity here during the high season, either.
"Prime time is probably Thanksgiving to Easter," Langley says, but she notes that even in the winter, 80 percent of the park is typically empty.
That wasn't always the case. "People have lived here for 10,000 years at least, because there's a marsh, which means there's water in the middle of the desert," Langley says, pointing out a grassy area just beyond the park's boundary. Thanks to the marsh, this area was once an oasis for Native Americans, who called it Hawi.
In 1781, the first European arrived—a Spanish commander named Pedro Fages—followed by the U.S. Army, which established a depot in the valley. During the gold rush, "people streamed through here," Langley says. "One, because of the water. Two, people built a little store here. It was only a stage station for a very short time, but it's got an interesting history."
The actual station building is still standing, but it's seen better days. Originally built in 1852 with sod bricks carved out of the surrounding marsh, it was abandoned in the 1870s after the completion of the Southern Pacific Railroad put an end to stagecoach travel in the area. During previous visits to Vallecito, I've been able to explore the primitive interior of the building, which was reconstructed in 1934. Now, it's closed to the public and awaiting yet another restoration. According to Marcus Lubich, senior park project manager for San Diego County Parks, there's currently only funding to repair a damaged wall. "That is scheduled to be completed by summer," he says.
Dark skies
Despite having its own on-site cemetery and a long history of reported ghost sightings, Vallecito is a quiet, serene place. Manicured cactus gardens line the edges of the campsites, and aside from the occasional plane landing at a nearby airstrip, the silence out here is almost overwhelming.
Langley points to the stage station, which is the centerpiece of the park. "My favorite place to sit is on that little bench on the porch," she says. "When you sit there, you're looking out at exactly what they would have sat and looked at 150 years ago. And when there are no cars or planes, you're listening to exactly what they heard. Time just disappears."
Since Langley lives on the property, she is constantly making improvements to the park. Lately, she's been working on turning it into a dark sky campground. Anza-Borrego Desert State Park, with its 600,000 acres of undeveloped land, is known for its stargazing, and Vallecito is no exception. "The people who do come out here, come out here because it's quiet and not crowded," Langley says. "If you ever want a dark sky campground with nobody around, this is the place." Nobody around—except for the occasional ghost.
If you go
Vallecito County Park is open from Labor Day weekend through the end of May. It's closed during summer. The campground offers 44 primitive campsites, plus public restrooms with showers. A $3 parking fee (cash only) supports ongoing park maintenance. Camping reservations can be made online through San Diego County Parks.