Imagine an area composed almost entirely of wilderness. In it, you'll find a desert landscape that puts Westworld to shame, complete with arches, waterfalls, sandstone goblins, vibrant slot canyons, and not a whole lot of people.
Congratulations, you've just imagined Grand Staircase-Escalante National Monument in Utah. It's filled with some of the wildest, most dramatic terrain you can find in the U.S.—and at a whopping 1.88 million acres, it's the size of Delaware. Or, at least, it was.
Grand Staircase-Escalante was first put on my radar in the summer of 2017, when the Department of the Interior announced that it was going to review the designations and protections for 27 of our national monuments. Since 1906, U.S. presidents of both parties have used the American Antiquities Act to preserve large sections of wilderness deemed significant for their natural, scientific, and/or cultural resources. This effectively protects these lands and reserves them to be used and enjoyed by the public at large.
Grand Staircase-Escalante was reduced by nearly 47 percent through a presidential proclamation in 2017 (and the nearby Bears Ears National Monument was reduced by 85 percent). This move flies in the face of a 100-plus-year legacy, taking the public lands that belong to all of us and opening them up to being sold to private industry, most commonly oil, gas, coal, logging, grazing, and development.
To raise awareness that we may be about to lose them, I set out in my van to visit all 22 land-based national monuments in about as many days. You can check the project out at 27Monuments.org if you're interested in knowing more about the preservation efforts.
What is this place?
Grand Staircase-Escalante National Monument was designated in 1996. It's so rugged and remote that it was the last part of the continental U.S. to be mapped. Its archeological significance has earned it the nickname "The Science Monument." Countless fossils of previously unknown dinosaurs (not to mention ancient plants, birds, and mammals) have been discovered here, and so far, we've really only scratched the surface.
Approaching the monument can be a bit intimidating. The single-body—as it was before the reduction—is simply massive. It has several tiny towns outside and even within it (including Boulder, Utah, with its famous Hell's Backbone Grill), and it sits just south of the stunning Capitol Reef National Park. Once you find your way in, though, you will be rewarded with a cornucopia of adventure opportunities.
Hikers and backpackers aren't the only ones drawn to this place. Its boundaries contain ruins and relics of several hundred Native American sites, and paleontologists come from the far corners of the planet to study the fossils found here.
"Grand Staircase-Escalante is a geologic, paleontologic, and cultural wonderland, and the last great American frontier," Nicole Croft of the Grand Staircase-Escalante Partners organization told me via email. "We owe it to our future, for the science, culture, and wildness it holds." She called the reduction of the monument "a terrible precedent that must be reversed by Congress or the courts."
Indeed, Grand Staircase-Escalante Partners, the Society for Vertebrate Paleontology, and the Conservation Lands Foundation, along with eleven other plaintiffs, are already challenging President Trump's reduction in the courts. In the meantime, you can (and should) still visit this incredible place.

Top Spots
Zebra Slot Canyon
If you are claustrophobic, you might want to skip this one. If you aren't, this place is worth a visit. Zebra Slot Canyon gets its name from the incredibly distinct stripe patterns toward the back of the slot itself. It is very narrow in some sections, and if you're wearing a backpack, you'll have to take it off just to squeeze through. You also want to be in decent shape if you're going to attempt this, because you really have to scramble and eke your way through tight sections.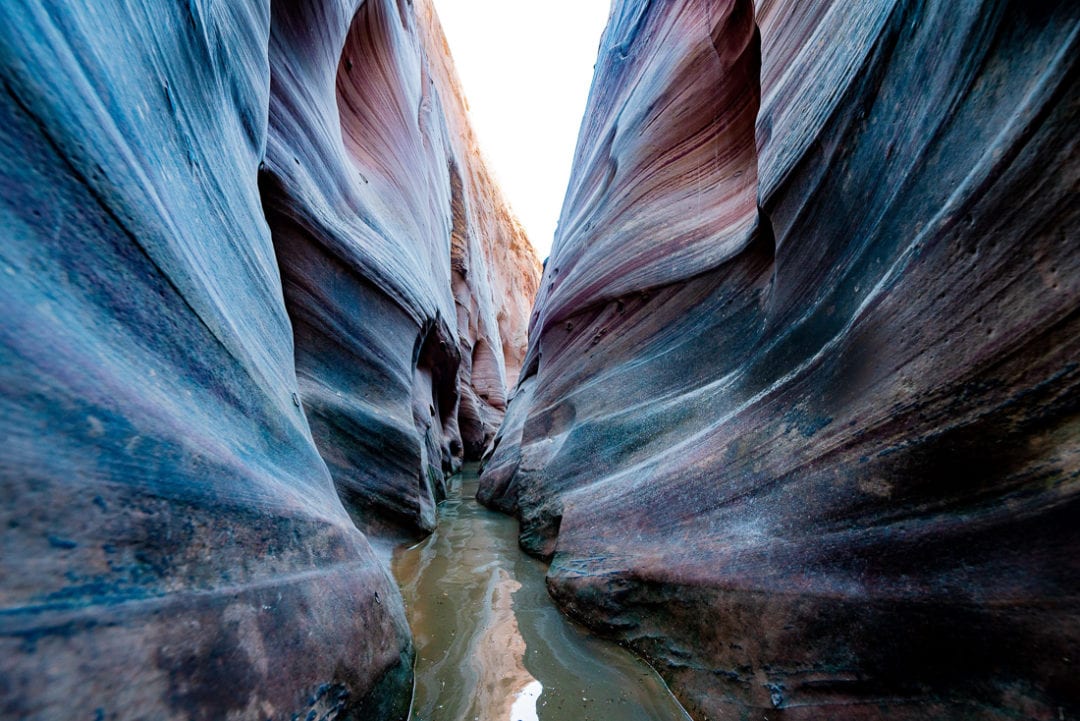 From the trailhead, there's a roughly 2.6-mile hike to get to the entrance of the slot itself, and the trail is pretty easy to lose. If you have a handheld GPS unit (or a good mapping program on your phone), I'd recommend downloading the waypoints and following the route closely. These folks wrote a very detailed description of the route, which I found useful in my planning. BLM recommends bringing one gallon of water per person for the hike, as well as sunblock, a map, and sturdy shoes. I'd recommend also bringing a bathing suit.
The trailhead is 7.8 miles down Hole In The Rock Road, near the town of Escalante. Once you turn onto that road, reset your odometer. The parking lot will be on your right with the trailhead itself on the left of the road. It's easy to miss, but it's just after the third cattle guard. Also, Hole In The Rock Road is dirt. It's generally pretty well-maintained and most cars should be able to make it in good weather. If it's been raining, though, don't attempt it unless you have a very serious 4WD vehicle. Make sure you call the local BLM office for road info before you go.
The hike to the entrance of Zebra Slot Canyon is beautiful and mostly flat. The slot itself is only a quarter mile long, and it dead-ends, so it's an out-and-back. I was told that if it had rained at all recently, the canyon could be filled with chest-deep, ice-cold water. I knew it had rained a week before I arrived so I brought my swimsuit and Chacos, but figured chest-deep was probably an exaggeration. Friends, it was not an exaggeration.
That quarter-mile was extremely challenging. I lost plenty of skin from my knees, chest, and elbows while squeezing through the little gaps (many of which were also flooded). My shoulders were killing me because I had to keep holding my camera high above my head to keep it dry. By the time I got to the end, my teeth were chattering violently—and then I had to turn around and go back through it to get out. That said, it was incredibly rewarding.
The most beautiful parts are all the way toward the back, so pushing through was worth it. I am beyond thrilled about the photos I was able to get (pro tip: you're going to want a fast, wide-angle lens), and I'd do it again in a heartbeat. Next time, though, I'd wear hiking shoes I don't mind getting wet (my feet got pretty chewed up in the Chacos), and maybe a wetsuit.
Lower Calf Creek Falls
When you're in the hot, dusty desert in the middle of summer, pretty much nothing sounds better than splashing around in a waterfall-fed pool—and wouldn't you know it, Grand Staircase-Escalante provides. The Lower Calf Creek Falls is an oasis. The hike is a six-mile out-and-back, but it's fairly flat and isn't particularly challenging. It's also one of the most well-marked trails in the monument and all of the roads leading to the trailhead are paved. Consequently, it's one of the higher-trafficked sites, especially in the hotter months—but it is worth it.
The whole hike is lined with towering red cliffs, and beautiful, striated rock formations. There are even ancient Native American granaries and pictographs high up on some of the cliffs, if you know where to look. What sets this hike apart is that you're following the creek upstream and it is absolutely lush. There are trees and shrubs everywhere and there are great spots to stop and picnic on a hot day. Because of the flowing creek, I was able to carry less water in my pack, instead opting for a canteen and a small water filter.
The real payoff, though, is the waterfall itself. At the end of the three miles you come to a large pool with a cascading waterfall descending roughly 130 feet. It's truly spectacular. When I visited, the whole Southwest was in the middle of a record-breaking heatwave, so I had been overheating for days. Swimming in that pool and getting a back-rub from the waterfall was so unbelievably satisfying. You probably won't have it to yourself, though, so bring a swimsuit.
The trailhead is located at the Calf Creek Campground. There's a $5 parking fee, or you can camp there for $10 a night. It's first-come, first-served for camping, so show up as early as possible on the day you want to stay.
Devil's Garden
The Devil's Garden in Grand Staircase-Escalante is packed with hoodoos, strange rock goblins that seem to come out of nowhere. They're often in groups of twisting towers, and there are even some arches and caves in there. All of these have been carved out over the millennia by the winds slowly sand-blasting their way through.
The Devil's Garden is right next to a dirt parking lot (sorry, no overnighting allowed here) and it's easily explored on foot. Do bring sturdy shoes, though, and watch your step. While you can climb all around this majestic jungle gym, it's pretty easy to trip over something while you're staring up at the formations, and it's easy to see how someone could really hurt themselves here.
If you manage to come through right as the sun is setting, it lights everything up rather spectacularly.
The Devil's Garden is just 4.5 miles south down Hole in the Rock Road from the Zebra Slot Canyon Trailhead. The last time I visited, the moon set early and the stars came out to play. I shot some photos before I drove to the Zebra Slot trailhead and passed out for the night.
So much more
Ultimately, this article just barely scratches the surface of what Grand Staircase-Escalante has to offer. Do your research before you go and pick out the spots that look most exciting to you. Have a few backup options in case there are issues with the roads, and download or print everything out ahead of time. It's really hard to go wrong in this place. Even driving through its main roads offers eye-popping sites at nearly every turn. Give yourself plenty of time to enjoy it.
Know before you go
Southern Utah tends to be a hot, dry place. Having a good system for carrying plenty of water is absolutely essential. The BLM recommends carrying a gallon of water per person, per day. Check the weather just before you go, and make sure there's no rain coming to nearby areas that could unload there.
A lot of the roads through the monument are clay and they are prone to turning into a very slippery soup when soaked. Gas stations are few and very far between, and I'd definitely recommend carrying a gas can, as well as a spare tire.
While BLM land is great for camping just about anywhere you want, please be respectful. Try to camp only in a site that's clearly been used before, and don't drive over any native plants to get to them. Practice "Leave No Trace" principles, and pack out everything that you pack in. In fact, if you see a piece of trash on your hike, pick it up and stuff it in your backpack. Leave these places better than you found them.
Saving Grand Staircase-Escalante
I asked Nicole Croft of the Grand Staircase-Escalante Partners what people could do to help restore this monument to its previously protected status.
"People can contact their senators and representatives to voice their support for public lands," she said. "Ask them about their position on Senator Udall and Rep. Haaland's 2019 ANTIQUITIES Act and share your opinion about why the monuments designated between 1996 and 2016 are worth protecting for our future."
For more info on Grand Staircase-Escalante National Monument, check out the BLM page. To learn more about the efforts to save it, visit 27Monuments.org, MonumentsForAll.org, and Grand Staircase-Escalante Partners.