In the summer of 2008, I was feeling lost. I had just graduated college and secured my first professional job, but I wasn't adjusting well to the changes. Back before Netflix or endless streaming options, I picked up a used DVD set of the first season of Gilmore Girls, a show I had somehow missed entirely during its original, seven-year run. From the very first episode, I was hooked. I sped through all 153 episodes at a breakneck pace, immersing myself in the sometimes annoying, but always comforting, fictional town of Stars Hollow and its endless parade of quirky residents.
Since that summer, I have rewatched the series more times than I can count—even the seventh season, which some fans discount because it was made after the abrupt departure of the show's creator, Amy Sherman-Palladino, and her husband, Daniel. In 2016, friends and I gathered with coffee and Pop-Tarts to watch the Palladinos get a second chance at ending the show the way they originally intended with a four-episode revival on Netflix.
The show, which debuted on the WB in 2000, may not be labeled as "prestige TV," but it is incredibly smart, endearing, and laugh-out-loud funny. It's also something that very few entries into pop culture can claim to be: beloved.
Nineteen years after audiences were first introduced to fast-talking coffee addict Lorelai Gilmore and her well-read daughter Rory, fans of the show haven't moved on—in fact, they're as rabid as ever. Where Sherman-Palladino leads, they will follow: In 2016, that devotion brought more than 1,000 die-hard fans to the first-ever Gilmore Girls fan festival, held in the small Connecticut town that inspired Sherman-Palladino and her husband to create the show.
The town of Stars Hollow may be as fake as Lorelai's magical (spray-on) snow, and the actual show was filmed almost entirely on a Hollywood studio set. But you don't have to go to the ends of the Earth to get a dose of small-town charm with your bowl of "coffeecoffeecoffee." A visit to Washington (which includes the community Washington Depot), a sleepy town located in rural Connecticut, will make even the most casual fan feel like an honorary Gilmore for the day.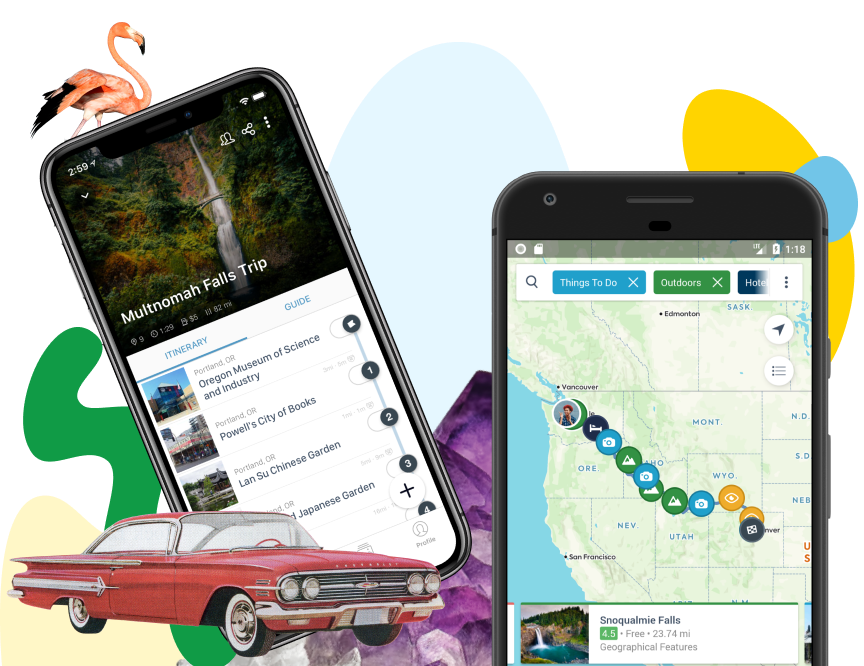 Download the mobile app to plan on the go.
Share and plan trips with friends while discovering millions of places along your route.
Get the App
From small town to small screen
During the show's original run, Sherman-Palladino divulged that the inspiration for Stars Hollow and the Gilmore Girls universe struck her and her husband while they were traveling through western Connecticut. They stayed at the five-star Mayflower Inn & Spa in Washington, ate breakfast at a local diner, and the rest is television history.
"At the time I was there, it was beautiful, it was magical, and [there was a] feeling of warmth and small-town camaraderie," Sherman-Palladino told the Deseret News in 2001. "There was a longing for that in my own life, and I thought—that's something that I would really love to put out there."
But Sherman-Palladino and her husband aren't the first—or the last—people to be charmed by Washington and its surrounding (similarly quaint) towns. Julia Nable manages communications for the town of Washington, and I ask her if the area has seen an increase in visitors since it was revealed as the inspiration for Stars Hollow.
"Absolutely!" she says. "We often see Gilmore Girls fans around town, visiting the locations that are said to be the inspiration for Stars Hollow. Our local shop owners enjoy welcoming fans and sharing similarities between their businesses in 'the real Stars Hollow' and those of Gilmore Girls fame."
Fans have always flocked to the filming locations of their favorite movies and TV shows, but it's particularly enticing to be able to visit a very real, fully-functional town that so closely resembles its small screen counterpart. When my life gets dark or even the least bit complicated, the urge to pack up everything and move to a quaint town where everyone knows my name—and breakfast order—is strong. Or, as I discovered on my recent visit to Washington, sometimes just a few hours in a tiny town is enough.
Stars Hollow is a state of mind
When I visit Washington on Memorial Day, the town feels deserted. One of the many things that have always felt anachronistic about Sherman-Palladino's world is how the small town of Stars Hollow always appears to be bustling. People walk everywhere—in the snow, in the rain, and sometimes to a beat set by the town troubadour(s). I suspect that on its busiest days there isn't much foot traffic in Washington, but even without the unconventional cast of characters, I can immediately see why Sherman-Palladino was charmed.
"Stars Hollow is really a state of mind—an idealistic, nostalgic version of a small town that has captured the imagination of many of us who yearn for a more charmed, civilized lifestyle," says Nable. "In that respect, the town of Washington does reflect the fictional Stars Hollow vibe."
Washington has a historic inn, a prep school, a town green, a bookshop, a market, and a town hall. Unlike Williams Hardware, Washington Supply Company actually sells hammers instead of coffee. In fact, the place I want to visit the most is, unfortunately, the most conspicuously absent from Washington proper: a local diner. The closest thing you'll get to Luke's is Marty's, a café selling breakfast, lunch, and Lorelei's lifeblood: coffee.
Lured by a chalkboard outside advertising several ice cream flavors—and the fact that it's one of the only businesses open on the holiday afternoon—I go to Marty's. The staff is friendly but it's neither Luke's, nor Taylor's Olde Fashioned Soda Shoppe. It's only mid-afternoon, but Marty's has run out of ice cream (Rory, the reluctant Ice Cream Queen, would not approve). "We got slammed earlier," an employee tells me, apologetically. In true small town fashion, she recommends that I try the pizza shop across the street.
I'm short on time so I decline the offer, but I can't resist stopping in the Hickory Stick Bookshop next door. The almost too-perfectly-named book store has been open for more than 60 years, and if I squint hard enough, I can almost see Lane Kim sitting on the floor with Rory, reading about the horrors of childbirth, or Luke Danes covertly perusing the self-help section.
A beautiful mix of interesting people
Nothing is worse for a fan than making a pilgrimage to a filming location only to find that its owners are not amenable—or worse, actively hostile—to tourists. Luckily, Washington has embraced the show that it unwittingly inspired and welcomes fans with open arms. While Sherman-Palladino understandably took liberties in creating her version of a small Connecticut town, Washington's tourism website includes a helpful guide pointing visitors to local businesses that may seem eerily familiar to anyone who has seen even just one episode of Gilmore Girls.
"There is most definitely a direct correlation between the actual local businesses and locations that inspired the fictional Stars Hollow," says Nable. "Other nearby towns also lend some elements to Stars Hollow, including New Milford, Litchfield, and Kent."
While they love the boost in tourism provided by Gilmore Girls, Washington has been around long before the world first heard the opening notes to the show's catchy theme song, Carole King's "Where You Lead."
The town, which has a population of less than 5,000, was incorporated in 1779 and hosts picnics, outdoor movie nights (hopefully it's not just The Yearling on repeat), and concerts. It may not be as elaborate as the Festival of Living Pictures, but Marty's "Best Dog in the World Contest" seems like a storyline dreamed up in the Gilmore Girls writers' room (Paul Anka is bested by a poodle, causing Lorelai to have a legitimate reason to utter "oy with the poodles already!").
"The town has a rich cultural life, a thriving farm-to-table scene, abundant nature, and world-class art galleries," Nable says. "The shopping and restaurants are top of the line. It really is magical! Many visitors fall in love and move here, adding to the vibrant character of the town. And many residents are descendants of families that arrived in the area as far back as the early 1700s. It is a beautiful mix of interesting people."
Just who is being inspired by whom is now getting a bit murky—Nable points out a new shop in the area called Stars Hollow Yarns. She says its mission is to create "a welcoming environment based on the fictional town of Stars Hollow (quirks and all)."
Autographed pumpkins
In 2016, Jennie and Marcus Whitaker were stuck in traffic near Hartford, Connecticut, when they decided to make a detour through Washington. Fans of the show, the Whitakers wondered why no one had ever organized a Gilmore Girls fan festival, and decided that they would create their own.
"To my sheer and utter delight, I found out that the town legitimately utilizes a town hall as a meeting space and that they actually have a real life town selectman," Whitaker explains on the festival's website. "When I reached out to the town selectman in Washington, he was kind enough to consider our request and the next thing I knew we were sitting in a real town hall meeting presenting our ideas."
On a rainy weekend in October—just a few phone calls, months, and town hall meetings later—1,200 people (roughly one third of the total population of Washington) descended upon the town for screenings of the show, panels, parties, and meet-and-greets with several original cast members. Although the event was not officially affiliated with the show, some of the weekend's happenings seem to have come straight from Sherman-Palladino's brain: At one point, Jackson Douglas (aka Sookie's produce supplier and husband, Jackson Belleville) autographed pumpkins for fans in the pouring rain.
The weekend was such a success—tickets sold out in minutes—that it has been repeated every year since. "We're excited to welcome fans back to the area this fall for a special Gilmore gathering," says Nable.
For logistical reasons, the 2017 festival was moved to the nearby Litchfield County town of Kent, and this year there will be an additional celebration in Unionville, Canada, where the show's pilot episode was filmed. Fans who gather in Kent in September can expect a lot of coffee, a scavenger hunt, a book swap, a drawing class, and a bus tour of places that inspired the show. The festival also features appearances by Gilmore Girls' cast and crew members Stan Zimmerman, Valerie Campbell, Liz Torres, Emily Kuroda, George Bell, and Aris Alvarado.
I take one more loop around town (it doesn't take long) before heading back to New York City, which couldn't feel further from the slow pace and friendly smiles of Washington. But it's nice to know that if life ever feels overwhelming, I am no longer limited to the cold comfort of a TV show. In just two short hours, I can be in Washington again, sipping coffee from Marty's and browsing the stacks at the Hickory Stick—I just hope they save some ice cream for me.