If you're looking for a haunted adventure, you've come to the right place. With its abundance of ghost towns, ancient legends, dark skies, hot springs, caves, and dinosaurs, Nevada is the perfect place for a spooky season road trip.
Before you go, prepare yourself for long stretches with no services or cell phone reception. Make sure to share your itinerary with a trusted friend, pack extra water and a basic car repair kit, check the weather, and call local Bureau of Land Management (BLM) offices for current road conditions.
---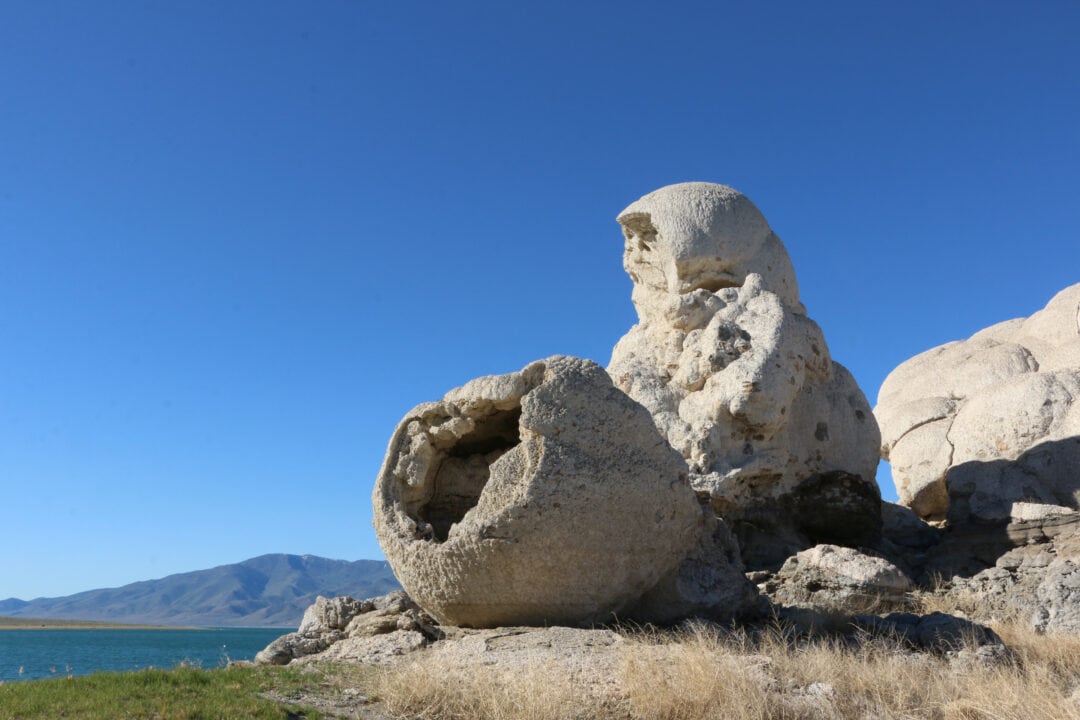 1. Pyramid Lake
Great legends from the Paiute people surround Pyramid Lake. One of the most prominent is that of the Stone Mother. While there are several versions of the story, it's said that before the lake was here, a family made this land their home. The four children ceaselessly bickered and fought with each other, causing the father to separate them and send them in different directions across the state. The mother begged each child to shine a light at night to let her know they were okay, but no light shone. She cried and cried, her tears filling the valley, creating Pyramid Lake. Her grief eventually turned her into stone. The Great Stone Mother rock formation on the southeastern edge of the water is considered a sacred site to this day.
The Paiute people and their ancestors have lived in the area for centuries. North America's oldest known petroglyphs were found near the lake, dated to between 10,500 and 14,800 years ago. The petroglyphs aren't accessible, but the area's rich Indigenous history is documented at the Pyramid Lake Visitor Center, open Monday through Friday from 10 a.m. to 4:30 p.m.
---
2. Massacre Rim Dark Sky Sanctuary
If you're not afraid of the dark, Massacre Rim Dark Sky Sanctuary needs to be on your list. As one of only 15 Dark Sky Sanctuaries in the world, it's one of the most remote and darkest places on Earth. On this volcanic plateau is where scientists discovered parts of the Milky Way that had never been seen before.
The name is as chilling as the nights; it likely comes from stone markers that were wrongly interpreted as graves by emigrants on the Oregon Trail. The still, desiccated landscape, dotted with sagebrush, would certainly inspire morbid thoughts. However, the "graves" were merely guarding unwanted supplies of travelers utilizing the trail during the early California gold rush.
Massacre Rim Dark Sky Sanctuary is located on BLM land and provides free camping.
Detour
Hunt for the volcanic ghosts of the Virgin Creek, just east of Massacre Rim. This area is rich in the state's precious gemstone, the black fire opal, which is only found in Nevada and in New South Wales, Australia. You can rockhound (and take up to 7 pounds per day) on your own or by visiting the Royal Peacock Black Fire Opal Mine (open seasonally). There are no reservations required, though you must visit the gift shop to check in.
---
3. Stokes Castle
In 1896, Anson Phelps Stokes, a man of banking, railroad, and mining money, built a summer castle for himself and his sons on a west-facing hill above Austin, Nevada. However, after only a few months of use, the Stokes abruptly left, leaving the stone fortress to crumble in its abandonment.
Austin is a central point along the Loneliest Road in America and a historic town founded in 1862 when, legend has it, a Pony Express horse kicked over a rock and found silver. It's a living ghost town with a population of nearly 400 people and features 11 National Registry historic sites and buildings, including the notable Stokes Castle.
Detour
Grab a burger and fries from the Champs Burgers truck parked at the Champs gas station for a sunset picnic at Stokes Castle, a 5-minute drive away. Enjoy incredible, sweeping views and a piece of American history.
---
4. Spencer Hot Springs
East of Austin, the road winds and descends past forests and sacred Native American sites to jut out into the Big Smoky Valley. In this silent depression, surrounded by the 11,000-foot peaks of the Toiyabe Mountains and the Toquima Range, is Spencer Hot Springs. These natural springs sit in the great open and are excellent for stargazing or—if you're lucky—spotting wild donkeys.
There are three spots to soak in with ambient low-100-degree temperatures; two cowboy tubs fed by pipes and one natural bottom. Because the hot springs are on BLM land, there's abundant, free camping and 24/7 access.
---
5. Caves of Great Basin National Park
Great Basin, one of the least visited national parks in the country, has something incredible to offer: the Lehman Caves. Celebrating its 100th national monument birthday this year, this 2-mile-long cave entrances visitors with unique formations and endemic insects.
Prehistoric Native Americans once used the natural cave entrance as a sacred burial site, but it was all but forgotten by the mid-1880s, when Absalom Lehman stumbled across it. Legend has it that while this lone rancher was looking for a stray cow, he and his horse tumbled into a hole.
As they were falling, Lehman secured a rope around a tree and held himself and his horse up for 2 days until help arrived. While the tale is tall, the discovery was significant, and people flocked to see the wonders of the cave. Lehman charged entrance fees to curious wanderers, providing them with a single candle to explore. If the dim light of the candle wasn't enough for a person to find their way—or worse, if the candle blew out—visitors would be stranded in complete darkness.
Cave tours are available, with electricity to light the way, but they book quickly. Reserve your spot up to 30 days in advance on Recreation.gov.
Insider tip
Great Basin National Park is also home to the 13,065-foot Wheeler Peak and 3,000-year-old Great Basin bristlecone pines. Reserve an early cave tour, then spend the rest of the day exploring the trails off the golden-aspen-lined Wheeler Peak Scenic Drive Road. There are several campgrounds with RV hookups within the park and a few places to stay in nearby Baker, Nevada. Space is limited, so plan ahead and book early.
---
6. Belmont
The Belmont ghost town, set in beautiful foothills 46 miles north of Tonopah, was once one of Nevada's most prosperous mines. At the center of the crumbling town is the Belmont Courthouse, a protected building that stands as a handsome reminder of mining success. In the 20 years the mine was active, $15 million (nearly half a billion today) of ore was produced. Once the boom went bust in 1886, much of Belmont was abandoned, leaving behind the spooky remnants. Brochures on Main Street (across the street from the saloon) provide visitors with a self-guided walking tour.
All property in town is private, but tours of the courthouse can be scheduled by calling Donna Motis at 775-482-3968.
---
7. Berlin-Ichthyosaur State Park
One ghost town worth the trek is Berlin and the adjoining Ichthyosaur Fossil Shelter. Berlin is a true ghost town abandoned some time between 1911 and 1914 and left in a state of arrested decay. Homes still have rocking chairs in the corners, bottles of tinctures on the window sills, and tables practically set for dinner.
Continue through the park to the home of the largest known fossils of the Ichthyosaur. This marine reptile, which grew to be as large as a school bus, swam in the warm ocean that covered this part of Nevada 225 million years ago. Berlin is a self-guided attraction and the state park is always open, but the Fossil House is only open to guided tours—reserve by calling 775-964-2440.
Park entrance is $5 for vehicles with Nevada plates and $10 for all out-of-state vehicles, cash only.
Detour
Heading west from Berlin to Virginia City? Make sure to stop at Sand Mountain's singing sand dunes just outside of Fallon, Nevada. Wind and movement can cause the sand to produce an eerie moaning noise. The sound is a natural phenomenon that occurs in only about 35 places in the world.
---
8. Virginia City
Virginia City is said to be the most haunted place in Nevada. It was the state's most prosperous mining town and attracted 25,000 people to a pressure cooker of hard work, hot temperatures, and empty bank accounts, causing many residents to turn to the town's 100 saloons.
Rumor has it that in almost any historic building there's a ghost still waiting for revenge. The most haunted spots in town are—allegedly—the Washoe Club, Gold Hill Hotel, Mackay Mansion, Silver Queen Hotel, St. Mary's Art Center, Tahoe House Hotel, and Silver Terrace Cemeteries. The best way to get your haunt on here is the Bats in the Belfry Guided Ghost Tour which takes place every Wednesday through Sunday. Spots must be reserved in advance.
---