One of the most significant cultural icons of the 20th century, Elvis Presley is often associated with the plush opulence of Graceland, his famous mansion in Memphis, Tennessee. But when the King of Rock and Roll was born—on January 8, 1935—it was in a two-room shotgun house insulated with newspaper.
Elvis' father, Vernon, borrowed $180 to buy materials and built the house among other sharecropper tenancies on a hill in Tupelo, Mississippi. But the Presleys struggled financially and they fell behind in payments. While Vernon was serving a 9-month jail sentence for check forgery, the house was repossessed and Elvis and his mother Gladys moved out.
Eighty-five years later, I step inside the small wood frame house, which has been restored to look as it did when the Presleys lived there, with 1940s furniture and a wood stove. The kitchen is located just steps from the bedroom and the entire home is only about 40 feet long.
As I circle the residence, now located on the manicured grounds of the Elvis Presley Birthplace Museum, I reflect on the King's remarkable life. His first home couldn't have been more different from Graceland, located less than 2 hours northwest. Elvis lived in Graceland for 20 years until his untimely death in 1977, but it all started in Tupelo. 
Today, Tupelo is a county seat with more than 38,000 residents. While he lived here, Elvis wasn't the rhinestone-costumed mega star performing before thousands of screaming fans—he was a glasses-wearing boy-next-door who came in fifth in his elementary school talent show.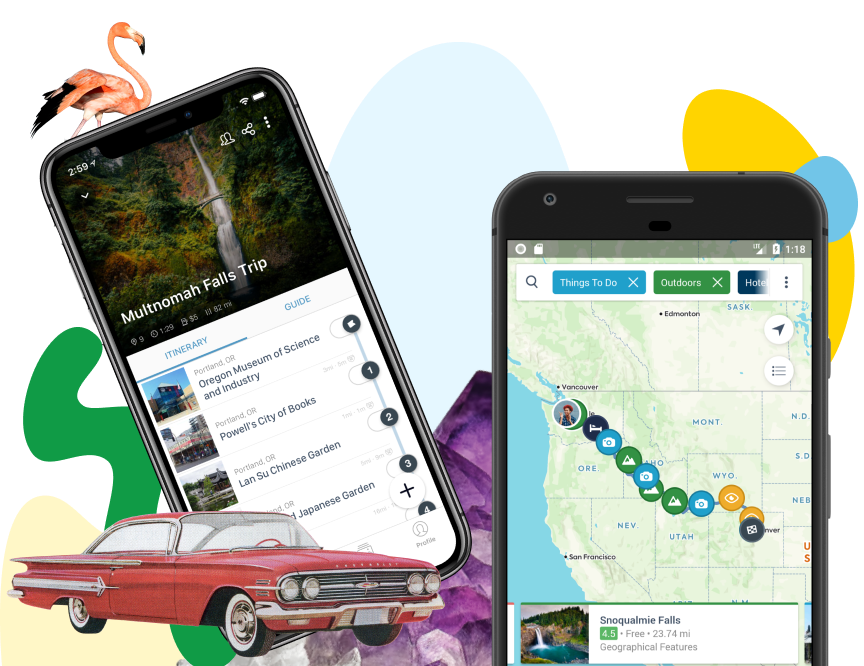 Download the mobile app to plan on the go.
Share and plan trips with friends while discovering millions of places along your route.
Get the App
A homey feeling
Taylor Rodriguez won the 2019 Tupelo Elvis Festival competition as an Elvis tribute artist. He says southern hospitality is still very much alive in Tupelo. "It's a homey feeling there," he says. Rodriguez became an Elvis fan when he was 6 years old, and he decided to become a tribute artist just three years later after seeing one perform. After completing an Elvis bootcamp —where he received help with styling and his performance—he represented Tupelo in the 2019 Ultimate Elvis Tribute Artist Competition at Graceland during August's Elvis Week. He won there too, which has opened the door to performances at tribute concerts around the world.
Tupelo holds a special significance for Elvis fans like Rodriguez. "I think people visiting Tupelo can understand who Elvis really was," he says. "They don't see all the glitz and glamour of Graceland. They're able to see his humble beginnings."
At the Graceland competition, Rodriguez sang "How Great Thou Art," a song stylistically different than the chart-toppers Elvis is best known for: "Jailhouse Rock," "Heartbreak Hotel," and "All Shook Up." However, Rodriguez felt his choice was closer to Elvis' roots. The Presleys' primary form of entertainment came from attending the Pentecostal First Assembly of God Church, where Elvis sang gospel songs. The white clapboard church used to sit a block away from the Presley house, but in 2008, the museum moved the building to the King's birthplace site and restored it.
Inside the church, I find a spot in one of a dozen dark wood pews. When three floor-to-ceiling screens drop down, featuring a projection of a church service and the vocals of a young Elvis, I'm temporarily transported back to the 1940s. On the grounds is another chapel with a large stained-glass window. Here, fans can purchase and customize plaques for the pews. I run my fingers along the scratched surface of "Colonel Tom" Parker's nameplate—fans have scratched out the name of Elvis' controversial manager so many times, the museum has stopped replacing it.
Signature sound
The Presley family lived in Tupelo until Elvis was 13, when his father's job search took them to Memphis. Today, a dozen sites dot the town where the King spent his formative years. There's a swimming hole at Mud Creek; Johnnie's Drive In, where Elvis would stop for a burger and an RC Cola on the way home from school; and a theater downtown where he watched movies, reportedly choosing to sit with his Black friends rather than in the section reserved for white people.
One historical marker commemorates Shake Rag, a historically Black community. The neighborhood was on Vernon's grocery delivery route, and Elvis frequently tagged along. It was here that the budding musician picked up on many of the gospel and blues sounds that he would later adopt as his own. 
Related 7 restored theaters and cultural arts centers along the Chitlin' Circuit
Elvis' signature sound began to form on his 11th birthday when his mother took him to Tupelo Hardware, a family-owned hardware store that sits in the town's five-block-long downtown. Elvis had his eye on a 22-caliber rifle, but his mother said no. "Gladys was the first helicopter mom," says Connie Tullos, Tupelo Hardware's tourism liaison. Instead, the Presleys compromised on a 3/4-size Kay acoustic guitar for $7.75, plus tax.
When I step up to the counter, I stand on the exact spot—marked with a duct-tape X—where the King got his first guitar. I feel as if I'm standing at an altar—one framed with traditional hardware displays of pocketknives, spray paint, and superglue.
Tullos, a Tupelo native, says she became an Elvis fan when she was just 9 years old. She now serves as vice president of the 2,500-member Tupelo Elvis Fan Club. "Elvis made me a better person," she says. "He was known for his charismatic performances, but also for his generosity and his kindness to people." Tullos remembers a time in 1975 when a woman stopped to admire Elvis' limo and he bought her a Cadillac of her own. She thinks this random act of generosity can be traced directly to the King's humble origins in the modest town of Tupelo. "He was a kind-hearted person," Tullos says. "He loved giving, not receiving." 
If you go
Admission to The Elvis Presley Birthplace includes the house, museum, and church. Hours vary seasonally and the Birthplace is closed on Thanksgiving and Christmas Day.