When I pull into George Farnham's wide gravel driveway in Unger, West Virginia, I'm not deterred by the metal signs hanging outside his home: "U.S. Government Property: No Trespassing," "For your own safety, please do not enter backstage area," and "Warning, hitchhikers may be escaped inmates." This is my second time attempting to catch Farnham while he's at home and despite the ominous signage, I have a feeling that he doesn't mind unexpected visitors. To my left, three Yogi Bear characters offer a silent wave of welcome and in front of me, four fiberglass giants stand stoically with smiles molded into their frozen faces.
Farnham's sprawling property is set in an unincorporated community in West Virginia's jagged northeastern hook. Sandwiched in between Maryland and Virginia, and less than 30 miles from the Pennsylvania border, Unger is nestled among the forests of the Appalachian Mountains. Winding roads bordered by dense foliage follow even windier rivers, and I'm grateful that there's still some daylight left as I cautiously navigate countless hairpin turns.
This verdant landscape is the perfect place to raise livestock, grow produce, or—if you're Farnham—simply relax after years spent working high stress jobs in bigger cities. After law school, Farnham practiced law in Washington, D.C. before giving it all up to move west in the 1980s. His property includes a barn, and several animals roam about freely, but this isn't your typical rural farm.
The bright purple barn is topped with a hippopotamus bust and two elephant heads. Colorful hand painted letters welcome visitors to Farnham's "Fantasy Farm, West Virginia's Only Amusement Park." That claim may be a bit of a stretch, but with two Muffler Men, one Uniroyal Gal, one Big John, and dozens of other fiberglass figures scattered around his property, Farnham's personal collection is no doubt a roadside attraction in its own right.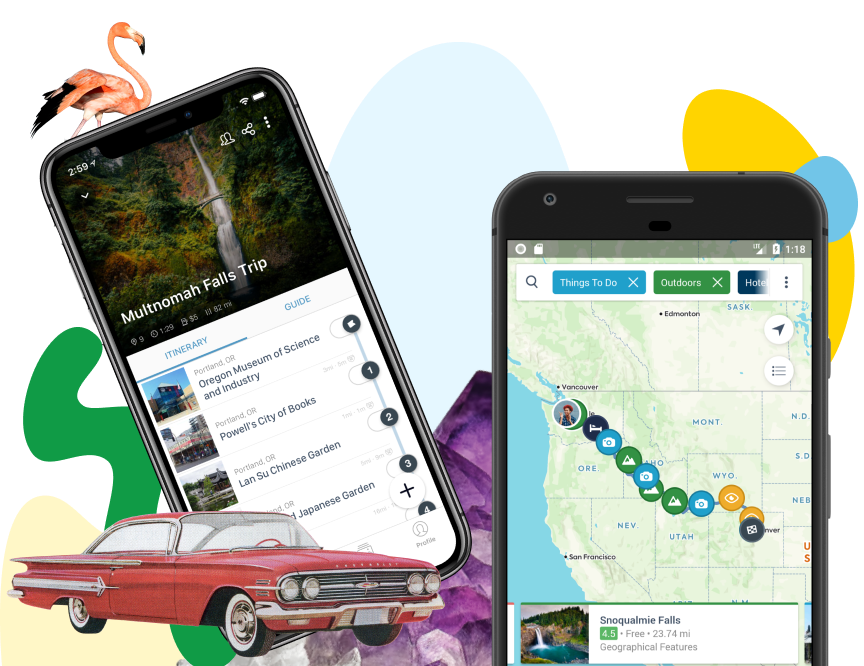 Download the mobile app to plan on the go.
Share and plan trips with friends while discovering millions of places along your route.
Get the App
Collecting cats
I finally meet the man behind the Fantasy Farm late in the day on my second visit to Unger. Farnham is watering his garden when I approach him to inquire about his larger-than-life collection. He fishes in his jeans pocket and hands me a crumpled business card with an illustration of a cat on the front. He has scrawled several phone numbers onto the back, but after considering it for a moment, he decides that I can keep the card. It turns out that Farnham is also the founder and president of West Virginia's first cat cafe, Give Purrs a Chance. "I collect a lot of things," Farnham says. "But mostly cats."
I shouldn't be surprised—he's wearing a black t-shirt that says "Real Men Love Cats," and his left forearm is tattooed with the same cat illustration that appears on his business card. Farnham says that he used to have 31 cats of his own, but now he's down to "just 22." Since it opened in May 2017, Give Purrs a Chance has found permanent homes for more than 500 cats and kittens. The non-profit cat adoption center is located in a five-bedroom Victorian house in Berkeley Springs, West Virginia, and for a small fee, visitors can play with the cats who roam freely inside.
"We pride ourselves that we take cats who might have imperfections," Farnham told The Charleston Gazette-Mail. "We just adopted out two three-legged cats the other day. We have cats who have their tails cut off, one is deaf." The largest cat cafe in the country also includes a "Catique Boutique" selling ceramics, jewelry, soaps, and other cat-related items made by local artisans.
Fiberglass fanatic
When I ask Farnham what motivated his career change, he says simply, "I hated lawyers." He also runs an antique collectibles business out of his home, and his yard functions more as a showroom for his personal collection than as an actual amusement park. Oversized Christmas ornaments are strung between trees year round and fence posts are topped with clown heads; Farnham says his Simpsons roller coaster predated both Universal Studios' versions, but although Bart and his family are buckled in, the rides here aren't functional.
A fiberglass apple in Farnham's yard includes several Biblical quotes that seem to hint at the motivation that drives many people to collect. One attributed to Mark Twain reads, "Adam was but human—this explains it all. He did not want the apple for the apple's sake, he wanted it only because it was forbidden."
Farnham's collection expanded in scale more than a decade ago as he was about to celebrate his 50th birthday. He'd always loved big things, he says, and he "wanted a dinosaur from Dinosaur Land," the 57-year-old theme park located about 45 minutes southeast in White Post, Virginia. When it became obvious that the park wouldn't be selling any of their dinosaurs anytime soon, Farnham turned to eBay. The first giant he acquired was a Muffler Man from a Midas muffler shop in California. Soon after, he tried to buy the famous hot-dog-holding Paul Bunyan-style Muffler Man—now located on Route 66 in Atlanta, Illinois—but the deal fell through.
With the help of a trucker friend, Farnham acquired several other figures from around the country, including a Sinclair dinosaur, another Muffler Man, two seahorses, a shark, a pudgy burger boy, and a Santa Claus from Maine. He also acquired Brian, a beach dude that resembles a Ken doll and is so large that he had to be moved from upstate New York on two flatbed trucks—one of which carried only his legs.
While demand for fiberglass giants has increased their value over the years, Farnham says the real cost lies in transportation and logistics: "It's more expensive to transport a statue than it is to buy it—and then you need a crane to put it up."
Less than a dozen Big John statues are known to exist and Farnham's has received a progressive makeover. The freshly-painted, nearly 30-foot-tall grocery clerk sports an apron encouraging people to "Never eat anyone who had a mother." He also clutches four grocery bags emblazoned with animal-friendly sayings such as "Adopt don't shop," "Peace, Love and Pets," and "Be kind to animals, don't eat them."
Farnham's collection is unique for many reasons, not the least of which is his statues' accessories. The Uniroyal Gal came from Mississippi; she now sports a strapless, metallic purple bikini and calf-high boots, but Farnham says he still has her original outfit. Despite their name, it's rare to encounter a Muffler Man who is clutching an actual muffler—Farnham has been known to wrap his in Christmas lights during the holidays. Many of the surviving Big John statues have lost their brown paper bags throughout the years, but Farnham's has all four.
"To me, old is better—although not everyone agrees with me," he says.
Cult following
Most of the statues are anchored into the ground with pipes and concrete, but sometime between my first and second visits, 70-mph winds toppled the Santa, and Farnham can't right the 1,000-pound statue without the help of a crane. Since his trucker friend passed away, Farnham says he hasn't acquired anything new. But that hasn't stopped his Fantasy Farm from attracting attention, especially among fiberglass fanatics.
West Virginia has relatively lax zoning laws so Farnham is free to keep adding to his collection—and the neighbors don't seem to mind, either. On my first visit, a man pulled his truck over to the side of the road to tell me that although Farnham wasn't home, I was welcome to explore his yard at my leisure. "George loves visitors," he said.
Both facts are confirmed on my second visit, when two men pull into the driveway to collect their runaway goat. The small black and white animal has wandered into Farnham's yard and is climbing over Brian's bare feet, unfazed by the immobile giants. It might not be a cat, but Farnham is reluctant to say goodbye to the adorable interloper. This clearly isn't the first time a neighborhood animal—or unexpected visitor—has found its way to the Fantasy Farm, and it probably won't be the last.
"There's a cult following for fiberglass figures," Farnham says. "We're definitely part of the circuit."
If you go
You're welcome to explore the Fantasy Farm and take photos, but remember this is private property so be respectful.