Rolling sand dunes in—Indiana? You bet, as the locals would say in this under-the-radar gem of a national park. Although legislation created Indiana Dunes National Lakeshore in 1966, it didn't become a national park until 2019.
The quest to preserve the area's natural beauty actually began in 1899, when Henry Cowles, a University of Chicago botanist, published a paper on the ecology of the region. Steel mills and power plants boomed in the years between 1899 and 1916, when the National Park Service (NPS) was established, but it took another 10-year struggle by the state of Indiana just to establish Indiana Dunes State Park in 1926. Industry and preservation continued to clash until 1966, when the National Lakeshore was finally designated.
Related 100 years in the making, Indiana gets its first national park
Today, what began as 8,330 acres of lakefront land and water has blossomed into an outdoor playground of more than 15,000 acres, which hosts around 2 million annual visitors. Indiana Dunes National Park offers an easy getaway, no matter what time of year you visit. There are plentiful campsites and conveniences, as well as spots where you'll find only solitude. There's something for every taste, from dune climbing to bird watching to snowshoeing.
You could spend a day or week at Indiana Dunes—here's everything you need to know to make the most of your trip.
Attractions
Begin your trip with a stop at the visitor center, open every day but Thanksgiving, Christmas, and New Year's. There are a variety of art exhibits, two orientation videos, a bookshop, and informational literature on hand, in addition to plenty of RV parking, so you can stop in before you set up camp.
As for outdoor attractions, topping the bill are the dunes themselves. The sandy summits rise to almost 200 feet just inland from the beaches, which are also pretty spectacular. There are four major groups of dunes, moving in succession from the shoreline inland. Present-day dunes give way to the Tolleston dunes, the Calumet dunes, and the Glenwood dunes, each successively older than the last. The latter two are covered largely in oak forest, but the newer and Tolleston dunes feature grassy ridges and lower woody vegetation.
The dunes aren't the only outdoor attraction at the park—there are oak savannas, swamps, bogs, marshes, prairies, rivers, and forests, mostly accessible via trails.
Related A historic World's Fair house in Indiana Dunes National Park is getting a makeover—and a new tenant
Finally, there are several historical buildings worth a look, though seasonal guided tours are the only way to access the interior spaces.
Activities
With 15 miles of shoreland and 50 miles of trails, you'll be spoiled for choice when it comes to outdoor activities. A guided tour is one of the best ways to get a feel for the park, though they only occur mid-June through mid-September.
The number one year-round activity here is hiking. The park includes 14 separate trail systems with something for everyone, from the most hardened hiker to the casual daytripper. One of the most popular guided hikes is the Mount Baldy Summit hike, which takes place weekly from mid-June to mid-October. The hike is short but steep, and requires visitors to climb up loose sand to reach the top of Mount Baldy. At 126 feet, it's one of the world's tallest lakefront dunes.
Be aware that the shifting terrain can be dangerous, however—a 6-year-old boy was swallowed by the sand in 2013. Although he made a full recovery, access to the dune's summit has remained limited to guided hikes ever since.
If your visit doesn't coincide with a hike to the summit, check out the Beach Trail instead. This relatively steep hike takes about an hour and offers sweeping Lake Michigan views. The way down involves scrambling over loose sand, so make sure you're physically fit for both the trip up and back.
Two other standout hikes, depending on what you want to see, are the Cowles Bog Trail and Great Marsh Trail. The former, a moderately difficult 4.7-mile hike, offers a great overview of all the park's habitats, as well as abundant plant life in the warmer months. The Great Marsh Trail offers an easy 1.3-mile hike through the largest wetland area in the Lake Michigan watershed. Watch for wading birds such as herons and egrets, as well as plentiful songbirds.
To add an extra element of adventure to your hike, try geocaching in the park. It's a bit like treasure hunting, with players searching for caches, or small containers, hidden in spots all over the world. Indiana Dunes features several caches; if you're not already registered to play, you can do so here before you get started.
Miles and miles of sand await if you're planning a day of beach bumming. There are seven separate beaches, and parking at all of them is free with the exception of West Beach. Beaches get quite busy in the summer, and you'll want to arrive early to secure your spot. Keep in mind that this is no lazy river—the waters of Lake Michigan can be quite treacherous, featuring rip currents; high, breaking waves; and an uneven bottom. West Beach is the only one with lifeguards; use caution at all beaches if you decide to wade in.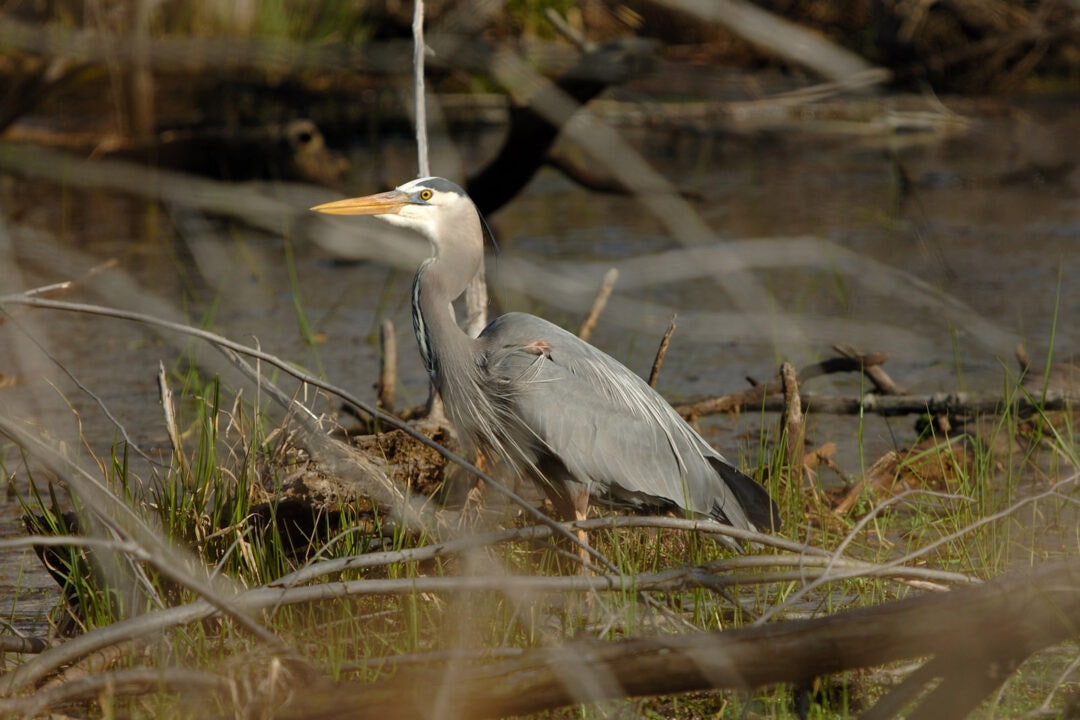 Bird watching at Indiana Dunes can be quite spectacular, especially if you're there during fall or spring migrations. More than 350 different species of birds have been recorded in the park, which serves as an important stopover for birds on their way north and south. Particularly enjoyable is the annual Indiana Dunes Birding Festival, which takes place annually in May.
Finally, if you're visiting in the winter, cross-country skiing and snowshoeing are both excellent ways to enjoy the frosty landscape. Either bring your own gear or grab a free rental at the Paul H. Douglas Center for Environmental Education to use on the 3.4-mile Paul H. Douglas Trail. Note that trails are not groomed in winter and the park recommends at least a 4- to 6-inch snow base.
Camping
The park's on-site Dunewood Campground is open year round and features 53 RV-only sites, though they lack water and electrical hookups. You can reserve a site up to 6 months in advance, beginning on November 15th for the following season.
There are several other campgrounds nearby, including the popular Indiana Dunes State Park campground, which is less than a mile from the beach, and Michigan City Campground, which is a bit further inland.
What to do nearby
Those in search of craft breweries will be pleasantly surprised by northwestern Indiana. In the triangle between Portage, Valparaiso, and Michigan City on the border with Michigan, eager imbibers will find no fewer than seven microbreweries; venture a bit further afield to South Bend and Elkhart for even more options.
Related The ultimate Midwest college football stadium tour
Speaking of South Bend, there's no better way to spend a fall afternoon than watching the Fighting Irish football team most likely demolish their competition at Notre Dame Stadium—if you're lucky enough to score tickets.