When it comes to souvenirs that don't break the bank—and offer a serious return on investment—Junior Ranger badges are the ultimate vacation memento. Shaped like a shield and usually made of either plastic or wood (depending on location) these pin- or sew-on badges can be earned at more than 200 national parks and other historical sites throughout the U.S. Kids who participate in the Junior Ranger program—in person or virtually—are sure to take away a wealth of knowledge, along with their shiny new badge.
Whether your travel plans call for a visit to Yosemite, Mount Rushmore or Historic Jamestowne, the Junior Ranger program will keep the kids occupied and engaged throughout your visit.
---
Becoming a Junior Ranger
When visiting a site managed by the National Park Service (NPS), check in at the visitor center to receive a Junior Ranger activity book. Inside you'll find a series of fun, educational tasks for your little one to complete. These activities include interviewing Park Rangers, completing scavenger hunts for items of significance, and answering questions about the park. The number of tasks required to earn a badge, along with the difficulty of tasks required, may depend on your child's age.
Once your child has mastered their knowledge of the park, return to the visitor center. Their workbook will be checked by a Park Ranger, who will then ceremonially swear them in as a Junior Ranger. Though it's an honorary designation, your little Junior Ranger will be asked to repeat an oath that vows to protect and preserve natural places, and to share their knowledge with others. Kids are awarded a certificate and pin-on badge to show off their efforts.
---
COVID-19 changes
Due to the COVID-19 pandemic, some parks, such as Grand Canyon National Park and Guadalupe Mountains National Park, have opted to (at least temporarily) skip the in-person swearing-in ceremony, and instead give the badge to the child's guardian when you collect your booklet. For the parks that are continuing to do the process in person, know that the Junior Ranger program is a popular one. You can sometimes face a line of eager adventurers all waiting to be sworn in.
---
Cost
At most parks, this entire process is free (although we can't promise you won't give in to the many costly temptations while at the park's gift shop). However, some parks do charge a nominal fee to participate. At Yellowstone National Park the fee is $3 (and Junior Rangers are given a sew-on badge instead of a pin-on one) due to the overwhelming popularity of the program. But it's a worthy cause, as the money goes to supporting the NPS.
---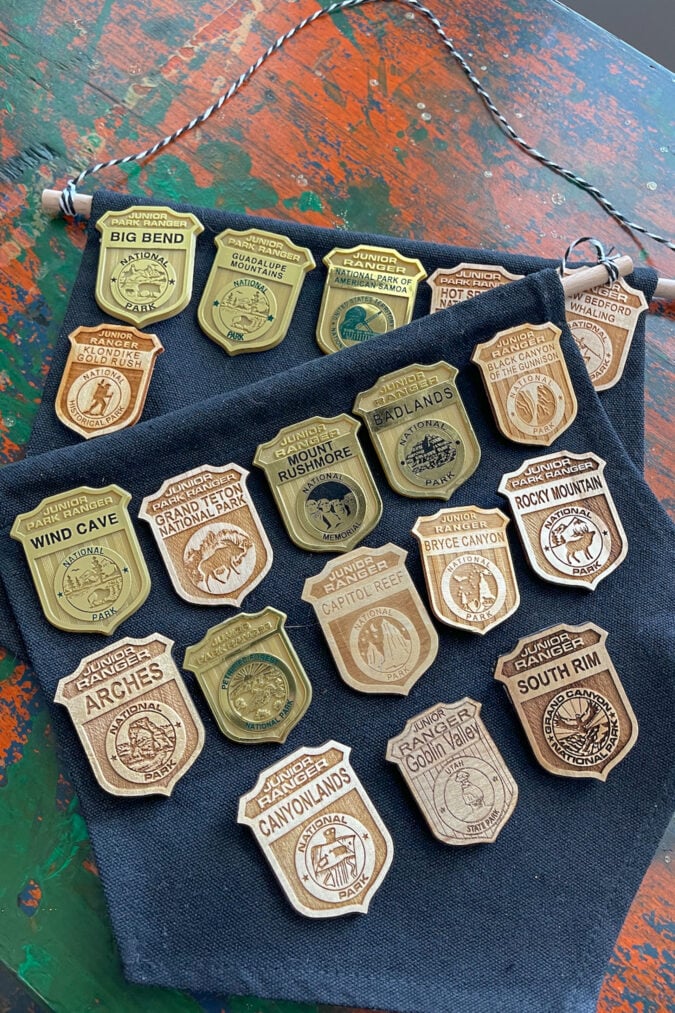 Age range
Generally the activities are geared toward children who are able to read and write independently. According to the NPS website, the appropriate age range for the program is between 5 and 13 years old. Younger children can participate with a parent's help, and grown-ups are welcome to join in the fun too (but please remember that this program is designed with younger guests in mind). Some parks, such as White Sands National Park, also have a separate option for preschool-age children.
---
Time commitment
In my experience, it can take an hour or more for my 8-year-old to complete the activities in each Junior Ranger book. However, these tasks are meant to be completed while you explore. Activities such as taking part in an animal bingo game (or his personal favorite, animal scat bingo), tracking down facts about the park in the visitor center, or drawing pictures of the local flora and fauna can help your child be more immersed in the experience as they scamper through the park.
---
Virtual programming
My son was hooked on the idea of earning these badges during the pandemic lockdown in 2020, and we found that several NPS sites allow you to complete the program online. My family also uses the virtual programming to earn badges from far-flung destinations we're unlikely to visit in person, such as National Park of America Samoa, and for destinations we visited previously, including Klondike Gold Rush National Historical Park in Alaska. We visited the remote park during a cruise when my son was just 4 years old, and have since completed the program virtually.
Here are some other parks where you can complete the Junior Ranger experience online:
Even if you're planning to visit a park in person, you can download and print the Junior Ranger books ahead of your visit to save time, get a head start on activities, and begin learning about the places you'll visit on your trip.
You can also finish the program virtually if you pick up a booklet but don't have time to complete the activities before departing. Many parks allow you to mail in the completed booklet once you've arrived home and still earn a badge. If completing the program remotely, expect to wait a few weeks; park rangers are busy, and it takes time for them to review your materials and send the badge via mail.
---