The Addams Family 2, a new sequel to the first animated Addams movie, follows the spooky squad as they embark on a cross-country road trip. Hoping for some quality bonding time, Gomez Addams piles his family—including Morticia, Wednesday, Pugsley, Lurch, Thing, Uncle Fester, and their pet lion, Kitty—into the "old Addams camper." But not everyone is thrilled. Wednesday Addams tells her father that his plan to "bring the Addams family closer than ever before" (both emotionally and physically), is "cruel, even for you."
The dysfunctional family vacation film is not a new concept—and as any real-life roadtripper knows, the only sure thing about any road trip is to expect the unexpected. The Addamses run into their fair share of detours and disasters on the way to their final destination, "The place on earth where people are the happiest: Death Valley." It's unclear in which state the fictional family has their home base—left in the "safe hands" of Morticia's 102-year-old mother while they hit the road—but I would guess somewhere (cloudy) along the East Coast.
After guzzling a quart of motor oil, Fester explains that their steampunk vehicle is a hybrid: "half car, half eyesore." Thing, a disembodied hand, does most of the driving. The first stop on their itinerary is supposed to be Salem, Massachusetts, but Uncle Fester, bewitched by a billboard for Niagara Falls, grabs the wheel and reroutes the camper.
So put a witch's shawl on, let Lurch lug the luggage, and grab a broomstick—with stops in Sleepy Hollow, Miami, the Alamo (sort of), and more, here is how you can "flit and thither across this great nation" on a creepy, kooky, and all together ooky family road trip (caution, spoilers ahead).
---
1. Salem, Massachusetts
In outlining the family's itinerary, Gomez says their first stop will be in New England to "pay our respects to the immolated in the witch-haunted city of Salem." But they aren't on the road long before Uncle Fester makes an executive decision. "Forget Salem, we know how it turned out," he says as he turns northwest toward the Canadian border. The Addams' have enough spooky history of their own, but it's a shame they missed Salem, known as Witch City because of the village's notorious 1692 witch trials. More than 300 years later, crowds descend on the seaport every fall, searching for tricks and treats at the city's numerous historic homes, museums, graveyards, and Hocus Pocus filming locations.
---
2. Niagara Falls
Upon arriving, Uncle Fester declares that Niagara Falls "is a great wonder of the world and kills the most tourists with its powerful, seductive water." Despite his warning, several members of the Addams family go over the falls in barrels (not recommended). Luckily they survive, but the near-death experience leaves little time for sightseeing. The ice cream flavors at the novelty-shaped Twist o' the Mist aren't nearly gross enough for their particular palettes, but I think the family would have appreciated the nearby, creepy-in-a-good-way Niagara Wax Museum of History.
---
3. Sleepy Hollow, New York
Like Salem, the movie doesn't show the Addams family actually exploring Sleepy Hollow, a village located just about an hour north of New York City. Known as North Tarrytown until 1996, when the community adopted the name popularized by Washington Irving's 1820 short story, the small town embraces its association with Halloween and the Headless Horseman. I think Irving, who lived nearby at Sunnyside (now a National Historic Landmark), would have approved of how the Addams family spends their time in the Hudson River Valley: telling "scary" stories (about a cute puppy) around a campfire.
---
4. Miami, Florida
After things go sour in Sleepy Hollow, Gomez says, "Thing, head south! What we need is a little old-fashioned Addams fun!" Of course, "fun" is a relative term, especially when your relatives are strange and deranged. The peculiar family brings their Victorian mourning vibes to the Art Deco mecca of a Miami beach: Wednesday shields herself from her own personal rain cloud with a pointy black umbrella, while her parents lounge nearby in intricately carved wooden beach chairs. Thing squirts a thick layer of sunscreen (10,000 SPF) onto Morticia's forearm and Gomez spreads it with a trowel. They may not be shown enjoying live salsa music and authentic Cuban cuisine, but Wednesday does make a guillotine out of sand—and Cousin It makes his grand entrance on a blinged-out jet ski.
---
5. San Antonio, Texas
Coasting into south-central Texas, Gomez remembers San Antonio's most-visited attraction, The Alamo. "You can sense that many lives were lost here," he says as his family looks on. "Let us take a moment to pay our respects." But, as a flickering neon sign reveals, the Addamses are actually at The Alamotel. After outfitting themselves as oil tycoons—in 10-gallon hats and even bigger wigs—Wednesday competes in a Little Miss Jalapeño Pepper competition. The pageant ends when she douses her fellow contestants in red paint (Carrie-style), leaving the family no time to explore the city's famed River Walk, eat at Black's BBQ, or tour the actual Alamo.
---
6. Grand Canyon National Park
No classic family road trip is complete without a stop at the Grand Canyon, one of the most-visited national parks in the country. Pugsley may not be impressed: "This doesn't look so grand to me," he says, but his parents are wowed. "The sheer emptiness, cavernous abyss of absolutely nothing," Gomez says. Morticia agrees: "The vertigo. Intoxicating." More than 5 million visitors flock to the park annually for hidden waterfalls, breathtaking overlooks, and canyon floor hikes—so for better or worse, there's always something to see and do amid all that "nothing." But please, respect the park's delicate ecosystem and millions of years of geological history and leave the pyrotechnics to Pugsley.
---
7. Death Valley National Park
When she discovers that she might not actually be an Addams, Wednesday splits from the family and sets off on foot (with Lurch) in search of her real father. "Like the Donner Party before us, we travel to California to fulfill our destiny—and eat what we must along the way," she declares. After they're almost run off the road by a pack of motorcyclists, the odd couple ends up at a Death Valley biker bar with a neon sign advertising "unhappy hour" specials. The "happiest place on earth" is also the hottest, driest, and lowest national park in the U.S. But the Addams family knows how to find beauty where others might not—it's not surprising they intended to end their trip at a park known for its Devil's Golf Course, Badwater Basin, and mysterious Sailing Stones (said to move on their own).
---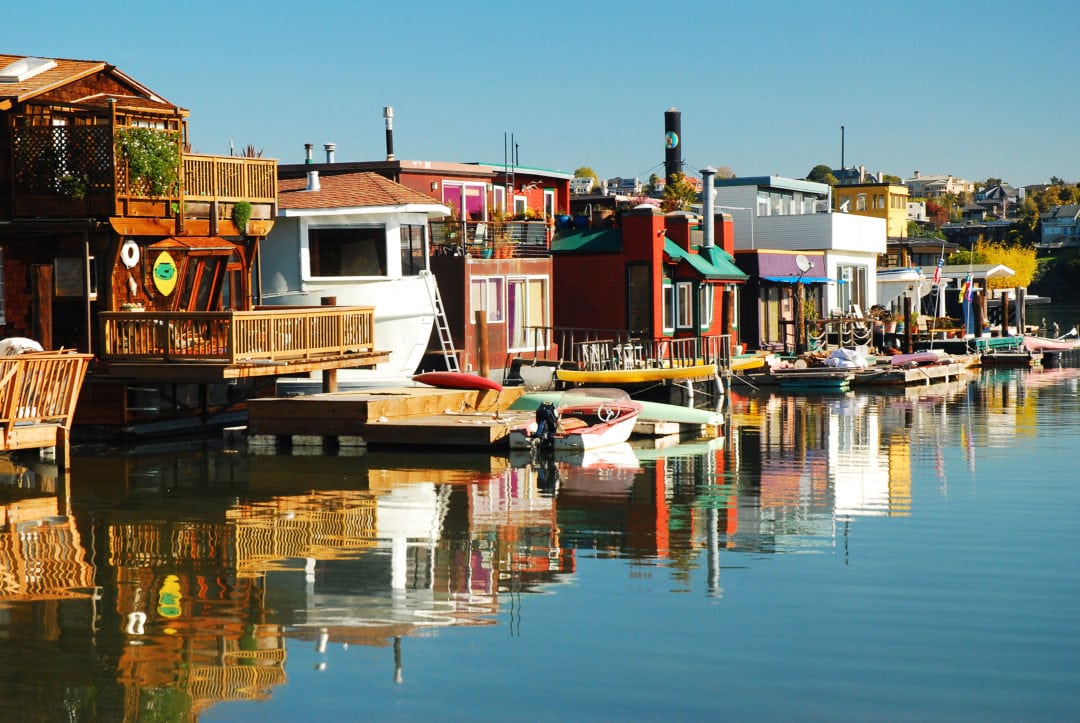 8. Sausalito, California
Road trips rarely turn out exactly how we plan them—and that's all part of the fun. When one of the bikers hears that Wednesday is hoping to make it to Sausalito, California, he gives her a ride in his sidecar. The rest of the Addams family soon follows, but a showdown with a mad scientist eats up most of their time in the Bay Area. I can't see them feeling at ease in one of Sausalito's colorful floating homes, so it's probably for the best when Wednesday finally accepts exactly one hug from her father and says, "Come on, Addams family. Let's go home." Of course they aren't back in their macabre mansion for very long before Gomez utters a phrase all too familiar with frequent roadtrippers: "Time to start planning the next family vacation."
---
Take this trip: