With 43 major hills and steep streets—some set at nearly a 45-degree angle—San Francisco, California, is the hilliest city in the U.S. As a result, the city also has more than 600 public stairways, some of which are decorated with beautiful mosaics. But unless you're one of the many runners and walkers that have made these tiled steps part of their daily exercise routine, you likely won't stumble across them by chance. The masterpieces are mostly tucked away in residential neighborhoods, not near tourist landmarks.
"[The staircases are] an easier way to navigate the hills," says Howard Pickett, chief marketing officer of the San Francisco Travel Association. "They're filled with surprises, and a wonderful way to experience our city's unique charms."
Finding these mosaic staircases is a journey of discovery that will take you past houses painted in soft pastels and the palm trees, succulents, and bougainvillea that flourish in the city's Mediterranean climate. Those who reach the top are often rewarded with a jaw-dropping view of the bay or Pacific Ocean as a bonus.
A collaborative effort
The most renowned of the staircases is the 16th Avenue Tiled Steps, a kaleidoscope of sea, land, and sky in brilliant colors. Located in the Golden Gate Heights neighborhood, swirls of ocean sprinkled with sea creatures and seashells spill over the start of the stairway at 16th Avenue and Moraga Street. Local flowers and hummingbirds, dragonflies, and bumblebees appear in the design, followed by a night sky spangled by the moon and stars. A sunburst crowns the very top.
The staircase was inspired by a mosaic stairway in Rio de Janeiro's Santa Teresa district. A neighbor, Jessie Audette, once lived there and raised funds to transform the plain concrete stairs by her new home. Created by artists Colette Crutcher and Aileen Barr, the 163-step stairway comprises more than 75,000 tile, stained glass, and mirror pieces. Neighbors asked six artists to submit design proposals, and asked the duo—who had never met—to collaborate, since their ideas shared common elements.
"I had never done handmade tile before and Aileen had never done mosaic, so we learned a lot in the year or so working on the project," Crutcher says. "Tile making is endlessly complex." San Francisco celebrated the work's completion, the city's first mosaic stairway, in 2005 with fireworks and a performance by Chinese lion dancers. In attendance was the mayor of Caltagirone, a town in Sicily; the 17th-century mosaic staircase in his town was also cited as a source of inspiration.
After ascending the steps—and admiring panoramas of the Pacific Ocean and the low-rise Sunset District—I walk two blocks to the Hidden Garden Steps. It's just as gorgeous but lesser known than the 16th Avenue staircase. The intricate design, completed in 2013 at Kirkham Street and 16th Avenue, features flowers, mushrooms, and butterflies. It was Crutcher and Barr's second project.
'Earth laughs in flowers'
Crutcher and Barr are now the go-to team for the city's mosaic stairways. In the Bayview, a largely African American district, their Flight of Fancy stairway reflects a multi-racial and -ethnic potpourri of design motifs: Adinkra symbols from Ghana; textile patterns from Central America, Indonesia, and Japan; Native American painted pottery; and paisley designs from India.
"We not only took the liberty of celebrating decorative art traditions from all over the world, we tried to include as many tile-making styles as we could, like sgraffito (scratching through a coating to reveal the clay underneath), stenciling, and carving," Crutcher says. "We textured the clay with stamps and rollers we made ourselves." The 87-step stairway located between Innes Avenue and Northridge Road is also called the Arelious Walker Stairway, named after a local pastor and community hero.
The newest mosaic stairway, the Miraloma Stairs, opened in July, 2020. It starts with the tip of a dragon's tail and ends with two mosaic murals of a fire-breathing, scaly dragon and the solar system at the top. It leads to a public school playground at Miraloma Elementary School (which has a dragon as its mascot) from Bella Vista Way near Mount Davidson.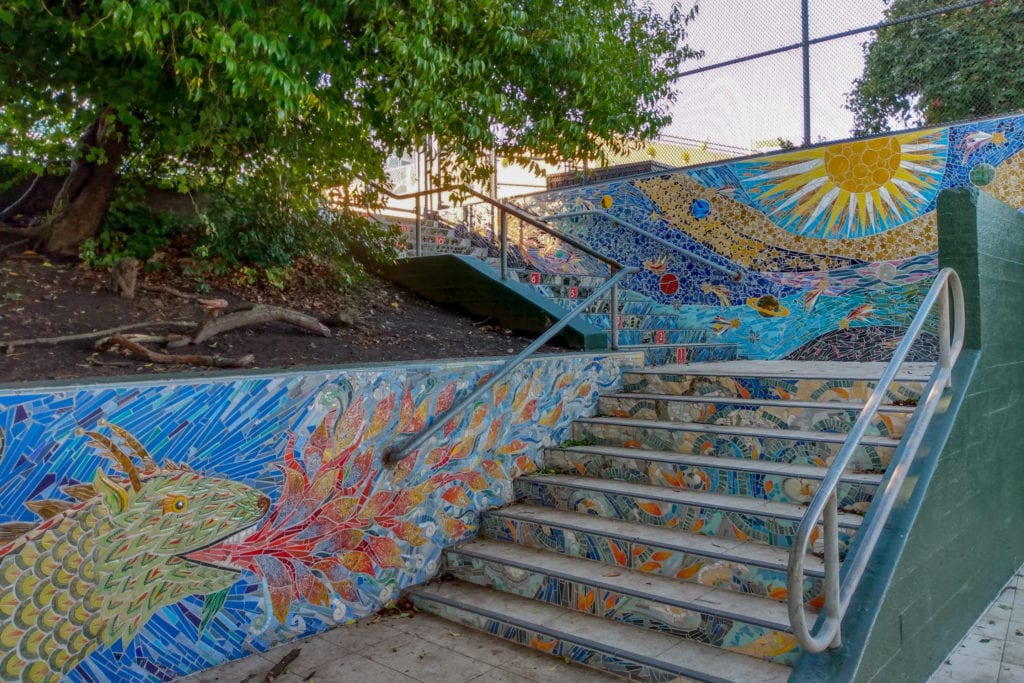 Its tiles feature quotations from famous people chosen by the principal and artists (Crutcher and Barr), in addition to words chosen by students at the school. I recognize "You need three things to succeed in life: A wishbone. A backbone. A funny bone" as a line sung by country singer Reba McIntyre. "Earth laughs in flowers" is from Ralph Waldo Emerson and "Pay attention. Be astonished. Tell about it" from Pulitzer-winning poet Mary Oliver.
The Lincoln Park Steps is an art deco-style mosaic stairway of stylized plant designs (a solo effort by Barr) in orange, rust, yellow, and green at California Street and 33rd Avenue in the Outer Richmond district. Leading up to Lincoln Park, home to the Legion of Honor (the museum immortalized in Hitchcock's Vertigo), the park also boasts a magnificently scenic trail to Lands End, the edge of the Pacific Ocean.
A community group, Friends of Lincoln Park, decided to repair the 52 broken, graffiti-scarred concrete steps, while the private girls' school next to it raised funds, and its students helped make the tiles.
"I was struck by the grandeur and symmetry of the wide stairway, which was built in 1916," says Barr. "So I chose art deco."
A jewel
In the Excelsior district—also referred to as the Outer Mission—I find a very different design: The Athens-Avalon Greenspace stairway is more geometric, with horizontal stripes in vivid colors. At the intersection of Athens Street and Avalon Avenue, it was designed by artist Iran Narges to complement a hillside garden planted by neighbors nearby. It's located amid streets named after cities and countries around the world, which makes for intriguing combinations such as the corner of Russia and Naples or Prague and Persia.
"I wanted to do something abstract with pattern and color, given my background as a graphic designer," says Narges. "The number and variety of colors give the design, which uses a single shape and size of tile, an exuberant, joyful feeling, with a gradient from darker and cooler colors at the bottom to lighter and warmer colors at the top. Each of the 99 steps is unique—no pattern of color combinations repeats."
Pamela Axelson, a neighbor who led the project on the once trash-strewn hillside and graffiti-marked concrete steps, says: "Like ours, most mosaic stairways grow out of a movement within a community to improve something that may have been an eyesore or just could be so much more beautiful. The city supports community projects like this because they build relationships among neighbors, safer and more supportive communities, and friendships among people who would not have met otherwise."
Also in the Excelsior, a waterfall mosaic swirls in shades of blue from cobalt to aqua, splashed across a stairway located in Kenny Alley. I find it on Mission Street between France and Italy avenues, a corridor packed with Mexican, Salvadoran, and Filipino eateries. Comprising glass stones, tiles, and mirrors that glint in the sunlight, the stairs lead up to London Street. The walls of Kenny Alley are adorned with a mural featuring mountains, the ocean, and local flora and fauna (bears, fish, eagles, and poppies).
For the staircase design, "We intended to play off the mural already in the alley," says Summer Koide, a member of the group Friends of Kenny Alley, who helped transform the former dumping ground.
Muralist Matt Christensen, a high school art teacher, referred his colleague, mosaicist Kim Jensen, for the job of designing the staircase. Her waterfall design was embraced by community groups, and tiles were made and assembled primarily by her students. Community volunteers also contributed, including Koide, who made some from home during her maternity leave.
"Before, the alley looked pretty atrocious," says Koide, "Now, it's a jewel."
If you go
Use the map below, or find 35 self-guided walks built around the stairways (clustered by neighborhood) in the book Stairway Walks in San Francisco.