Barrett-Jackson, one of the country's most vaunted auction firms, is making history this week by hosting its largest-ever auction of classic cars and automobilia, along with several newer cars. That means more than 1,800 lots will go under the hammer in Scottsdale, Arizona, where an estimated half million people will be attending and bidding on a diverse range of sheet metal.
Those are huge numbers, no doubt, but this auction luckily won't be a case of quantity over quality. While the catalog is mostly bristling with American classics, there are more than a handful of notable European exotics, as well as a number of unusual vehicles—all of which means that there are plenty of perfect road trip candidates available for whatever type of trip you can think of.
We already did the hard work of digging through the catalog and picking out or favorites, so all you have to do is sit back and enjoy the ride.
For the retro vanlifer: 1951 Chevrolet 3800 Custom Panel Truck
Travel through space and time with this 1951 Chevrolet 3800 Custom Panel Truck, which not only offers a continent's worth of space for friends, family, or luggage, but looks that suggest it could survive a nuclear attack. Luckily, though, it hasn't—having undergone an extensive frame-off restoration that was completed 10 years ago, this Chevy has tons of life left in it with its rebuilt 261ci six-cylinder motor, upgraded electrical system, new brake drums, upgraded brake booster, and new stainless-steel brake lines.
Instead of opting for a newer, more powerful V8, the previous owner decided to keep the original engine type to keep it consistent with how the truck was originally built, so you also won't ruffle any feathers with the traditionalists.
Its imposing ride height and robust running gear makes this panel truck ready to be put to the test. If your road trip includes a trip down memory lane, this might just be the vehicle for you.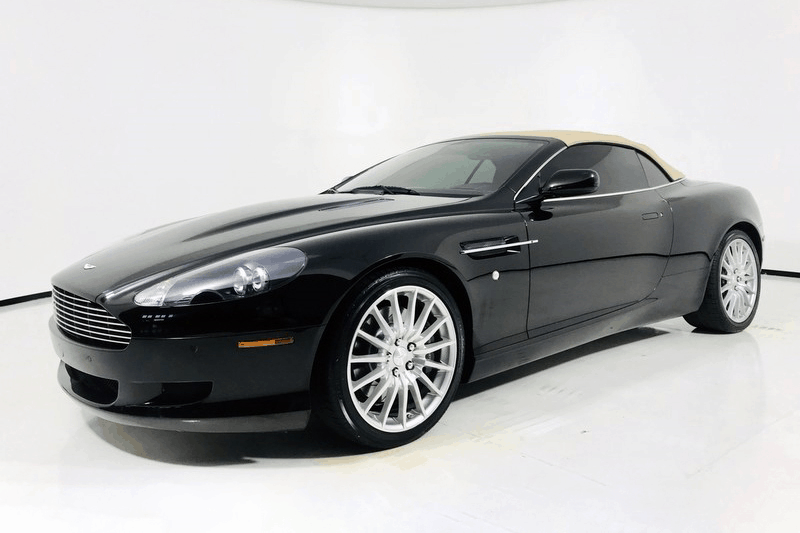 For the modern Bond villain: 2007 Aston Martin DB9 Volante
No other automaker embodies the spirit of grand touring like Aston Martin, which is evident in how the British automaker designs and builds its cars. Not too hardcore and not too soft, Astons have always struck a magical balance between sportiness and luxury, which is why this DB9 Volante is a perfect candidate for a spirited, shorter road trip in a warm state or during the warmer months. While luggage space isn't ideal—especially with the roof folded away—and fuel economy is rather appalling, you'll forget all about it when you poke the accelerator and hear the Aston's signature 6.0-liter V12 come to life, especially if you have the top down.
If timeless looks, a soundtrack to die for, and an opulent interior speak to you, then this DB9 Volante is the right road trip car for you. And with less than 9,000 miles on the odometer—far less than 1,000 miles driven per year from new—this Aston needs to be driven. Do us and it a favor.
For the survivalist: 2014 Mercedes-Benz G63 6X6
Unsure of where your road trip may take you? Need to plan for every possible scenario? Are you also looking for something to double as a zombie apocalypse escape vehicle? Look no further, because the Mercedes-Benz G63 6X6 could be one of the most capable consumer vehicles ever to come from the brand. With portal axles, five lockable differentials, and the ability to inflate and deflate its tires on the fly via overhead cabin switches, the G63 6X6 can handle sand, rocks, mud, and nearly any terrain—water included, with its 1000mm fording depth—that you can think of.
And don't think for a second that because it's rugged it isn't comfortable or road worthy—this is still a Mercedes, after all. With a plush leather interior and comforts that are typical of the luxury brand, the 6X6 can handle much less rigorous terrain with ease, too. Not to mention it seats four and there's an entire truck bed for storage, so there's plenty of room for friends, pets, tents, and maybe even enough building material to renovate your patio.
With the heft comes a drawback in the form of weight—but even though it tips the scales at more than 9,000 pounds, its twin-turbocharged 5.5-liter V8 can propel it to 60mph in less than eight seconds. This could be the ultimate all-rounder for the indecisive road tripper, with luxury, performance, and the last word in off-road capability.
For the driving enthusiast: 2011 Porsche 911 GT3 RS
What this car lacks in terms of storage, comfort, and so many other qualities one would look for in a road trip vehicle, it makes up for in its nearly unbeatable track performance. The GT3 RS is not a perfect road trip car for many, but if you happen to be a track rat who wants to visit several race tracks and use only one car to do it—or a driving enthusiast who's on the quest for the best driving roads—then this is the perfect car for the task.
The naturally aspirated 3.8-liter flax-six generates 450hp, and because it sits in the rear of the car, that means there's a bit of storage space available in the front trunk. (Who said this car wasn't practical?) And that Mezger motor—a bulletproof powerplant with a strong racing pedigree—is mated to a six-speed manual, so you won't find yourself bored behind the wheel during long stints. Once you find the perfect road or track to open it up, the wail of the flat-six reaching its 8400 RPM redline will make up for its less civil qualities. Reliable, fast, and practical for what it is, this could just be the perfect road trip car for the driving enthusiast.
For the glamper: 1982 Airstream Excella Aluminum Alloy Motorcoach
Any list of road trip-worthy vehicles would be incomplete without an RV, and this one is next-level. Having recently undergone a complete remodel by an architecture firm in Santa Barbara, CA, this Airstream Excella Motorcoach looks as chic on this inside as it does on the outside. Sporting two swanky Smeg refrigerators, a small but modern bedroom, bathroom, dual A/C units, hardwood floors, and a gas stovetop, it's a beautiful example of when old meets new.
It goes as well as it looks, too, with a rebuilt 8.1-liter motor, four-speed automatic transmission, upgraded suspension, and new electronics, so you won't have to worry about racking up the miles—or getting stranded while doing so. Racking up the miles is exactly what you should do with this, though, since not only does it have all the basic amenities you could possibly need, it also features an outstanding design that is sure to get you noticed.
(Full disclosure: Airstream's parent company is Thor Industries, Inc., which also owns Roadtrippers.)
For the nostalgic: 1957 Buick Roadmaster 76R
With a name like Roadmaster, it only makes sense that this car should be on the list—but its name is only half the reason why it's here. Its archetypal 1950s styling—with ornate grill, tail fins, and bench seats—makes for a car that harkens back to bygone era, when cars were as big as boats and handled like them, too. But it also happened to be a time where cars featured huge trunks, decent reliability, and impressive interior space—all enticing features in a car destined for any sort of road trip.
This particular example has less than 20,000 miles on the clock, which means it should have many more years and miles to go before needing attention. With a smooth-shifting automatic, historically torquey V8, and period-correct wire wheels and whitewall tires, this Roadmaster is perfect for eating up the miles while thinking back on the simpler days.
For the unconventional family: 1965 Volkswagen 21-Window Custom Microbus
It doesn't matter that these buses were known for being generally unreliable and dangerously slow. What does matter is that they look downright groovy, have a ton of space, and are shooting up in value these days. What's especially great about this example, though, is that it's fresh off a restoration completed just two years ago, that converted it from a 13-window car to a 21-window Samba bus that lets in a ton of light. Plus, a new engine was installed and it only has 350 test miles on it, so it's barely broken in and won't leave you stranded—at least not for a while.
The bus was also converted to a 12-volt electrical system, so you and your road trip companions won't have to choose between using headlights, charging your phones, or listening to music. And with a new interior, there's plenty of room for passengers and deadheads alike.