In partnership with
In the spring of 1950, forest rangers and firefighters were battling a major wildfire in the Capitan Mountains of New Mexico. After the blaze subsided, firefighters turned their attention to a bear cub who had been separated from his mother. In an attempt to escape the fire, the tiny cub had climbed a fire charred tree and, despite receiving serious burns, he survived.
After he was taken to Santa Fe for treatment, news of the rescued cub (originally dubbed "Hotfoot") spread like, well, wildfire, and he became an overnight celebrity. The cub was transferred to the National Zoo in Washington, D.C. and named Smokey Bear, after the Forest Service's mascot, who until then had only existed as an illustration created by artist Albert Staehle for the fire safety public service campaign.
There are hundreds of events around the country this year to commemorate the fictional Smokey Bear's 75th birthday, including birthday parties (with cake, of course), balloon races, and live appearances by Smokey himself (or rather, a human in a Smokey suit). On November 7, the Smokey Bear Historical Site in New Mexico will host "Smokey Bear LIVE: Only You Can Prevent Wildfires," an interactive webcast in which participants can send in questions about Smokey and wildfire prevention.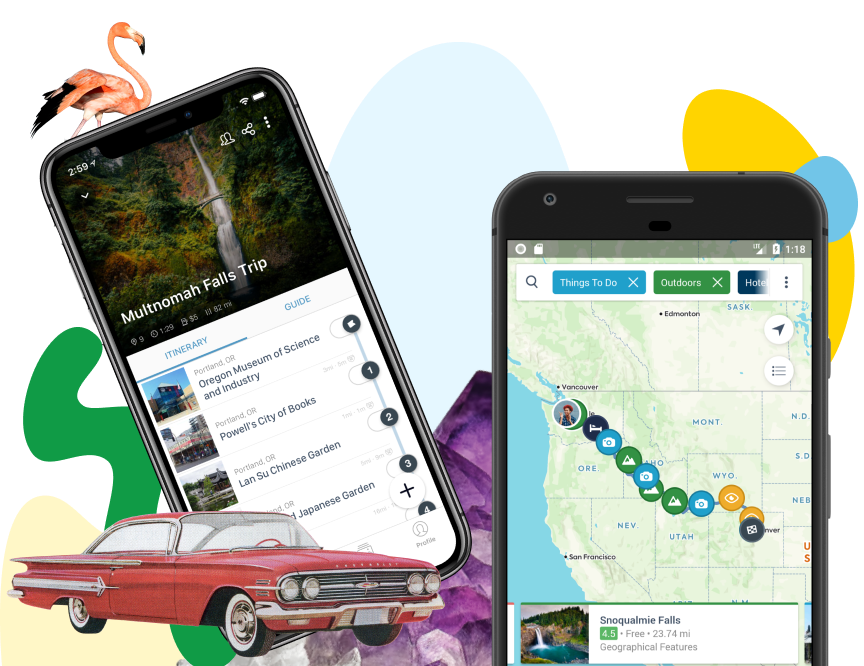 Download the mobile app to plan on the go.
Share and plan trips with friends while discovering millions of places along your route.
Get the App
Posters and PSAs
Smokey Bear is the longest-running public service advertising campaign in U.S. history. It was launched on August 9, 1944, and is now under the control of the USDA Forest Service, the National Association of State Foresters and the Ad Council.
Smokey Bear made his public debut on a poster depicting a black bear pouring a bucket of water on a campfire. He has kept up with changing technologies through the years, and been featured in several posters, stamps, stickers, handbooks, radio commercials, and television PSAs. Celebrities have helped Smokey spread his message even further, including Rod Serling, The Chipmunks, Ray Charles, The Grateful Dead, Cheech and Chong, Al Roker, and Stephen Colbert (who introduces himself as Stephen Colbear).
The real life Smokey was a celebrity in his own right. He received so much fan mail—more than 13,000 letters and packages full of honey every week—that the USPS gave him his own zip code in 1964 (20252, which is still in use). In 1963, Smokey was forced to share the spotlight when the National Zoo welcomed another celebrity resident: Ham the Astrochimp, the first chimpanzee in space.
In 1952, Congress passed an act removing Smokey Bear from the public domain and placed his likeness under the control of the Secretary of Agriculture; all royalties are used to fund fire prevention education programs. Those interested in celebrating Smokey and spreading his message can download birthday cards, coloring sheets, banners, and other event materials created by the Ad Council.
Smokey Bear has had a few different official catchphrases over the years, including "Smokey Says–Care Will Prevent 9 out of 10 Forest Fires," and "Remember … Only YOU Can Prevent Forest Fires." The current version, implemented in 2001, is "Only You Can Prevent Wildfires." Smokey might not say much, but his message is just as—or maybe even more—important today as it was 75 years ago.
Wildfires in the wild
Wildfires have always been a part of the natural order of things; in some cases they are Mother Earth's way of taking out the trash. Fire is an efficient way of clearing away dead plant matter and making way for new growth. Some wildflower seeds lie dormant for years, requiring the chemicals found in ash and smoke to bloom. In fact, fire-dependent plants and trees can be found all over the country.
According to the Smokey Bear website, fire, under the right circumstances, is not only beneficial but ecologically necessary: "Many plants have evolved adaptations that protect them as a species against the effects of fire, and some are even strengthened by it. When fires burn in intervals appropriate to their ecosystem, they consume leaf litter and other ground vegetation like dead wood. This can trigger a rebirth of forests, helping to maintain native plant species."
Climate change-related heat waves, droughts, and other extreme weather events mean that the wildfire threat is far from under control, and it may only get worse. In November 2018, the Woolsey Fire—the largest in Southern California's history—burned nearly 97,000 acres, killed three people, and destroyed more than 1,600 buildings.
While the official cause of the Woolsey Fire remains under investigation, there's a reason the main point of Smokey Bear's slogan hasn't changed much: According to the National Interagency Fire Center, humans cause nearly 90 percent of all wildfires. Prevention tips may seem obvious, but many people underestimate the power of fire and overestimate their own ability to control it.
Education efforts
Smokey's education efforts focus on the main sources of human error when it comes to fires: campfires, burning backyard debris, vehicle safety, and lawn care. Dragging metal from machinery, lawn mowers, and power equipment can all throw sparks that start fires. Not all household trash should be burned and it's important to choose your campfire spot carefully. Smokey also has "hot tips" for how to properly prepare a fire pit as well as how to build and extinguish a campfire.
Those interested in doing their part to prevent wildfires can take the Smokey Bear pledge, which includes promising to never leave fires unattended; not operate equipment when it's dry, windy or hot; always have a water source nearby; and not dump hot ashes from grills or fire pits.
Wildfires not only harm local flora and fauna; they endanger human lives, destroy infrastructure, and can cause billions of dollars in damage. In the case of fire, it's easier to ask for permission than for forgiveness—fire prevention is a constant battle and it's one that the Smokey Bear campaign intends to keep fighting.
Smokey's legacy
Smokey lived out the rest of his life at the zoo. When he died in 1976, he was returned home to New Mexico. Since 1979, visitors have been able to pay their respects to the little bear cub who lived at Smokey Bear Historical Park in Capitan, two-and-a-half hours southeast of Albuquerque. In addition to Smokey's gravesite, the park includes exhibits about wildfire prevention, forest health, and New Mexico's natural resources. There's also a small museum and gift shop, playground, and picnic area.
In the small town of Capitan, there is a motel, restaurant, and grocery store named for the hometown hero. Smokey's grave is marked by a carved wooden bear cub and plaque; it's set along a shady path that includes Smokey statues, hand painted signs, and colorful wildflowers. The cub may have had a traumatic childhood, but Smokey's final resting place is a peaceful respite from the road, a fitting tribute to an accidental icon.
He may not have known it, but Smokey helped put an adorable face to a campaign with a very serious message; one that has not only created awareness but has saved countless lives and acres of land over the last 75 years. According to the Ad Council, the campaign has helped reduce the number of acres lost annually from 22 million to 8.4 million (in 2000). While it may be true that "Only You Can Prevent Wildfires," it's nice to know that Smokey will continue to pop up every now and then to remind us of our power—and our great responsibility—when it comes to playing with fire.
If you go
Smokey Bear Historical Park is located on highway 380 (also known as 118 W. Smokey Bear Blvd.) in Capitan, New Mexico. The park is open daily, 9:00 a.m. to 4:30 p.m., except Thanksgiving, Christmas, and New Year's Day.