Las Vegas' iconic "What Happens in Vegas, Stays in Vegas" marketing campaign from the early 2000s became a cultural phenomenon and helped to further Sin City's reputation as a place strictly for adults. But in the decade since The Hangover films doubled down on this image, Vegas has worked hard to rebrand itself as a destination for fun-seekers of all ages.
The city's new marketing campaign, "What Happens Here, Only Happens Here," helps shift focus to the diverse array of unique experiences the city has to offer, and families who travel to this glitzy destination and the surrounding desert areas will find seemingly endless PG-rated ways to keep the kiddos entertained.
Follow this road trip itinerary from Las Vegas to Death Valley and you're guaranteed to enjoy an epic vacation.
---
1. Las Vegas Strip
Every trip to Vegas should begin by exploring the legendary Las Vegas Strip. Here you'll find a vast array of over-the-top themed hotels and a bounty of entertainment options for all ages. For a sweet treat, take the kids to the gigantic M&M World and Coca-Cola World stores. Thrill seekers will find what they're looking for among the wide range of amusements found at The Adventuredome at Circus Circus, while superhero fans can live out their wildest fantasies at the Marvel Avengers S.T.A.T.I.O.N. Families will find plenty to enjoy during daytime explorations, before the nighttime crowds come out to party.
---
2. Bacchanal Buffet
With more than 4,000 restaurants to choose from, Vegas offers something to suit every palate. But why not head for a place that has a little (or a lot) of everything on the menu: the oversized Bacchanal Buffet at Caesars Palace. Whether your kids are picky eaters or eager to try new things, this premier buffet allows you to feast on everything from pizza to dim sum, quesadillas, and oysters, making it a true crowd-pleaser for diners of any age.
---
3. Mystère by Cirque du Soleil
Las Vegas boasts six resident Cirque du Soleil shows, each of which is sure to provide an exciting evening of entertainment. But the city's longest-running show, Mystère by Cirque du Soleil, remains the best family-friendly option thanks to its dynamic set, high-energy score, jaw-dropping acrobatics, and stunning feats of skill—not to mention the ticket prices, which include a discounted option for children. The show provides a sense of wonder and palatable excitement that will keep your kids on the edge of their seats throughout the performance.
---
4. The Cereal Killerz Kitchen
Breakfast may be the most important meal of the day, and at The Cereal Killerz Kitchen you can choose from more than 100 cereals to enjoy all day long. This Planet Hollywood establishment bills itself as a "cereal bar," and here your family can mix and match countless cereal combos to create the perfect bowl of sugary goodness. Milkshakes, sundaes, and even iced coffee concoctions are also inspired by (and topped with) your favorite cereals, making The Cereal Killerz Kitchen the perfect sweet treat for every member of your family.
---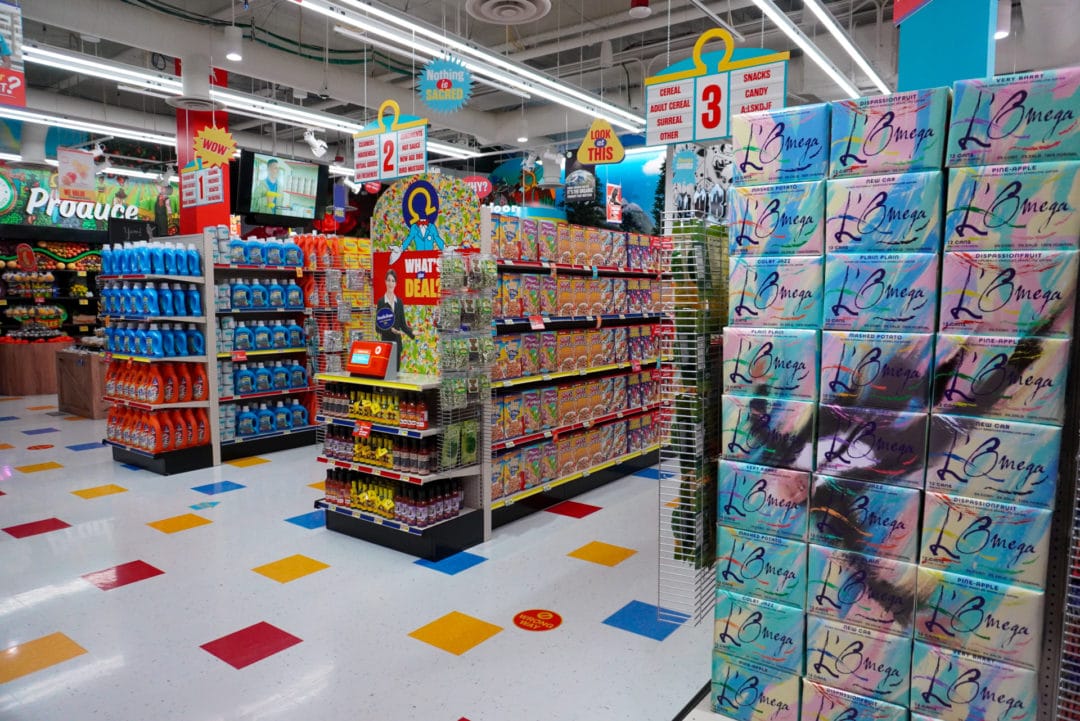 5. Meow Wolf's Omega Mart
Omega Mart, a Meow Wolf installation, is an interactive art exhibit designed to (at first) look like a grocery store. Upon further inspection, nothing is what it seems. Step inside for a trippy, mind-bending journey into a surreal world unlike anything you've seen before. Yearning for even more immersive entertainment? AREA15, the building that houses Omega Mart, is also the place to be for those seeking all sorts of interactive experiences. Within this vibrant structure you can race on a zip line, stroll through a bamboo volcano, step inside artistic masterpieces, and more. From virtual reality to the physicality of axe throwing, AREA15 is an immersive playground that's ideal for adventure seekers.
Related Omega Mart brings a strange, multi-sensory experience to a Las Vegas 'grocery store'
---
6. The Neon Museum
More than 200 rescued signs continue to burn brightly every day at The Neon Museum's Neon Graveyard. Here you can enjoy a slice of old Vegas history as you stroll through nearly 2 acres of unrestored Las Vegas signage. Your admission ticket helps support the nonprofit museum's efforts to preserve these stunning signs from old casinos, defunct business, motels, and more, making it a stop that's both enriching and eye-catching.
Related Tim Burton's exhibit at the Neon Museum pays homage to Sin City's gritty past
---
7. Death Valley National Park
Located just over 2 hours west of Las Vegas, Death Valley National Park makes for the perfect addition to your family's trip to this region. Your kids will love sliding down the Mesquite Flat Sand Dunes and exploring the salt flats in Badwater Basin. Come summer, Death Valley is one of the hottest places on Earth, so a visit during this time of year requires taking extra precautions to avoid overheating. But this stark desert climate offers the unique chance to see wildlife that thrives in such an extreme climate. Consider an overnight stay at The Inn at Death Valley to allow for an air-conditioned retreat and cool off in their stunning pool with a view of the park.
---
8. Seven Magic Mountains
On your way back to Las Vegas, take a small detour to view Seven Magic Mountains. The brainchild of renowned Swiss artist Ugo Rondinone, this colorful art installation features seven towering totems comprising stacked boulders painted in an array of neon colors. The rainbow hues make for a perfect photo op, and your little ones will feel even tinier as they frolic between the 30-foot-tall structures.
---