Each fall, North America's most well-known butterfly, the familiar orange, black, and white monarch, undertakes one of nature's most spectacular migrations. Even though the tiny insects are born hundreds or even thousands of miles away, they make a treacherous journey from the northern U.S. and Canada to places they've never been, to spend the winter months where their ancestors mated generations before.
Monarchs from east of the Rocky Mountains spend their winters in Mexico, but you can get an up-close look at this mesmerizing natural wonder without leaving the U.S. Monarchs born west of the Rocky Mountains spend their winters in California, where, from November through February, they congregate in eucalyptus, Monterey pine, or cypress trees close to the Pacific Ocean.
Related Where to spot monarch butterflies and camp nearby
The number of monarchs in California has declined by more than 95 percent since the 1980s. Although there was a slight rebound in the winters beginning in 2021 and 2022, the International Union for Conservation of Nature classified both the western and eastern monarchs as endangered in 2022.
For travelers who want to experience this amazing natural phenomenon in person, here are six must-see stops on a monarch road trip along California's Central Coast.
---
---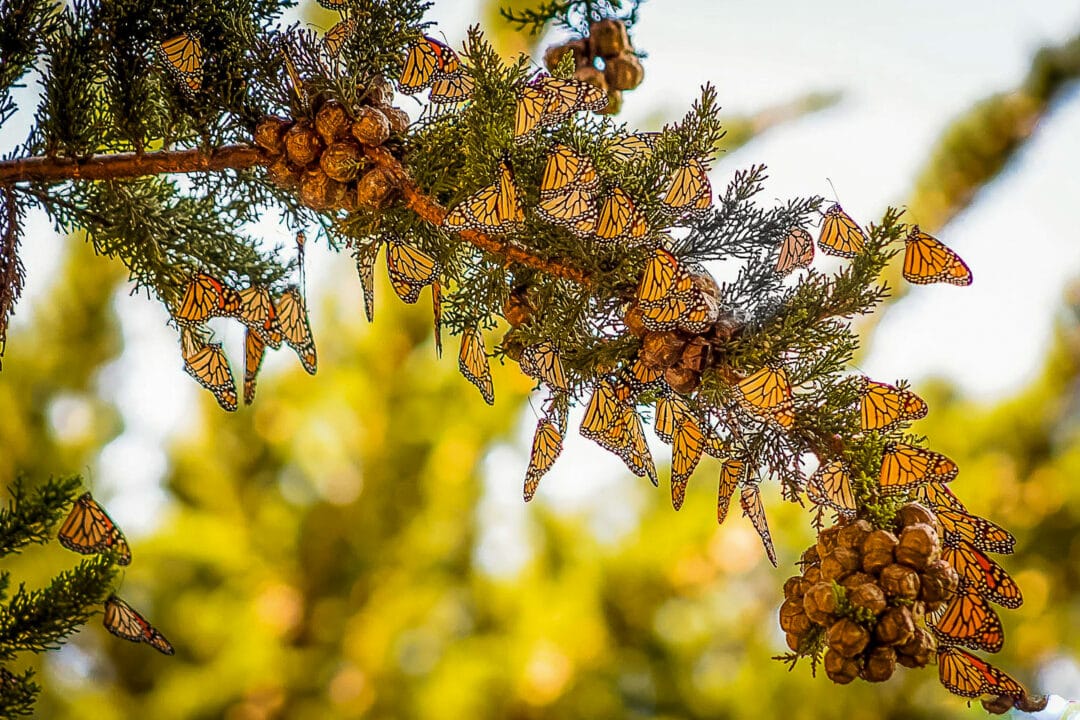 1. Goleta Monarch Grove
The Goleta Monarch Grove near Santa Barbara is located on the Ellwood Mesa, a 137-acre open space with wooded terrain, trails, and beach access. The best time to see the butterflies here is mid-day after the air is warmed by the sun. Wear sturdy hiking shoes as this is a rustic natural area and you may find yourself climbing over dead trees. Look for butterflies clustered near the tops of the trees. They might look like dead leaves at first glance, so bring binoculars.
---
2. Ritz-Carlton Bacara
Located near the butterfly grove is the Ritz-Carlton Bacara, a luxury, pet-friendly, 358-room oceanfront resort. It's pricey, but worth the splurge with its gorgeous beach setting, noteworthy on-site restaurant, pristine pools, and spa. You'll find that the monarchs like it here as well. Take an afternoon stroll along the beach or linger over afternoon cocktails at an outdoor bar and you're likely to see the butterflies darting in and out of the adjacent woodlands.
---
3. Monarch Butterfly Grove
About 80 miles north of Santa Barbara, right off of Highway 1, is the Monarch Butterfly Grove in Pismo Beach. It's an easy-to-reach grove of trees surrounded by a walkway where you're likely to see large numbers of monarchs. Docents stationed at the reserve can explain what the butterflies are up to, and there's a small souvenir stand and a sign with the daily butterfly counts. Because the trees where the monarchs congregate are grouped closely together, it's easy to see large clumps of butterflies here.
---
4. Cambria
Take a walk to soak in the fresh coastal forest air at Fiscalini Ranch Preserve in Cambria, where you might spot monarchs high up in the pines. At Piedras Blancas Beach, located a few miles north, hundreds of elephant seals cavort across the beach just off the highway. These huge sea mammals play and fight, in and out of the water, mate and give birth on the sand right in front of you. If you plan to stay the night, the Cambria Pines Lodge, a 25-acre rustic resort with pet-friendly rooms and suites, is great for families. The Blue Dolphin Inn, an upscale 20-room boutique hotel downtown overlooking Moonstone Beach, is a fine spot for couples.
---
5. Monarch Butterfly Sanctuary
A little more than 2 hours north up the coast in Monterey County is Pacific Grove, which bills itself as "Butterfly Town, USA." The Monarch Butterfly Sanctuary is an easily accessible spot in this quaint coastal city of Victorian homes and rocky beaches. It's near another must-do attraction, the 17-mile Drive, which highlights spectacular scenery, including the famed Pebble Beach golf course and the 250-year-old Monterey cypress that has become one of the world's most photographed trees.
---
6. Natural Bridges State Park
About 40 miles north of Pacific Grove is Natural Bridges State Park in Santa Cruz. While the butterfly grove is definitely worth a visit, this park also provides easy access to California redwoods, and is the place where surfing was first brought to the U.S. While in the area, visit the Santa Cruz Surfing Museum and learn how a trio of young Hawaiian princes in 1885 rode the waves on long planks of local redwood.
---