I try to keep an open mind as I enter the Taxidermy Hall of Fame and Creation Museum in picturesque Southern Pines, North Carolina. Sandwiched between a pizzeria and a handbag shop on Broad Street, the museum is housed primarily in the basement of a Christian bookstore. Outside, a carved wooden black bear with a sign around its neck confirms that this nondescript storefront is indeed also the entrance to an eclectic museum.
The first exhibit I encounter sets the tone for the whole museum. A sign above a glass case declares: "In this case we have displayed all the credible evidence of evolution." The case itself is virtually empty—save for a small, green resin snake figurine coiled around a tiny apple. I still have several rooms—and thousands of objects—to explore, but I begin to wonder if it's even possible to open my mind wide enough for years of science-based facts and figures to fall out; wide enough to seriously contemplate the museum's assertions that television is "one of the devil's favorite tools," or that Ouija boards "work only on demon power."
Who in the world is Kent Kelly?
The museum's founder and curator, Kent Kelly, was the pastor of Calvary Memorial Church and an administrator at the Calvary Christian School in Southern Pines for more than 30 years. He was an author, a lobbyist, and a collector. In 1989, Kelly suffered a major stroke and was unable to continue preaching. He spent his time traveling around the Southeast, acquiring pieces to add to his taxidermy collection, which he displayed in his mother's bookstore. He became a member of the Antique Tool Association and expanded his collection to include tools, barbed wire, license plates, golf balls, sports memorabilia, and other artifacts he felt reinforced his beliefs.
If Kelly couldn't procure an object, he wasn't deterred. A printed sign hanging above a photograph of the most expensive antique tool ever purchased at public auction says that "the owner of this museum was there to see it sold, but too poor to bid on it," and encourages visitors to make a donation to the museum to "prevent this problem in the future." According to The Pilot, most of Kelly's collection was acquired using "monetary donations from people who attended Calvary Church." Admission to the museum is free, but donation boxes are scattered among the exhibits.
Glass display cases are arranged partly by region and partly—I suspect—by Kelly's whims. The desert Southwest tableau includes a jackrabbit, several skulls, scorpions, geodes, and a photograph of former President Ronald Reagan.
My favorite corner of the museum is devoted to "Strange Stuff." I return to this display several times during my visit and I notice something different each time. Kelly doesn't squander an opportunity to espouse his beliefs, but this is where he really lets loose. The display features a disparate collection of modern-day objects, including a television, a crystal ball, a stack of CDs, a Harry Potter card game, and various prescription drug bottles.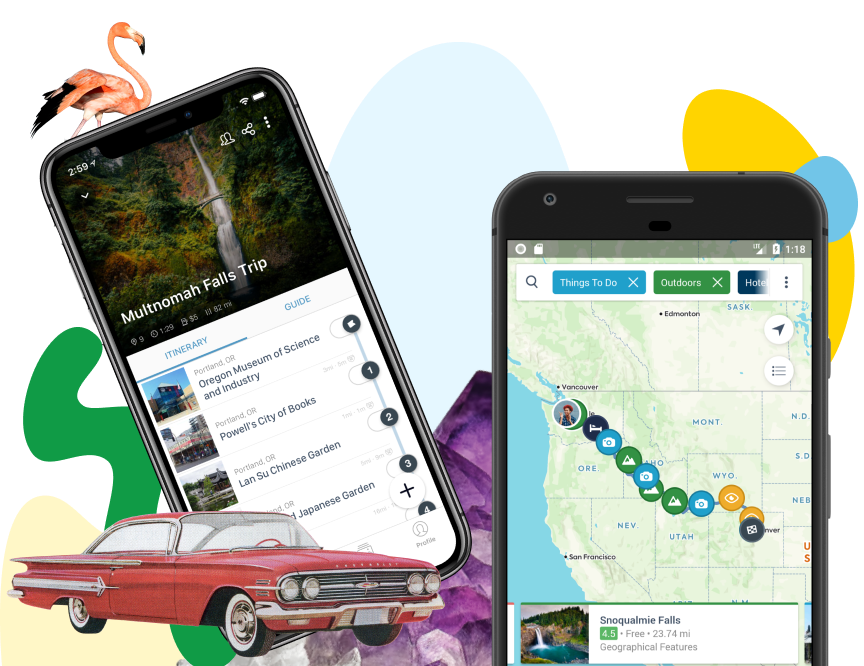 Download the mobile app to plan on the go.
Share and plan trips with friends while discovering millions of places along your route.
Get the App
Labels and descriptions seem designed to provoke strong feelings—the medication is labeled "Legal drug addiction"—but it's hard for me to side with Kelly. I know that a 1985 Showdog of the Year trophy is supposed to represent the evils of greed, but the only thing I can think upon learning that the Firestone family spent $10,000 per month on their dogs is, "Lucky dogs."
Antique tools and taxidermy
I came here for the taxidermy, but I am most impressed by Kelly's tool collection. Antique versions of every tool imaginable—ranging from domestic can openers to an undertaker's saw and the largest folding pocket knife ever made—are displayed on every possible surface. The pieces are meticulously labeled with patent numbers and endless facts about previous owners and general history. Even at his most objective, Kelly can't help but speculate about a set of tools used in the Hollywood Westerns Rio Lobo and She Wore a Yellow Ribbon. A sign asks, "Did John Wayne touch these?" but a definitive answer is never given.
The more I dig into the exhibits, the more I realize that if it's definitive answers I seek, I've come to the wrong place. Or, depending on what you believe, the very right place. By the time I emerge from the basement into the Taxidermy Hall of Fame, I'm disoriented enough to question everything. It's increasingly hard to distinguish fact from fiction, the tongue-in-cheek exhibits from the ones Kelly presents in earnest.
A 7-foot-tall teddy bear hangs near a wall of real taxidermy; its label declares it to be "the granddaddy of all Beanie Babies." Around the corner, an oversized Converse high-top shoe is accompanied by a long diatribe that claims the prop is no different than a supposedly ancient fossil and warns that "many people are gullible enough to believe anything they read on little signs in an evolution-based museum."
The museum claims to have the "oldest rock on Earth," which is slightly less impressive when I read the explanation citing the Creation story: "Since they were all created the same day, all such rocks are the same age no matter where they are found upon the Earth."
Everyone will die someday
According to the museum's brochure, Kelly believed that "All that's in the skies, and everything that flies, all the flowers and the trees, and all that's in the seas, every bug and bird, and everything that's furred. Everything was made by Him."
I have no way of knowing if every bug, bird, and everything that's furred in North Carolina is represented here, but it sure seems like it. Kelly collected everything—blue ribbon mounts, antique taxidermy, rare albino specimens, and whimsical creations including a squirrel paddling a canoe full of acorns, a "roadkill" beaver mounted with two strips of tire tread, and a fur-bearing trout. Vultures and owls are illegal to own, so Kelly has fake versions on display.
Over the years, Kelly suffered several more health issues including two additional strokes and a heart attack that left him paralyzed and bedridden. He died in 2008 and the collection has remained as he left it ever since. His sister, Lynn Creech, currently manages the store.
The museum may be centered around the idea of Creation, but a box located in a corner of the basement has a sign that reads, "If you look inside this box … you will die! Go ahead and look! You are too curious to resist." Inside is yet another sign, this one featuring a Bible verse and the admonishment that "everyone will die someday." Finally, a cold hard fact that Kelly and I can agree on.
If you go
The Taxidermy Hall of Fame and Creation Museum is located inside of the Christian Bookstore and open 10 a.m. to 5 p.m. Monday through Saturday. Admission is free.