You don't need a vintage cocktail dress or a fedora to gain admittance to classic Mad Men filming locations—but you're more than welcome to wear one (or both).
The first day I stepped onto the set of Mad Men I knew I had just found my dream job. For a vintage enthusiast like myself, it was the quintessential 1960s show to work on. Being surrounded by period-perfect costumes, decor, props, and historically-accurate sets was the next best thing to actually living in that era.
Related Hiding in plain sight: These 4 New York City facades are worth a second look
The AMC drama, which premiered in 2007, followed one of New York's most distinguished advertising agencies, the fictional firm Sterling Cooper Draper Pryce. Set on Madison Avenue during the golden age of the advertising industry, Mad Men showcased the lives of Don Draper and his colleagues as they ate, drank, and chain-smoked around Manhattan. In reality, the show was actually filmed in Los Angeles (with the exception of the pilot), showcasing real-life hotspots like The Dresden Restaurant and Lounge, Clifton's Republic, and Canter's Deli.
Ten years after its controversial finale, fans can still visit the motel where Draper (played by Jon Hamm) spent the night when his car broke down along the highway in Oklahoma, the Googie coffee shops where he ate with his family, and the 300-foot-long American Airlines Astroway moving sidewalk located inside of the Los Angeles International Airport (LAX).
Celebrate the 15th anniversary of the show's premiere at these awe-inspiring L.A. Mad Men filming locations.
---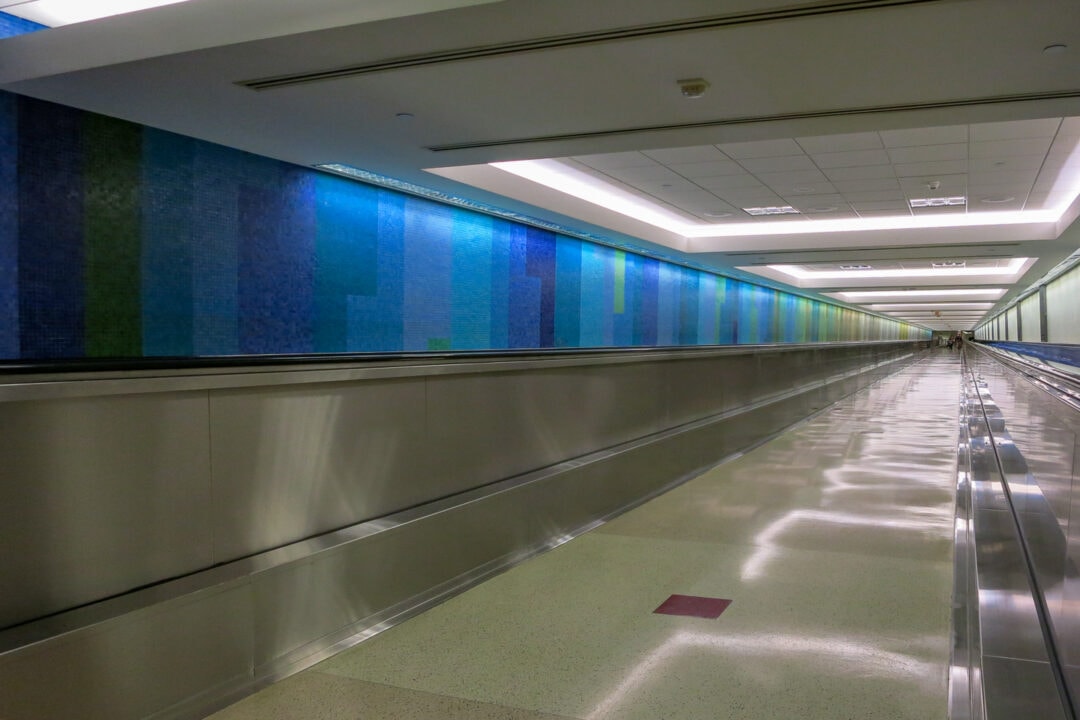 1. LAX Terminal 4
Draper travels through LAX during the first episode of Season 7, while "I'm a Man" by the Spencer Davis Group plays in the background. LAX planned a significant jet-age modernization in 1961, resulting in stunning tile mosaics along the walls of five tunnels. The concept for the murals, designed by Janet Bennet and Charles D. Kratka, was to mimic the transcontinental journey from coast to coast. With varying blues representing the Pacific and Atlantic oceans and changing shades of greens, yellows, and browns to embody the Heartland of America, these colorful tunnels can also be seen in 2019's Point Blank, and Quentin Tarantino films Jackie Brown and Once Upon a Time in Hollywood.
---
2. La Crescenta Motel
In season 7, Draper stays at La Crescenta Motel after his car breaks down in Fairview, Oklahoma. Glen Hine opened this quaint L-shaped structure in California in 1946, and the dazzling neon sign still shines for blocks along Foothill Boulevard. This motel was also a filming location for several other TV shows, including The X-Files, Beverly Hills 90210, and Supernatural.
---
3. Rod's Grill
Rod's Grill in Arcadia has been a delightful destination along Route 66 since it opened its doors in 1946. If you visit today, there's a good chance that Julie, the diner's longest-standing employee of 31 years, will greet you with a smile. In season 5, Draper insists his wife Megan try the orange sherbet while they sit in a turquoise booth under the starburst lamps of Rod's, which doubles as an iconic East Coast Howard Johnson's.
---
4. Sweeney Todd's Barber Shop
A staple on Hollywood Boulevard since 1947, Sweeney Todd's Barber Shop provides classic straight-razor shaves. The Mad Men crew didn't have to redecorate much before Draper got his haircut since the shop maintains its traditional decor, from a cigarette vending machine to a rack of pulp fiction paperbacks. Celebrities and stylish Angelenos frequent Sweeney Todd's—even Santa Claus once had his handlebar mustache trimmed here for a Snickers Christmas advertisement.
---
5. The Music Center Mark Taper Forum and Dorothy Chandler Pavilion
Draper and his first wife, Betty, had their romantic "Rome" rendezvous in a season 3 episode in front of the Mark Taper Forum at the Music Center in Downtown Los Angeles. In 1967, architect Welton D. Becket and sculptor Jacques Overhoff built this gorgeous drum-like structure across the way from the 1962 Dorothy Chandler Pavilion, which doubled as the exterior of the Hilton Hotel in Mad Men.
---
6. The Dresden Restaurant and Lounge
The Dresden Restaurant and Lounge's dim lighting and leather booths embossed with "DR" set the scene in a season 7 episode, when Draper and Megan meet with her Hollywood talent agent. Little has changed since 1954 inside this classic family-owned Hollywood lounge and restaurant. Patrons still sit next to faux rock walls and sip Blood & Sands, the restaurant's signature tropical rum cocktail, served for more than 65 years. You may also recognize the Dresden from the movies What Women Want, Anchorman, and Swingers.
---
7. Bob's Big Boy Broiler
In season 4, Draper and Megan—and Draper's kids, Sally and Bobby—have lunch in a booth at Bob's Big Boy Broiler. When its doors opened in 1958, the drive-in, then known as Harvey's Broiler, became a hot spot for cruising car culture. Architect Paul B. Clayton's design is a glowing example of Googie architecture, with a 65-foot-long boomerang-shaped sign that stands out like a beacon on Firestone Boulevard. Used as a car dealership for years, the partially-demolished structure was rebuilt in 2007 by Jim Louder, who reopened the restaurant as a Big Boy. American History X, Mission: Impossible 2, and The X-Files were also partially filmed here.
---
8. Burger Chef
Peggy Olson and Annabelle Mathis are standing outside Burger Chef, surveying customers as they leave in the season 7 episode "The Strategy." When the Burger Chef chain was started in Indianapolis, Indiana, in 1954, by Frank and Donald Thomas, it was the first fast-food establishment to market a burger, fries, and drink combo. Today, this former Rialto Burger Chef is called Chris's Burgers, and you can't miss this beauty when driving along Route 66 due to its metal-framed angular design and exterior orange diamond pattern.
Related The ultimate guide to riding Route 66 on a motorcycle
---
9. Los Angeles Theatre
In a season 1 episode, Draper and Betty go to the Broadhurst Theatre in New York City to see the musical Fiorello! The scene was filmed at the Los Angeles Theatre, commissioned by H. L. Gumbiner in 1930. Architects S. Charles Lee and S. Tilden Norton finished the building, which includes a magnificent interior fountain, in a mere 6 months. Charlie Chaplin helped fund the completion to use the theater to premiere his movie City Lights; other films shot here include Escape from L.A., Fight Club, and Hail, Caesar!
---
10. Clifton's Republic
Draper and Sal Romano have dinner in Baltimore with two flight attendants in season 3; in reality, the playful dinner conversation took place on the original second floor of Clifton's Brookdale Cafeteria before its recent renovation. Once the area's largest cafeteria chain, this 50,000-square-foot wooded wonderland is the last Clifton's in existence. In 2010, a new owner purchased the century-old building from the family of the founder, Clifford Clinton. Thoughtfully remodeled and gloriously brought back to life 5 years later, Clifton's Republic retains its kitschy atmosphere with forest creatures, rock grottos, and redwood trees.
---
11. Canter's Deli
In season 7, Pete Campbell, now working out of the firm's West Coast office, swears to Draper that this local L.A. deli has the best Brooklyn Avenue pastrami sandwich. Known for its freshly baked bread, house-made pickles, and trademark autumn leaves ceiling, Canter's opened its doors in 1931, and the deli has been in the same family for more than three generations. Open 24 hours a day, tourists, locals, and celebrities frequent this nostalgic Fairfax deli and prominent filming location for TV shows such as Be Cool, Transparent, and Entourage.
---