There are many things I never expected to find when walking into an abandoned California countryside mill. Among them: a 1917 World War I surplus truck and a 1949 Ford dump truck. And yet, inside the Campo Feldspar Mill, there they are.
These trucks are only two of more than 200 vintage vehicles in various stages of restoration (or, more likely, disrepair) that make up the Motor Transport Museum in Campo, California, about 60 miles east of San Diego. It sits along Highway 94, just north of the Mexican border—where it also happens to intersect with the southern starting point for the Pacific Crest Trail.
From the road, the museum could easily be mistaken for a junkyard: The towering 100-foot mill centerpiece is surrounded by seemingly endless rows of trucks, buses, RVs, and cars, many dating back a century or more. Stacks of vintage industrial tools and equipment make up rust-tinted collections throughout the property. But one person's junk is another person's treasure—and this place is a veritable treasure trove.
Walking around the mostly-open air museum, I've been told to watch my head and feet at all times. Sharp edges and protruding rusty nails make for very real threats when exploring the Motor Transport Museum.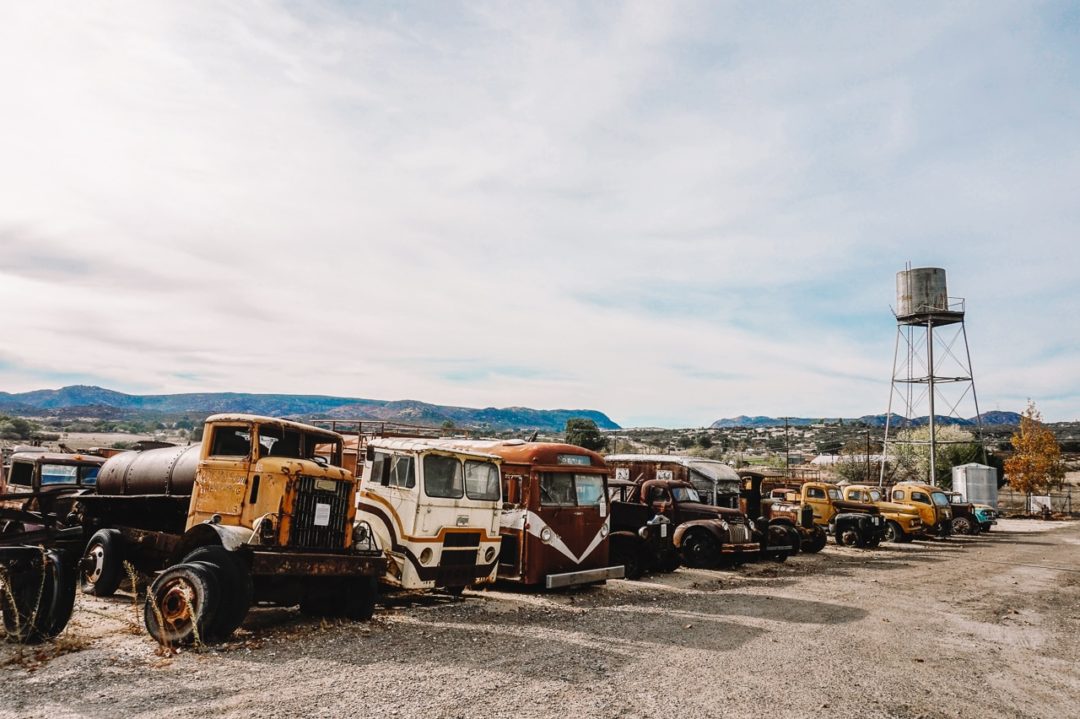 Like traveling back in time
"My granddaughter calls this place the 'rusty truck museum,'" says Bill, my guide for the day and one of the volunteers keeping the place operational. The museum is run as a non-profit—entrance is free, but donations are welcome.
First opened in 1986 by Carl Calvert—a Campo resident and vintage truck collector who passed away in 2018—the Motor Transport Museum has been expanding its collection through donations and purchases for more than 25 years, with the goal of preserving and restoring an otherwise forgotten part of American transportation history. The mill itself was built in 1925 and was once the largest feldspar mill in the country, producing materials used to make porcelain for everything from toilets to spark plugs.
Despite the collection's overwhelming number of flat tires, cracked or missing windshields, caved-in roofs, rusted-through drive chains, and weeds growing in place of engines, a stroll through the museum grounds is like traveling back in time. I feel like I've died and gone to vintage truck heaven.
Famous—and not so famous—vehicles on display
Among the stars of the lineup is a 1923 truck featured in Martin Scorsese's "The Aviator." Bill also points out one of only two remaining AP Mack dump trucks designed to build the Hoover Dam in the 1930s. The other remaining truck has been restored to its former glory, unlike its Motor Transport Museum counterpart.
"This thing looks like—oh wow, bright red and fully functional," Bill says of the restored truck, obviously enthusiastic at the thought of bringing old vehicles back to life. Outside of the museum, he has his own hobby: restoring World War II Army Jeeps.
The Hoover Dam truck sitting right in front of us has seen better days, and is gradually becoming part of its surroundings: Camouflaged in seventeen different shades of rusty brown and yellow, it almost perfectly blends in with both the mill behind it and the surrounding landscape. But there's no denying there's a certain charm to that, too.
The museum relies on donations to be able to restore its vehicles, so it can be an excruciatingly slow process. But despite their various degrees of "rustoration" (a portmanteau courtesy of Bill's granddaughter), there are plenty of fascinating vehicles worth a visit throughout the museum grounds.
A two-tone 1940 city bus still has most of its interior intact, which seems to be a rarity around here. During World War II, this particular bus was used in Cincinnati, Ohio to transport the public and members of the military around the city. Built with a semi-automatic transmission and no clutch pedal, it was designed to be easily driven by women—since most men at the time were in military service. It's an interesting reminder of how far we've come since the 1940s (women driving manual transmissions, who would've thought!?).
The entire lot surrounding the mill is filled with dilapidated military vehicles, old school buses, personal-use RVs, hot rods, and—in one corner of the lot—a prisoner transportation bus with the text "Federal Clown Prison" printed on the side. According to Bryan Butler, librarian and one of the museum's directors, that bus was once used in a skit on "The Jay Leno Show." (A suspiciously similar bus also made a brief appearance in a 1990s video game commercial.)
Small town with a rich history
Campo is a rural town of 2,600 people, perched just above the Mexican border. In the late 1800s, it was briefly known as "Little Texas," due to its influx of settlers making their way out west from Texas post-Civil War.
With three museums and a slew of other historic and cultural sites nearby, it's a nice day trip from the San Diego or LA areas. Most people heading east from San Diego take the heavily trafficked Interstate 8. But if you're not in a rush, Highway 94, which runs in between I-8 and the border, is a much more scenic option.
On Highway 94, you'll be winding your way through tight mountain passes, below bridges, through farmland, past several roadside businesses (don't miss the hand-dipped chocolates at Boulevard's Wisteria Candy Cottage), and alongside miles of metal border wall before arriving at the old mill in Campo. Keep going, and you'll eventually reach other roadside attractions like the Desert View Tower.  
The Motor Transport Museum is open on Saturdays, most Wednesday and Friday afternoons, and—at least for now—the first Sunday of every month. We recommend calling ahead to make sure they're open before planning your trip.
View more photos:
The museum is in the process of restoring some vehicles—others, not so much.

The old Campo mill.

A collection of vintage industrial tools and equipment.

One of many rusty trucks at the museum.

The interior of a 1940s city bus.

Some items in the collections have seen better days.