Birds are all around us and can connect us to nature in ways that nothing else can. Car birding is a popular way to watch and listen to birds from inside your vehicle. When inside our cars, trucks, or RVs, birds don't seem to recognize us as a threat. They often continue about their business, allowing us to get closer to appreciate their colors, behavior, and differences and similarities to each other.
Many birds in the Northern Hemisphere migrate south for winter, seeking warmer temperatures and more food. Central California is far enough south for some, and car birding along the wildlife drives at the following locations between October and March can be very rewarding.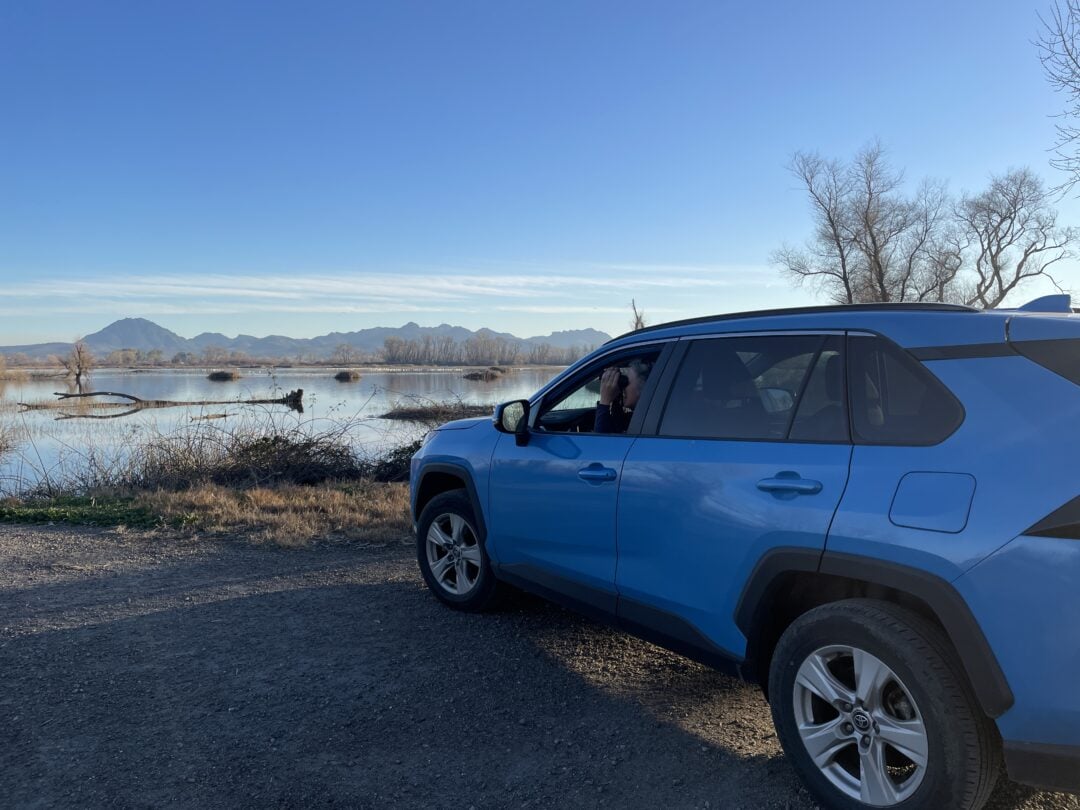 Some car birding tips:
Drive slowly on the wildlife drives. Many have a speed limit of 15 mph, and all included below are unpaved. This will give you more time to enjoy the birds you're passing, allow you to stop easily if something catches your eye, and reduce any disturbance to the wildlife.
It's totally appropriate to stop along a wildlife drive. Try to use available pull-outs or pull over as much as you can in case someone wants to pass you.
Be patient. If birds swim, walk, or fly away as you approach, stay still (inside your vehicle) and invite them to get used to your presence. Soon enough they will likely forget you're there.
Related 6 stops on a monarch butterfly road trip along California's Central Coast
Here are five places in Central California to enjoy wildlife without leaving your car.
---
1. Kern National Wildlife Refuge
Surrounded by almond orchards 50 miles northwest of Bakersfield, Kern National Wildlife Refuge (NWR) is a lesser-known gem. The first portion of the 6.5-mile Auto Route #1 passes often-dry fields; look for greater roadrunners in the scrub, and flocks of horned larks (small brown and yellow birds) foraging on the ground and flying up and swirling together. Most of the route travels past ponds of wintering ducks, including northern pintail, American wigeon, and gadwall.
The Auto Route has some (small) potholes and cell service is limited. No visitor center is available, but accessible bathrooms are located at the office and portable toilets are present.
---
2. Merced National Wildlife Refuge
Tall and graceful gray sandhill cranes, and loud, squat white snow geese spend the winter by the tens of thousands at Merced NWR. There is a 5-mile Auto Tour Route that loops between wetlands and fields, and four short trails. Accessible bathrooms and an observation deck with a ramp are located at the beginning of the wildlife drive and at the parking lot halfway around.
The refuge is open half an hour before sunrise until half an hour after sunset. Arriving before dawn means you'll be in position for a cacophony of sounds as 60,000 birds wake up and prepare to head out for the day to forage in nearby fields. Greater white-fronted geese, cackling geese, snow geese, and Ross's geese honk to each other nonstop, and a lot of northern shovelers, American avocets, and black-necked stilts quietly go about their business. When near reeds, listen for the chortling scoldings of marsh wrens (often heard but rarely seen). Once near the open fields, California ground squirrels scurry around, and huge flocks of geese can carpet the ground in white.
There is no visitor center or office on site, and visitors are required to stay in their vehicle except when on trails and at designated parking areas. Hunting is allowed nearby between mid-October and early February on Wednesdays and Saturdays; if visiting then, be prepared for the sound of guns.
---
3. San Luis National Wildlife Refuge
At San Luis NWR, car birders are spoilt for choice. A visitor center has interactive exhibits about birds, tule elk, and the area's ecology, and an indoor viewing area with comfy armchairs and binoculars. Accessible bathrooms are available here.
Related Tule elk are at the center of an epic conservation battle on Point Reyes National Seashore
The Waterfowl Auto Tour Route travels 8.5 miles through wetlands, with peregrine falcons, tundra swans, and other birds similar to those at Merced. Four short hiking trails peel off the drive, ranging from 0.5 to 1 mile. Meanwhile, the Tule Elk Auto Tour Route travels 5 miles through an 800-acre fenced grassland, home to a local subspecies of North American elk. If visiting in the late fall, listen for their eerie bugling calls around dusk and dawn. A third option, the 2.25-mile West Bear Creek Auto Tour Route, enters the refuge along Highway 165. This is best enjoyed in late winter and spring, with shorebirds migrating north and yellow-headed blackbirds breeding.
---
4. Gray Lodge Wildlife Area
Managed by the California Department of Fish and Game, Gray Lodge feels remote, with the rugged Sutter Buttes looming nearby. A 3-mile Auto Tour Loop, beginning at Parking Lot #14, passes marshes and sloughs full of geese. There are two indoor viewing blinds near Parking Lot #18, with a bench and ledge available for resting.
Come after 3 p.m. and stay awhile: Close to sunset, raucous geese begin returning to the wet areas to roost overnight. Small and big flocks of bright white birds with black wingtips (snow and/or Ross's geese—it's very challenging to tell them apart) are almost constantly seen and heard flying overhead. At the beginning of the drive, the 0.85-mile asphalt Wetlands Discovery Trail leads to an observation platform, and at dusk, dozens of turkey vultures arrive to roost together in the tall eucalyptus trees.
There is a $5 per person entry fee, and hunting is permitted on Wednesdays, Saturdays, and Sundays between October and mid-February.
---
5. Sacramento National Wildlife Refuge
Only a 45-minute drive from Gray Lodge, Sacramento NWR is the winter home for 250,000 geese, 500,000 ducks, and—if you're lucky—you may even spot a few bald eagles. (Their famous white heads only appear after the eagle is about 4 years old; younger than that, they are all dark brown, or a mottled brown and white.) Incredibly scenic on a clear day, snow-capped mountains of the Coast Range and the Sierra Nevada may be visible to the east and west.
Visitors are asked to stay in their cars unless at one of the three "Park and Stretch" areas along the 6-mile wildlife drive. An observation platform with a permanent spotting scope and a ramp, as well as an accessible vault restroom, are at Park and Stretch #2. You'll find two portable toilets (one accessible) in the main parking lot at the visitor center, which is closed for renovations until fall 2023. The Wetlands Walk (2 miles over hard-packed dirt) begins here, too.
There is a $6 per vehicle entry pass, waived for Duck Stamp and America the Beautiful pass holders.
---
Take this trip