In the spring of 1812, while hiking along a tributary of the Columbia River, fur trapper John Day and his friend Ramsey Crooks had the misfortune of running into a gang of bandits. Severely outnumbered, their assailants left them beaten, penniless, and naked. It's for this unfortunate incident that the John Day Basin in Eastern Oregon is named—an odd choice for a geographic region that includes two rivers, two towns, a dam, numerous fossils, and a national monument.
The John Day Fossil Beds National Monument isn't restricted to the boundary of the park for which it is named; the actual fossil beds cover hundreds of square miles spread across Eastern Oregon. The monument encloses the most valuable areas, but every year new species are found in backyards, old ranches, and forests miles beyond the park's boundaries. While relatively small in size, it'll take an entire day to traverse the monument by car. It comprises three distinct sections: Clarno, Painted Hills, and Sheep Rock.
The John Day Basin might be part of Oregon, but it has little in common with the large city of Portland or the Willamette Valley. In some ways, Eastern Oregon has changed very little since fur trappers like Day trekked across its strange terrain. One of the few common threads across the state is a love for coffee—even in the small desert towns you can find a hand-crafted espresso (but don't expect wi-fi).
With 200,000 visitors a year, the John Day Fossil Beds National Monument is a quiet alternative to some of the busier national parks, and its trails are perfect for stealing a serene moment, inhaling, and exhaling. The John Day Basin is remote and dry, but above all, it's breathtaking. And, for a couple of months working as a park ranger, I was lucky to call it home.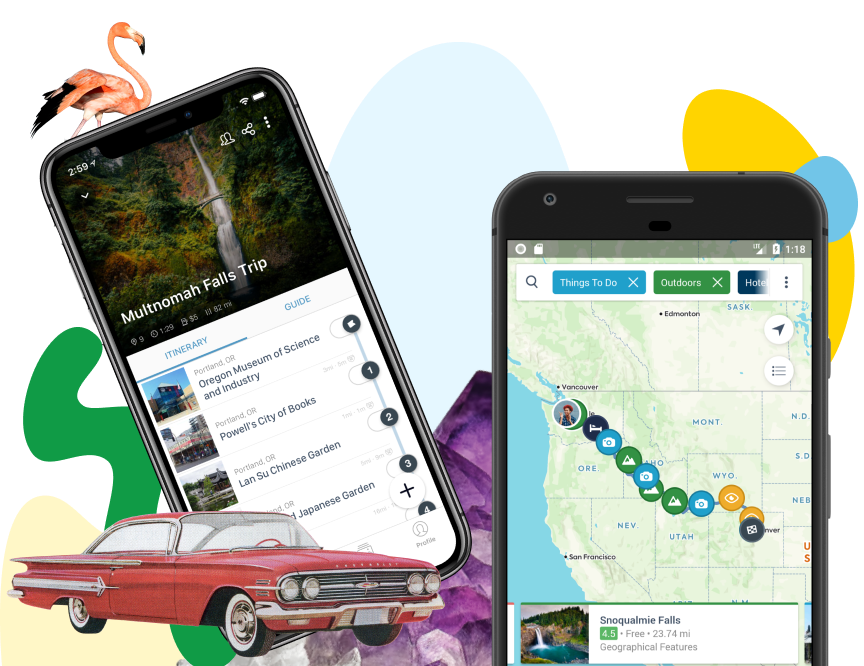 Download the mobile app to plan on the go.
Share and plan trips with friends while discovering millions of places along your route.
Get the App
Remnants of the Rajneesh
Driving from Boise, Idaho, and over the Blue Mountains, the desert momentarily disappears as I follow U.S. Route 26, which runs parallel to the meandering John Day River. I pass a desolate gas station in Prairie City and drive through Mt. Vernon, where the town laundromat doubles as a bar. My destination is Dayville, population 145.
In a tiny town like Dayville, places and people are forced to wear many hats. My rented apartment shares a building with the town post office; the town sheriff is also the fire chief; and the library doubles as city hall. As more and more people move away from town looking for work in larger cities, the people left behind are picking up the pieces.
Dozens of quaint, A-frame cabins serve as extra sheds, playhouses, vacation rentals, and summer camp cabins. But these aren't an extension of the tiny house trend—they're a relic from a stranger time, when residents lived not-so-harmoniously alongside 7,000 members of the Rajneeshpuram, a quasi-utopian society that rose to prominence in the 1980s (a fascinating saga detailed in a recent Netflix documentary). Clad in shades of red and orange, the group's radical ideals clashed with Eastern Oregon's conservative culture. They came in, and out, with a bang, leaving hundreds of their cabins up for grabs. Remnants of the group's endeavors—including faded stickers featuring its enigmatic leader, Rajneesh—can still be found inside some of the cabins.
From rainforest to desert
The park's headquarters, Sheep Rock, is a 10-minute drive from town. In just 600 seconds I travel past the verdant John Day valley and wind through the monochromatic Picture Gorge featuring pictographs once carved by the Northern Paiute tribe. During the summer, the river looks calm enough for a swim, but I'll always remember the advice of another ranger: "The John Day River may be shallow, but its currents can sweep you off your feet in ankle-deep water."
After leaving Picture Gorge, a valley of color emerges. Interspersed between small ranches are whimsical mountains that look as if they were carved from a layer cake. The bright reds and yellows of 30 million-year-old soils are topped by chalky bright teals and turquoises to form Sheep Rock, which accents the landscape of ornate columns of Columbia River basalts.
Walking into the visitor center is slightly jarring; it takes my eyes a minute to adjust from the bright desert sun to the dark and cavernous atrium filled with the sounds of a rainforest. While the modern landscape is dry as a bone, 50 million years ago I would have been standing in the middle of a tropical rainforest, surrounded by tiny horses with six toes, huge spiders, and large cat-like beasts that bear no relation to the felines we know today.
Legal souvenirs
To a paleontologist, John Day represents a world very different than what most people see today; a world full of strange creatures, super volcanoes, and changing climates. But you don't need to be a paleontologist to pick up your own piece of history in the John Day Basin. Since it's illegal to dig for fossils in a national monument without permission, you just need to know where to look.
To avoid committing a federal crime, take a scenic drive north from Sheep Rock to the aptly-named town of Fossil. Thirty million years before students paced the halls of Wheeler High School, a lake filled the area. Leaves settled on the murky floor, becoming rock over millions of years. Here you can put your paleontology skills to the test and pick up some fossil plants of your own.
As I leave the John Day Fossil Beds and drive toward Portland, I come across the Painted Hills, the last of the three sections of the monument. Named one of the "Wonders of Oregon," this eerie landscape comprises soft muds striped in brilliant reds, blacks, and yellows. On the Carroll Rim Trail, I climb over the deposit of an ancient volcano and sit atop the highest point in the park. Overlooking the bright and alien landscape, I take time to appreciate the view, virtually unchanged for millions of years. Thankfully I avoid the perils that befell Day and Crooks. I'm left alone with my thoughts—and all of my clothes.
If you go
Hours for the John Day Fossil Beds National Monument vary by season, check with the NPS for more information.